Kootenai Pets for Life seeks expansion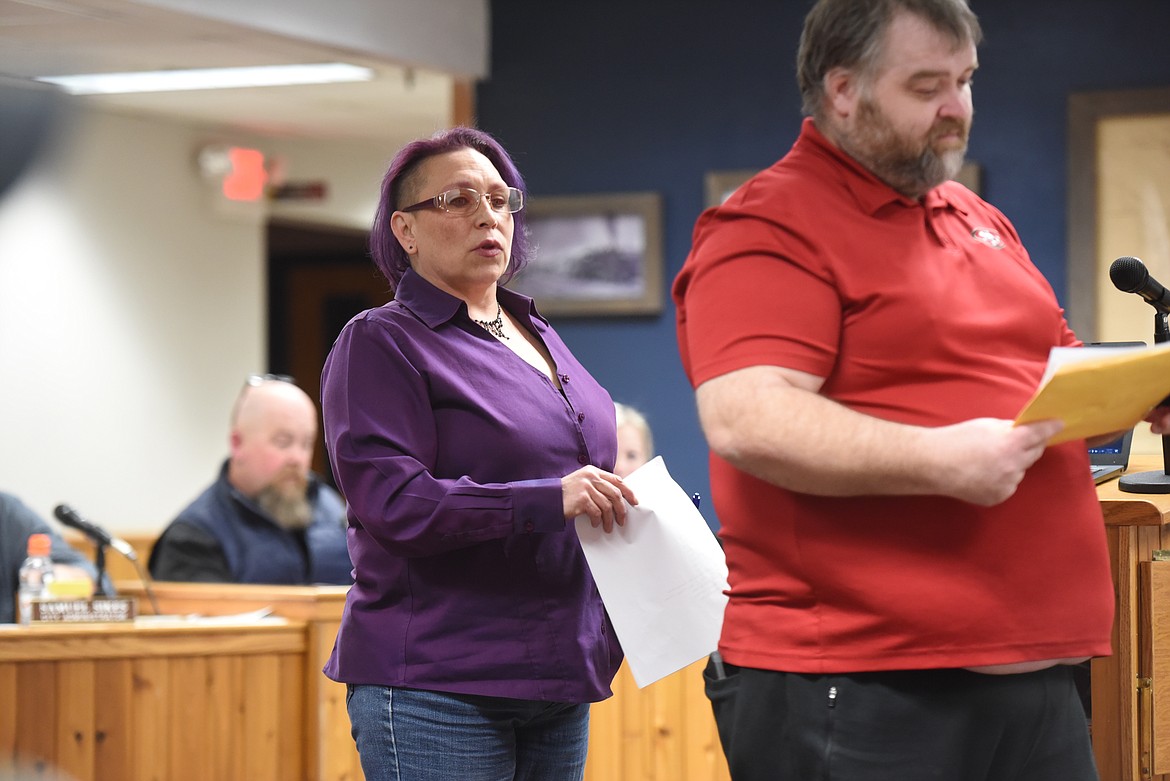 Faith Lee, left, president of Kootenai Pets for Life, and Jeff Sharp, director of the nonprofit, appear before Libby City Council on Feb. 7. (Derrick Perkins/The Western News)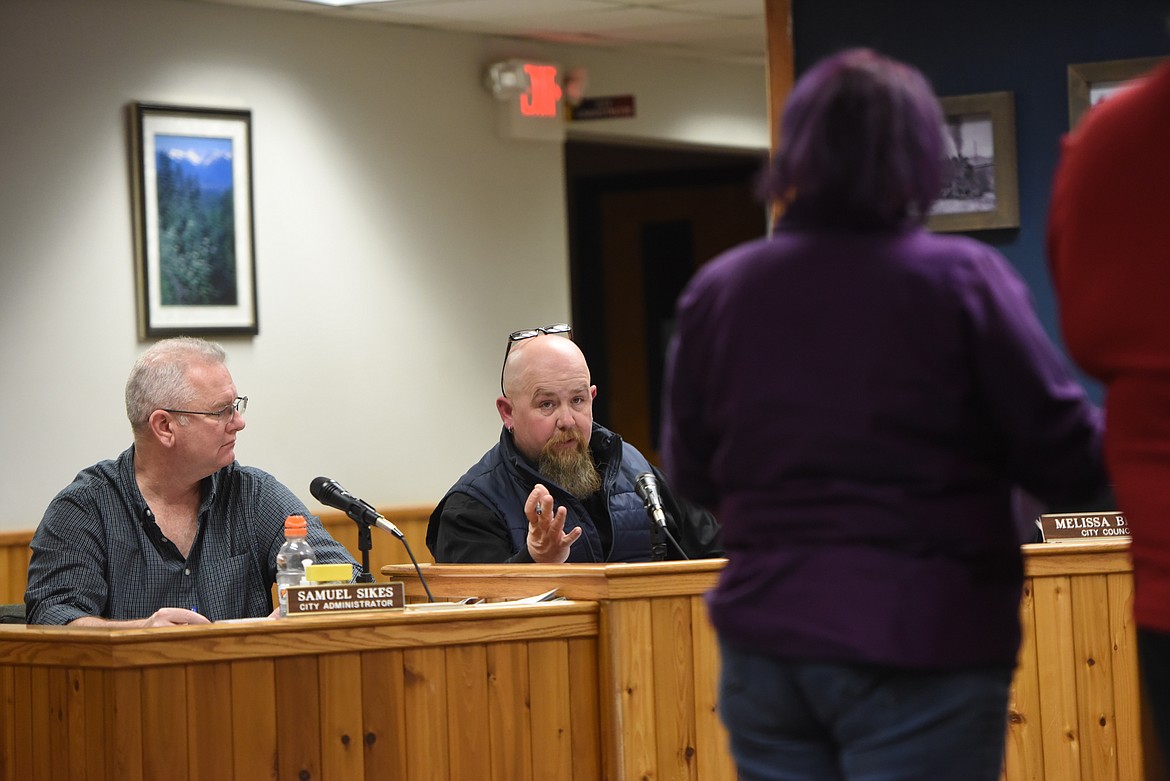 City Councilor Gary Beach speaks with Faith Lee and Jeff Sharp of Kootenai Pets for Life during a Feb. 7 meeting. The nonprofit hopes to expand its facility on city-owned land. (Derrick Perkins/The Western News)
Previous
Next
Representatives of Kootenai Pets for Life lobbied Libby City Council on Feb. 7 for permission to expand the shelter's County Shop Road facility.
The organization, which has called Libby home since 2008, hopes to add on a dog intake and quarantine building to its city-owned property. The upgrade would see the facility's number of kennels increase by four.
Jeff Sharp, director of the organization, said a quarantine building would create a safer, healthier environment for dogs.
"For example, currently we have 11 puppies who are five weeks old," Sharp told city councilors last week. "We have 11 puppies there that are not currently vaccinated — they're too young. They're at risk of whatever may or may not be in our facility. We feel the addition of this building would keep them safer."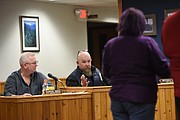 The inverse is also true, he said. A sick dog could be kept at the shelter without putting other animals in the facility at risk.
Sharp said the nonprofit had not yet arrived at a firm cost estimate for the expansion, but he expected it would run north of $90,000. Mailers were getting sent out, he told city councilors, and the group has planned a Facebook-based fundraiser for Feb. 21.
Running between 10 a.m. and 2 p.m., the event will be broadcast via Facebook Live on the nonprofit's page on the social media network.
Sharp said the group hopes to raise $15,000 during the event.
City Councilor Gary Beach advised Sharp and group President Faith Lee to contact local media outlets to help publicize the fundraiser. He also asked about the kennel expansion proposal, inquiring about the amount of dogs the facility takes in on average.
The shelter has 10 kennels already, Lee said. They usually house at least two dogs, but the most she's seen is 19, which typically includes a litter of puppies.
"The more room the more we can help," she said.
In 2021, the nonprofit adopted out 63 cats and 52 dogs. The group also aids with spay and neuter efforts in town, including 17 in the last month, Lee told city councilors. More than 7,625 volunteer hours were logged at the facility in 2021, she said.
Running the shelter "takes a lot of work for the people in our community," Lee said.
"Those are just the hours that are logged," she said. "There are quite a few that aren't."
Under the terms of the nonprofit's lease with City Hall, city councilors must approve any changes to the property. Mayor Peggy Williams said she expected city council to take action on the request at its next regularly scheduled meeting.

More information about Kootenai Pets for Life can be found online at www.kootenaipetsforlife.com or by calling (406) 293-5735.
---