Kirkedahl sentenced on mitigated deliberate homicide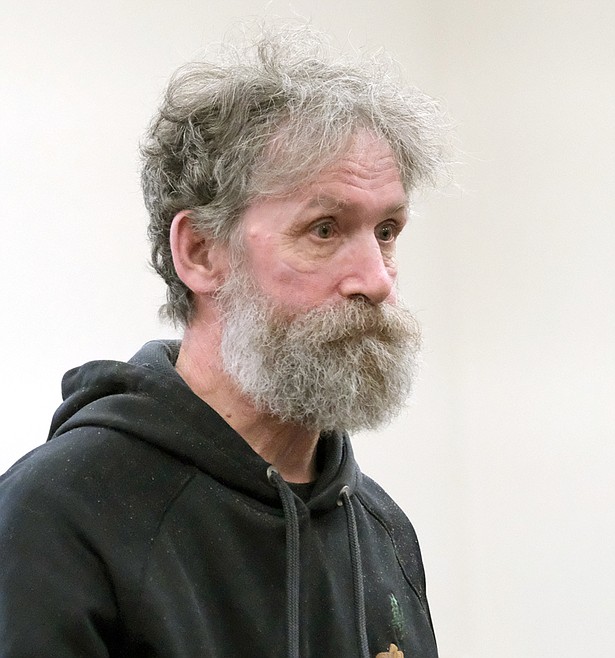 Scott Kirkedahl at his Feb. 7 sentencing in Lincoln County District Court. (Paul Sievers/The Western News)
by
DERRICK PERKINS
Daily Inter Lake
|
February 15, 2022 7:00 AM
A Trego man accused of killing his adult son following years of abuse at his hands earned a partially suspended 30-year sentence in Lincoln County District Court on Feb. 7.
Scott Lee Kirkedahl, 58, saw all but five years of the sentence suspended. He will receive credit for 219 days of time served and must enroll in the state's Connections Corrections Program.
District Judge Matthew Cuffe described it as a "sad and difficult case" as he handed down his sentence. The sentence allows for Kirkedahl to receive treatment for substance abuse and mental health issues, he said.
Kirkedahl pleaded guilty to mitigated deliberate homicide on Dec. 20 after details of the abuse emerged in a mental health evaluation by Dr. Michael Scolatti. Relatives of Kirkedahl and his 31-year-old son, Xennie, appearing in court last week, said they agreed with Scolatti's report and supported the partially suspended sentence.
First responders arrived at Kirkedahl's Trego home in the early morning hours of April 5 and found a body sprawled on the kitchen floor, a "considerable amount" of blood around his head, court documents said.

A witness at the scene — Kirkedahl's brother and the victim's uncle — said the pair had argued on and off for about a week. The day preceding the shooting, the trio had stayed home, drinking beer, court documents said.
When Kirkedahl and his son began fighting again, the witness headed to the rear of the trailer. He heard a gunshot and spun around. All he saw, according to court documents, was Kirkedahl with his hand raised in the air.
Not seeing a gun, the man continued back to the rear bedroom. Then he heard another shot.
Kirkedahl joined him soon after, sitting on the bed, court documents said. He admitted shooting his son, the witness told investigators.
Authorities initially charged Kirkedahl with a single count of deliberate homicide.
But the shooting occurred after years of abuse Kirkedahl suffered from his son. Defense attorney Scott Hilderman walked Kirkedahl through the information in Scolatti's report during last month's change of plea hearing.
Kirkedahl's adult son beat him three to four times a week. Kirkedahl suffered traumatic brain injuries as a result and developed battered family member syndrome, according to the findings.
That same day prosecutors reached a plea deal with Kirkedahl. During last week's sentencing, they said the agreement took both Scolatti's findings and the family's wishes into account.
---