Cuffe makes final bid for Helena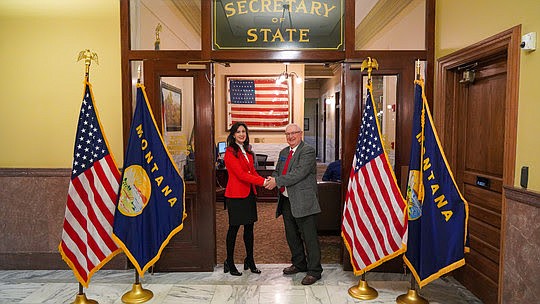 State Sen. Mike Cuffe (R-Eureka) shakes hands with Secretary of State Christi Jacobsen after being first in line to file for reelection on Jan. 13. (Photo courtesy the Montana Secretary of State's Office)
by
DERRICK PERKINS
Daily Inter Lake
|
February 8, 2022 7:00 AM
With plenty of unfinished business ahead of him, state Sen. Mike Cuffe said last week that he hopes voters in Lincoln County see fit to send him back to Helena one last time.
The Eureka lawmaker was first in line at the Montana Office of the Secretary of State on Jan. 13 to file his paperwork. Cuffe, who served as a state representative before taking the Senate District 1 seat in 2019, said his punctuality reflected his desire to serve.
"It's not the first time I've been first in line … I'm always early," he said. "I'm not filing against anybody else; I'm going to be first in line because I want that office."
Cuffe proudly ran through his accomplishments in the most recent legislative session, including working to keep timber taxes from spiking, funding university buildings and pushing voter identification legislation, during an interview last week. But it's the ongoing negotiations surrounding the Columbia River Treaty, the looming redistricting of the state Public Service Commission and what he sees as a growing threat of illegal border crossings along the Canadian border that has the 76-year-old preparing to campaign for another term in Helena.
"I have a few things I want to continue to be involved with," he said. "The timing is right. Probably my biggest piece of unfinished business is the Columbia River Treaty. We're nearing the end, nearing the decision point, on something there."
Negotiations to update the treaty, which was signed in 1961 and ratified in 1964, began in 2018. While the agreement does not include an expiration date, it does allow one or both of the countries involved to walk away from the treaty after 60 years, which comes up in 2024. Key flood control aspects of the arrangement change that same year.
A proponent of the agreement — "the treaty has been enormously successful" — Cuffe said negotiations between the U.S. and Canada had fallen off when he met with key players in October while in Washington, D.C. There on a trip organized by the Pacific Northwest Economic Region Foundation (PNWER), a group that Cuffe is the immediate past president of, he lobbied to reopen discussions. The two sides last sat down in June 2020, he said.
"They were leaving a void and some other folks were beginning to talk about canceling the treaty," he said. "I think it's a big mistake; I think it's premature. I think we should have a chance to work through the negotiations. … If it ever comes unwound, they will have a terrible time of getting it back together."
While Cuffe stops short of crediting his effort with restarting talks — negotiations resumed in November — he takes pride in having done what he could to spur the two parties on.
"I am glad I was there, glad that I encouraged it," he said. "I hope I'm having some positive influence for the Montana stuff."
Going forward, he sees his role in Helena as one of a cheerleader, drumming up support for the treaty among his colleagues and state officials.
Cuffe also has his eye on discussions for the redistricting of Public Service Commission seats. Two seats are up for election this year and a federal court has ruled that the state's map is outdated. Two options appear laid out for state lawmakers, either reconvene in a special session to negotiate new district lines, or allow the federal judiciary to redraw the map.
The latter option is a no-go for Cuffe.
"The courts have said, 'If you guys don't do it, we will,'" he said. "I don't want the courts to do it, this is not a federal decision. It's a states' rights issue, it's a state Legislature issue."
He believes state lawmakers need to show they are making progress to correct the problem to avoid a judge-drawn map. And they are, he said. It's likely an early session agenda item when the Legislature next meets in January 2023.
Cuffe wants to avoid a situation where federal judiciary creates a new map, just to have state lawmakers redraw it as soon as they get back in session. He acknowledges, though, that the upcoming elections complicate matters.
"I am of the opinion the federal courts should give us leeway to do it one year from now," he said.
But if that's not the case, he is open to convening a special session.
As for issues likely more at the top of mind for Lincoln County voters, Cuffe pointed to his work in priming the region for economic growth, particularly reigniting the timber industry. A member of the state Forest Land Taxation Advisory Committee, Cuffe said he has spoken with key property owners, those that bought up chunks of Weyerhaeuser's former holdings, as well as federal lawmakers about the future of the county's timberland.
Several of those private property owners assured him they want to continue using their tracts for lumber, he said. His job, as he sees it, is ensuring timber production is more profitable than development.
"If we need a mill going we're going to need all the timber sources we can get," he said.
Cuffe also sits on the state Infrastructure Advisory Committee, which has a major role in dolling out American Rescue Plan Act dollars around the state. By directing dollars to a project in Dillon, the group was able to stave off an increase in water rates needed to pay off a water and sewer project, he said.
Looking ahead to the 2023 session, Cuffe recognizes housing as a major concern for residents. While unsure of the best approach Helena can take, he acknowledges the plight falling on people unable to find affordable housing as well as property owners seeing taxes spiral beyond their ability to pay.
"It's not up to government to do everything, but they can set the stage," he said. "And do some things that make [housing] attractive, perhaps."
He also said he has heard increasingly more concern about illegal border crossings in the West Kootenai area of the county. He is worried that too many federal agents are pulled away from the county to patrol the U.S.-Mexico border, leaving law enforcement here short staffed and stretched thin. At the same time, Cuffe believes that cartels have discovered Lincoln County and identified it as a soft spot for entry.
I want to be proactive," he said. "Just as I was proactive with the management tools for grizzlies and wolves, regarding livestock management issues, we need to be proactive on managing the border."
Having already spoken with state Attorney General Austin Knudsen regarding the issue, he is prepared to raise it at the Legislature's upcoming session.
Thus far, Cuffe is the only individual to throw a hat in the ring for Senate District 1. Were a challenger to emerge, he hopes voters here will give him the green light to wrap up his time in Helena.
"It has been very personally satisfying, though frustrating at times — it is hard work," he said. "I enjoy it. I feel I do it well. I hope the voters of Lincoln County would see fit to send me back to Helena for my last term."
---