Crews discover body while fighting house fire on Bald Eagle Road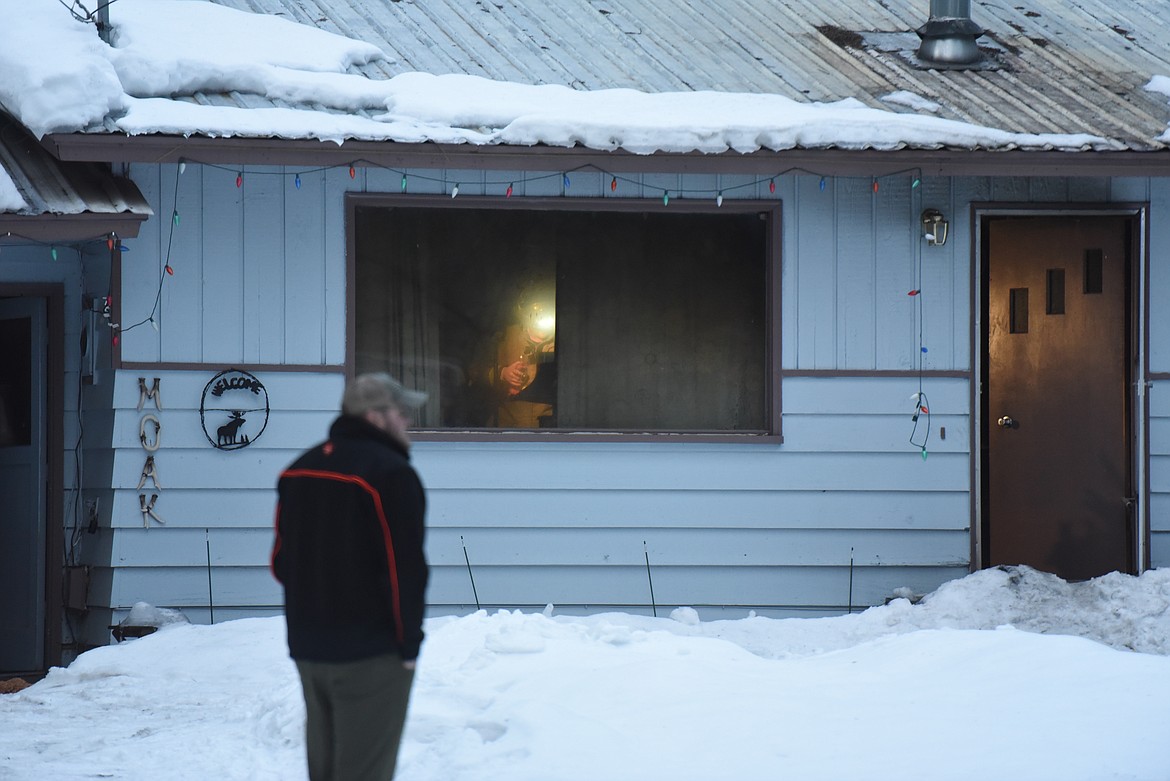 Fire officials investigate the scene of a fire on Bald Eagle Road on Feb. 5. Firefighters discovered a body inside while fighting the blaze. (Derrick Perkins/The Western News)
A Bald Eagle Road home was the scene of a fire Feb. 5. Crews searching the home came across the body of a deceased individual. (Derrick Perkins/The Western News)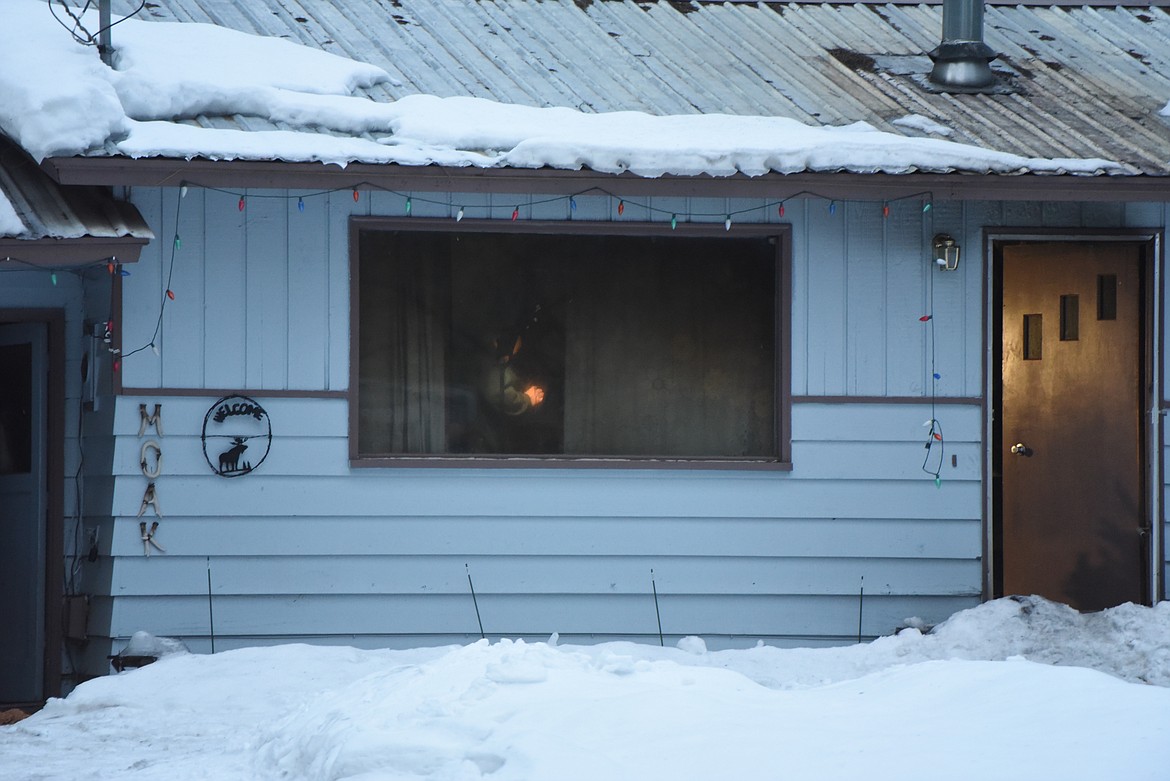 Investigators examine the interior of a house following a Feb. 5 blaze on Bald Eagle Road. (Derrick Perkins/The Western News)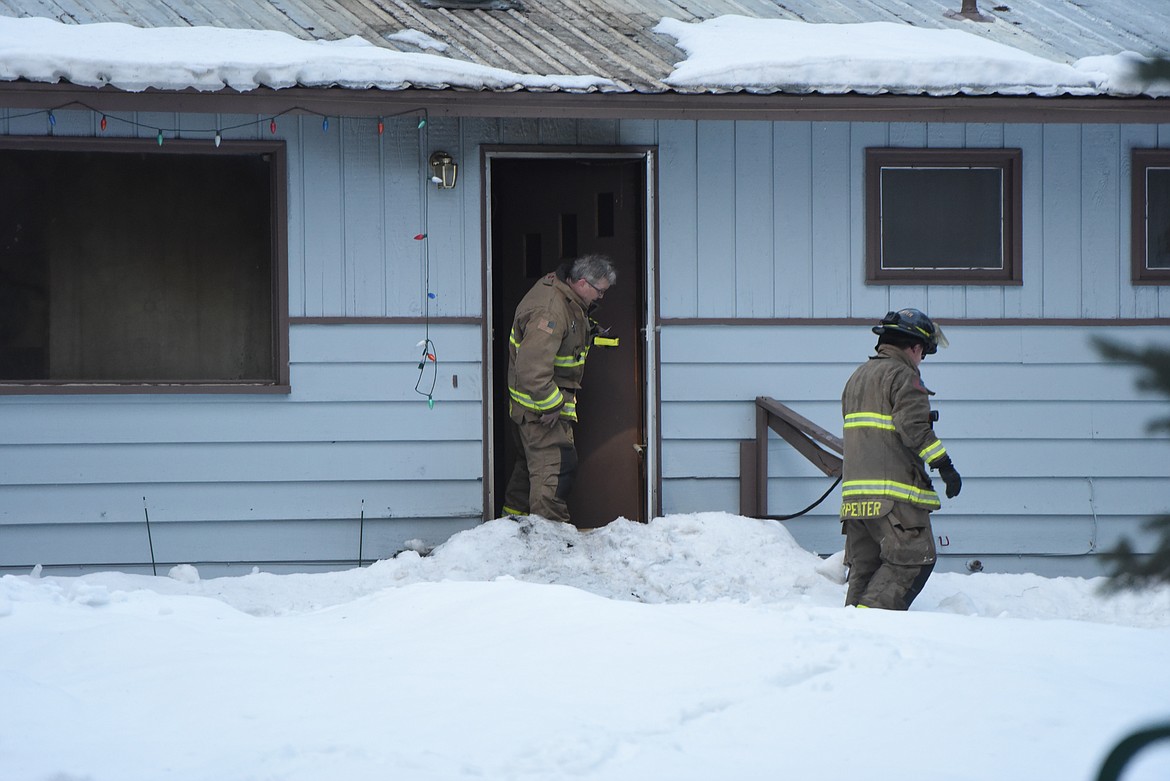 Fire Chief Steve Lauer, left, investigates the scene of a Feb. 5 house fire on Bald Eagle Road. (Derrick Perkins/The Western News)
Previous
Next
by
DERRICK PERKINS
Daily Inter Lake
|
February 8, 2022 7:00 AM
Firefighters with the Libby Volunteer Fire Department discovered a body while sweeping through a Bald Eagle Road home during a Saturday evening blaze.
Chief Steve Lauer said volunteers responded to a report of an unoccupied home on fire from dispatchers about 3:48 p.m. A search of the home, performed upon the arrival of the department's interior attack crew, turned up a deceased individual in the bedroom, Lauer said.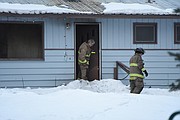 Lauer could not say what role, if any, the fire played in the individual's death. The fire department will handle the investigation into the cause of the blaze and the Lincoln County Sheriff's Office will look to see if the death seems unusual, Lauer said. Ultimately, the county coroner's office will determine a cause of death, he said.
The home was equipped with working smoke detectors. They were going off when firefighters arrived, Lauer said.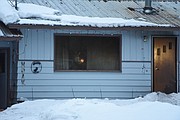 While he continued to work the scene Saturday evening, Lauer said he believed a wood stove inside the house sparked the fire.
"I'm confident it is wood stove-related," he said.
Lauer and Assistant Fire Chief Ryan Andreessen were first on the scene along with a crew on an engine from Station 4, which opened in 2019 and is located on Bobtail Road. Lauer said heavy smoke billowed from the garage of the home and he could see flames in the doorway.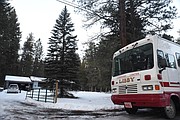 Crews initially executed an exterior knock down until a second engine arrived on scene with the interior attack team. They fought flames around the home's wood stove, Lauer said. The search of the interior for possible inhabitants, which is standard operating procedure for the department, occurred about that time.
A dog found in the garage was removed safely and turned over to animal control, Lauer said. Firefighters also came across a litter box, but have not found a cat on the property, he said.
In all, two water tenders, two engines and the department's command vehicle responded to the fire. No firefighters were injured while fighting the blaze, Lauer said.
---