Comments taken on easement for 114,000 acres of timberland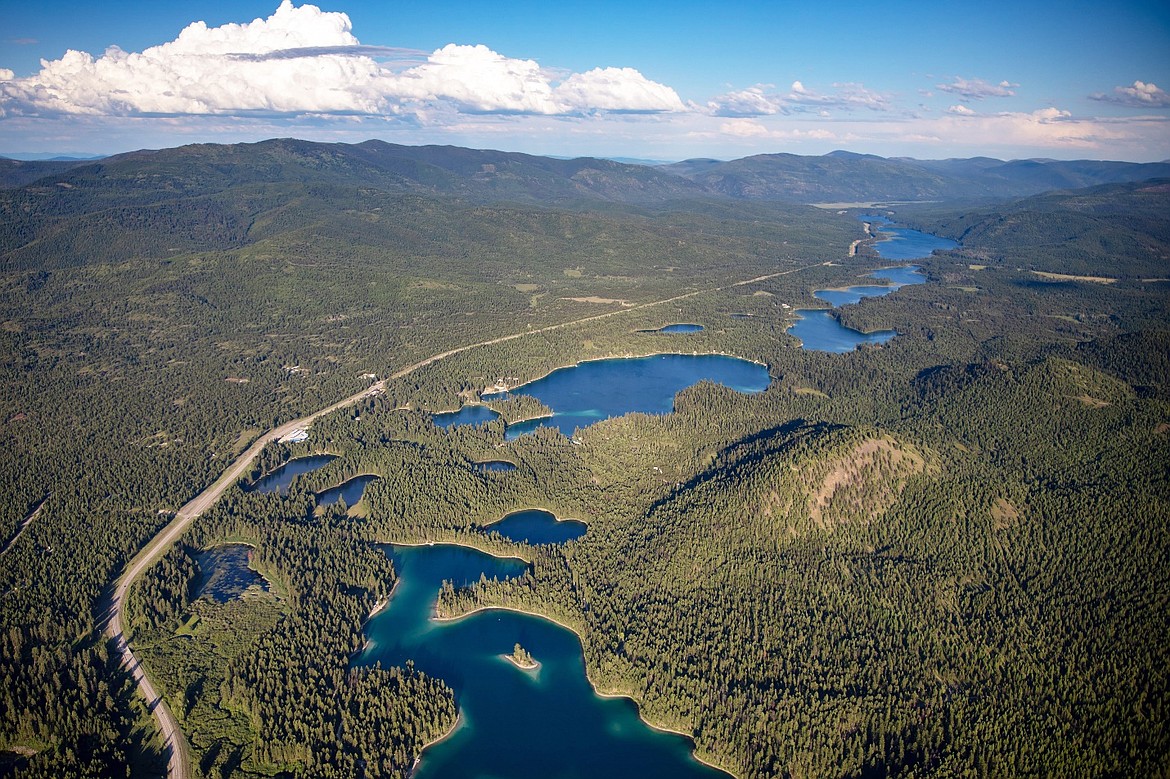 An aerial photo of timberland within the potential Montana Great Outdoors Conservation Project. (Photo courtesy of Chris Boyer, kestrelaerial.com.)
by
JOHN MCLAUGHLIN
|
February 4, 2022 7:00 AM
Montana Fish, Wildlife and Parks officials want feedback on a proposed conservation easement to protect nearly 114,000 acres of timberland near the Thompson Chain of Lakes.
FWP has partnered with The Trust for Public Land, and private landowners SPP Montana and the Green Diamond Resource Company to develop the easement, according to the department.
Lying within Lincoln, Flathead and Sanders counties, the easement precluding development would include private Green Diamond land north and south of U.S. 2, as well as private SPP Montana land south of the route.
The proposed easement would border Thompson Chain of Lakes State Park, the 142,000-acre Thompson-Fisher Conservation Easement and U.S. Fish and Wildlife's 100,000 acre Lost Trail Conservation Area, as well as Kootenai National Forest and state Department of Natural Resources and Conservation lands, according to FWP.
It has been dubbed the "Montana Great Outdoors Conservation Project."
FWP would hold the proposed easement, while SPP Montana and Green Diamond maintain private land ownership, said FWP Regional Communication and Education Program Manager Dillon Tabish.
"Conservation easements are not us buying the land," Tabish said. "This would still be in private ownership. They would still pay property taxes. They'll still be able to do forestry work."
"It basically allows them to keep owning the land and keep doing what they're doing on it," he added. "But it precludes development, so it can't be subdivided or anything like that."
The easement would prevent development to protect wildlife habitat, provide landscape connectivity and allow public access for recreational opportunities, according to FWP.
The land would also conserve key winter range and a movement corridor for elk, mule deer, white-tailed deer and moose, the department noted in a release Wednesday.
"It would provide critical habitat for grizzly bear and Canada lynx, federally threatened species found on the property, and protect streams for the westslope cutthroat trout and Columbia River redband trout, both Montana species of concern," the statement said.
FWP has now opened a 30-day "scoping period" through March 4 to accept public comment on potential issues and concerns related to the easement.
This input could later be considered in developing an environmental assessment, which would also include public comment, according to Tabish.
Comments received could also provide insight to refine the proposal or develop alternatives, according to the Wednesday release.
"We want to engage with neighbors in the area, members of the public, everyone, so that we could put a good environmental assessment together that is really in touch with concerns or issues or ideas that they may have," Tabish said.
Comments can be submitted to chammond@mt.gov or mailed to Montana Fish, Wildlife and Parks, Chris Hammond, Re: Proposed Conservation Easement, 490 N. Meridian Road, Kalispell, MT, 59901.
---