Change rides slowly into Turner Mountain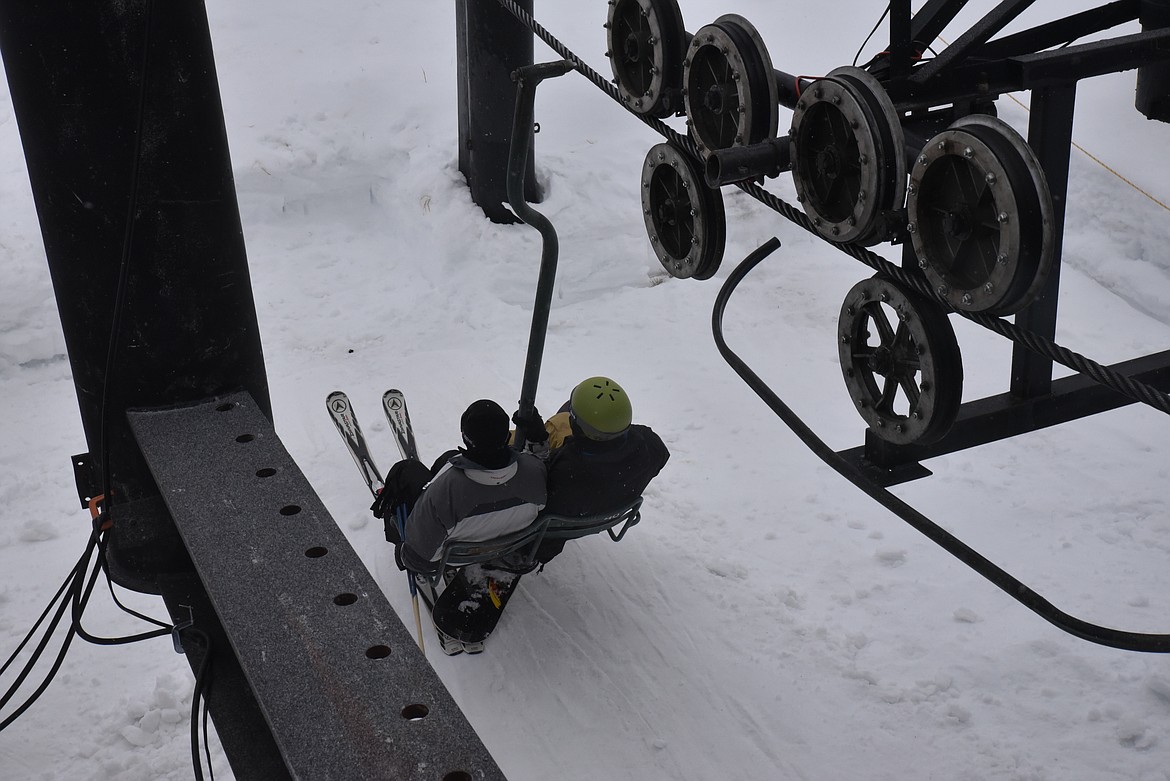 Skiers head to the top of Turner Mountain Ski Area aboard the volunteer outfit's sole chairlift in mid-January. (Derrick Perkins/The Western News)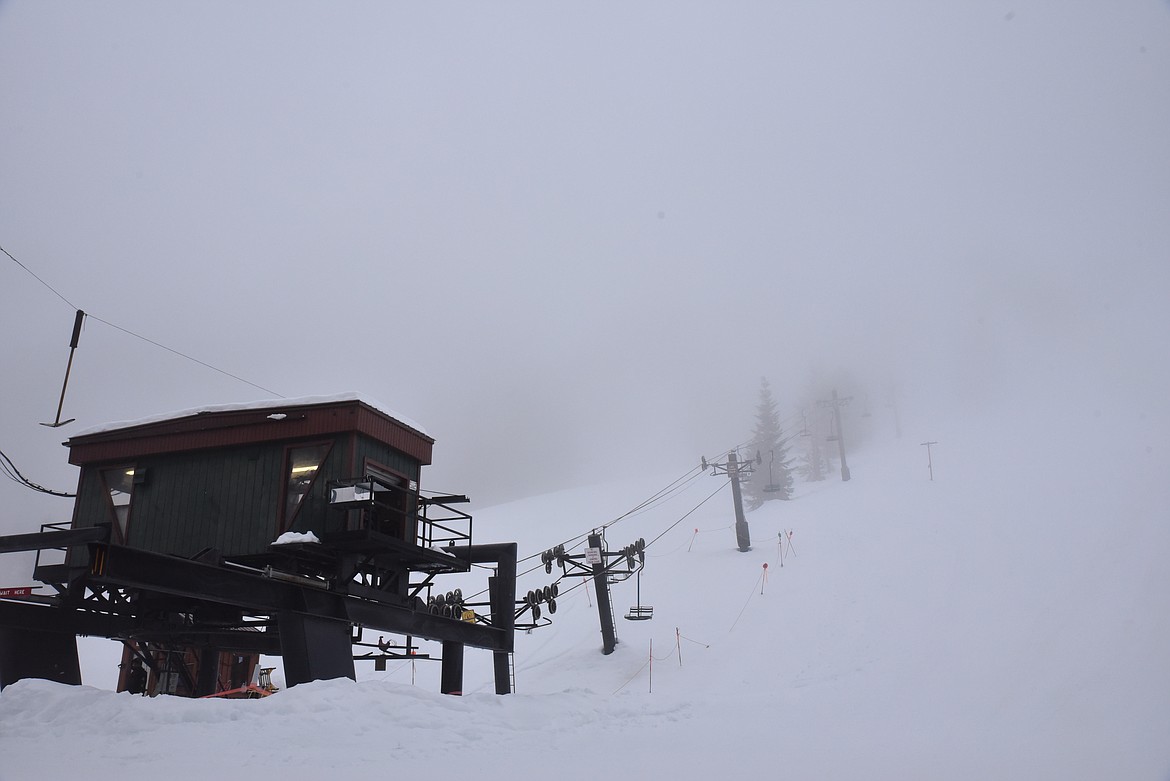 The sole chairlift at Turner Mountain Ski Area ferries skiers up into the clouds during a Friday in mid-January. (Derrick Perkins/The Western News)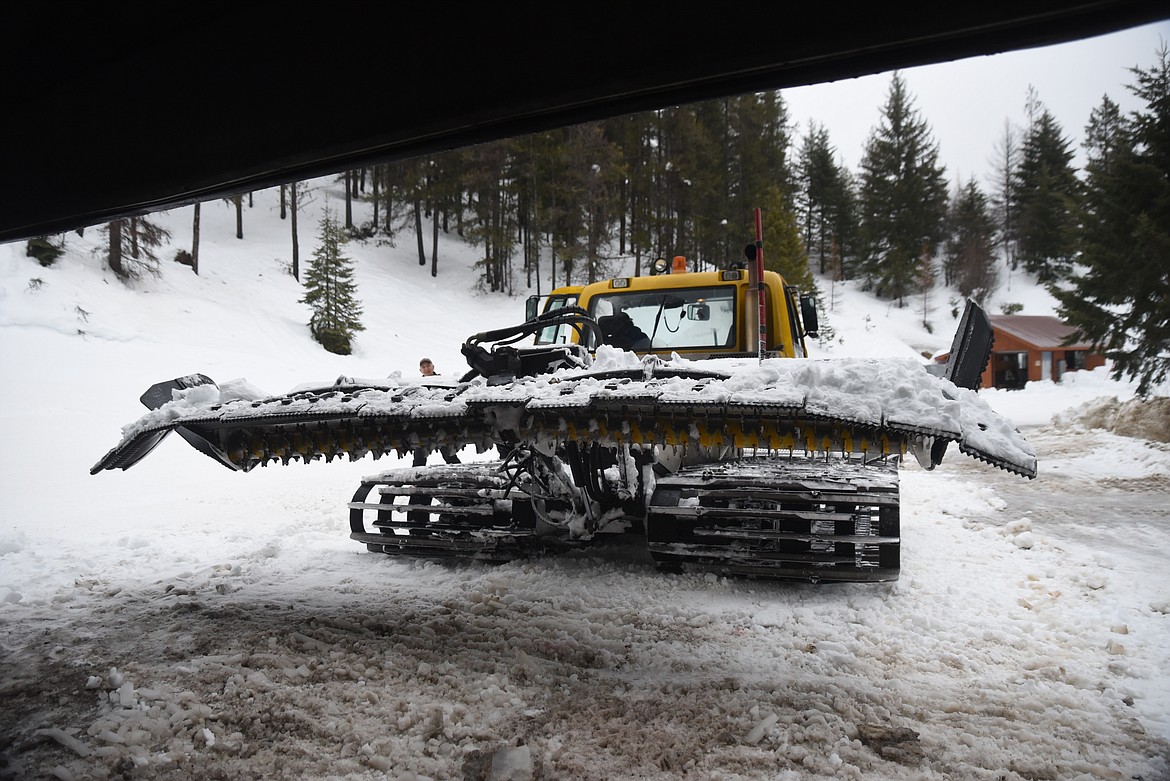 One of the snow groomers at Turner Mountain Ski Area. (Derrick Perkins/The Western News)
Previous
Next
by
BRET ANNE SERBIN
Daily Inter Lake
|
February 4, 2022 7:00 AM
Cloudy skies made for low visitation at Turner Mountain Ski Area when 66 skiers rode the lone chairlift on Friday, Jan. 14.
The Libby ski hill typically serves an average of 110 skiers each day. But the enthusiasm among the small crowd there was as high as ever.
"People realize it's a very special experience," said Jon Jeresek, the Mountain Manager. "It's really family-oriented, down-home and friendly…This mountain is the most leisurely ski experience you could imagine."
That realization seems to be dawning on more people all the time. Turner's daily counts are gradually growing. On Friday morning, license plates hailing from the Flathead Valley, Washington and even California could be spotted in the small parking lot.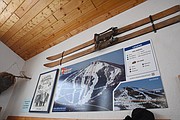 "We're kind of being discovered," said Perry Stebbins, who runs Perry's Powder Palace rental shop. "It's bittersweet."
The visitors on Friday consisted of a mix of longtime Turner regulars and new converts to the Cabinets. Mckenzie Scofield said she grew up skiing at Turner with her father, and now she takes her children, Noah and Gracie. Also on the mountain with the Scofields were Jake Richey, Daniel Purdy, and their group of friends who recently moved to the Yaak from California.
The mountain operations team believes Turner's 22 named runs have plenty of room to accommodate extra visitors. Tony Petrusha, who sits on the board of directors with Jeresek, said they expect visitation to "slowly creep up."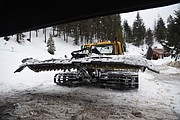 "We would love 150 [people per day]," said Petrusha.
This summer, Turner will expand its parking lot down below the current parking space to make room for the eventual influx of new skiers.
Petrusha and Jeresek are eager for expansion, because it will help guarantee the longevity of the ski hill and the nonprofit organization that supports it.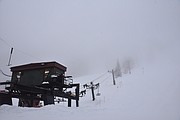 Turner Mountain Ski Area is run by Kootenai Winter Sports Ski Education Foundation Inc. Volunteers — approximately 50 of them — are responsible for everything from ski patrolling, to grooming, to repairing the doorknobs at the lodge.
"The people we really depend upon is a pretty small group," Jeresek said.
That group includes David Newman, the ski patrol leader of 27 years, and his neighbor Penny Lehrer, who said she simply volunteers for the fun of it. Lehrer, unlike many Turner volunteers, has no interest in the free pass that comes with her service. The two-year volunteer hasn't skied since high school, but she still enjoys watching the top of the chairlift to make sure skiers and boarders make it safely off the chair.
"People wave at you," Lehrer said. "I don't mind it."
THE BOARD of Kootenai Winter Sports Ski Education Foundation Inc. is hopeful the next generation share's Lehrer's commitment.
"Is it sustainable is a real question," Petrusha admitted. "There's a lot of gray hair."
Nonetheless, Petrusha and Jeresek are optimistic that their successors will maintain the appreciation they have for their local mountain. They believe the support for Turner is generational, passed from family member to family member no matter the era.
"It is a unique establishment," said Petrusha. "That's part of why people perpetuate it. It's good to be a part of something like that."
But funding the mountain is another challenge for the nonprofit, which depends upon fundraising to buy new equipment and rehab the existing infrastructure.
"Anything major we do through fundraising," Petrusha said. Fundraisers made it possible to buy a third groomer last year, and to replace the groomer storage barn when it burned down a few years before that.
Fundraising has also made it possible for ski patrol, which is financially independent from the mountain itself, to upgrade its technology. The Montucky Clear CUT event hosted annually at Turner has brought in $6,000 in donations to ski patrol over the past few years.
THAT EVENT, said ski patrol director David Newman, "has been really beneficial."
Ski patrol's two state-of-the-art vacuum splints are a far cry from the lifesaving equipment ski patrol used when Newman first started volunteering 27 years ago.
At the time, the ski patrol veteran recalls, his crew didn't even have its own uniforms.
Those were the days of the legendary T-bar, famously the longest in North America until it was retired in 2001. It stretched a mile long from the base at 3,842 feet to the 5,952-foot summit. At the time it was constructed in 1961, grooming operations involved skiers side-stepping across the terrain to smooth it out.
Things are a little different these days, with cell service and Wi-Fi available at the lodge and a new infrared waxing machine running in the rental shop downstairs. Jeresek, a Turner regular since the 70s, may have finally worn out his claim to the title "newcomer."
But Stebbins, who has worked in the rental shop since the early 2000s, thinks Turner has "not really" changed over the years.
"I think we kind of take pride in that," he said.
---