Loggers outpace Trojans in 76-24 win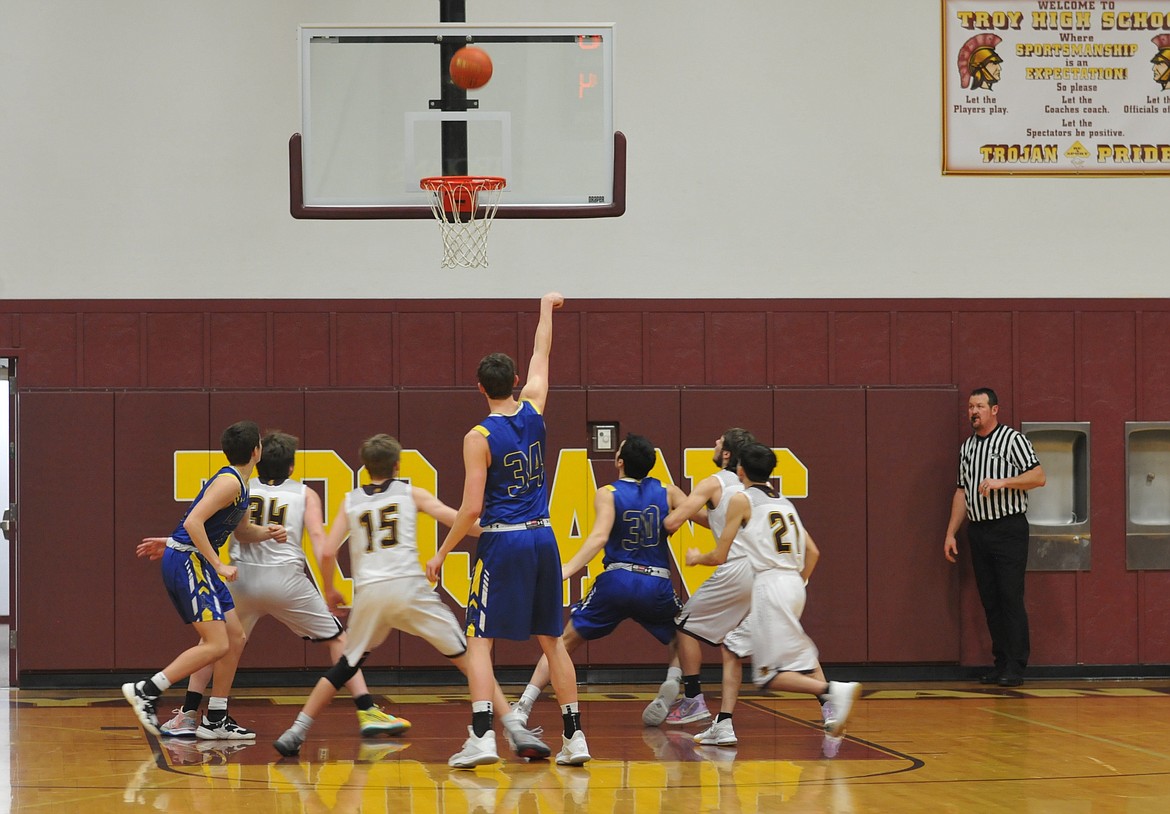 The Libby Loggers defeated the Troy Trojans 76-24 on Jan. 27. (Jim Dasios for The Western News)
by
JIM DASIOS
|
February 1, 2022 7:00 AM
They say looks can be deceiving, but unfortunately for the Troy Trojans that wasn't the case on Jan. 27.
Boasting a front line of 6-foot-5, 6-foot-4 and 6-foot-2 and a roster of players who look like they have spent time in the weight room, the Libby Loggers ran past the Trojans by a score of 76-24.
Troy took an early lead by patiently working the ball around Libby's man defense. They converted several good looks at the basket into Trojan points.
But after that it was all Libby.
The Loggers' 1-2-2 full court press, along with a mix of zone and man defense, created turnovers that led to fast-break baskets. Two traditional three-point plays and a four-point play by Tyler Andersen, combined with a quarter ending follow-up jam by T.J. Andersen, gave the Loggers a 24-10 first quarter lead.
Both teams began subbing freely in the second quarter. Meanwhile, Libby's press continued to harass the Trojans, leading to turnovers and more points for the Loggers. With Libby's height beginning to take its toll on the smaller Trojans, the Loggers cruised to a 44-12 lead at halftime.
The third and fourth quarters saw more of the same: The Loggers steadily increasing their lead while both teams rotated players and lineups freely. Highlights for Troy in the second half of the game included a steal and layup conversion by freshman Barocko Garcia and a successful drive to the basket by senior Alex Kaufman.
Troy inserted an all-underclassmen lineup at the five-minute mark of the fourth quarter. Freshman J.J. Miller scored on the oft-overlooked jump hook shot.
Libby coach Josh Bean said his squad's athleticism shone in the win.
"We have a number of kids, including the whole starting five, who can pick the ball off the glass and lead the break in the other direction," he said.
Bean also highlighted Ryan Collins and Kaleb Folk for coming off the bench to aid in the victory.
"Ryan brought a lot of energy and leadership to the team," he said. "Kaleb is gaining more confidence as the season rolls along."
Bean appreciated how his team moved the ball amongst themselves, but said they need to work on developing a killer instinct.
"Sometimes when making that extra pass, we pass up quality shots. We need to correct that," Bean said. "We also need to rebound better out of our different zone defenses."
Bean acknowledged that it was easier said than done.
"That's a difficult thing to do, more difficult than rebounding out of a man defense," he said.
Bean also complimented the Loggers' hustle, especially on defense.
"We were able to tip or disrupt a number of passes," he said. "More importantly, the kids made it a point to chase those loose balls down and create turnovers."
---