Fettig allegedly took swig of alcohol at scene of rollover, police say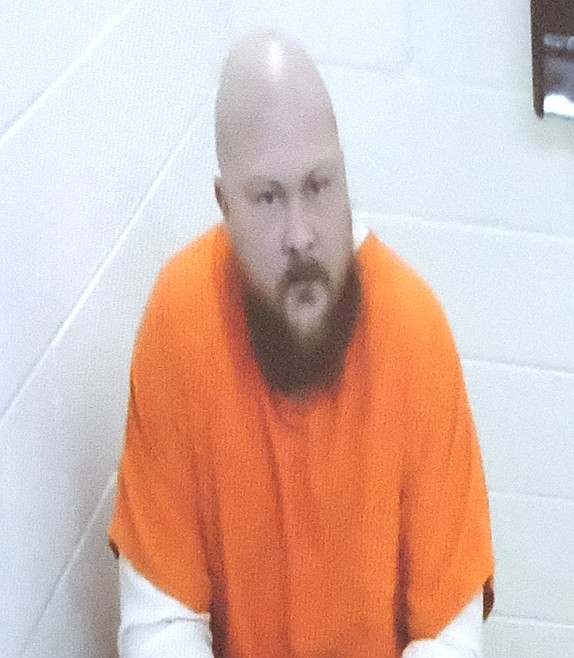 Jason Matthew Fettig appears in Lincoln County District Court via videoconferencing software in January 2022. (Paul Sievers/The Western News)
by
DERRICK PERKINS
Daily Inter Lake
|
February 1, 2022 7:00 AM
A local man with a history of drunk driving pleaded not guilty to new charges in Lincoln County District Court last month after police say he rolled his truck while intoxicated.
Jason M. Fettig, 41, pleaded not guilty Jan. 10 to felony driving under the influence, fifth or subsequent offense, or operating a noncommercial motor vehicle with an alcohol concentration greater than .08 in the alternative as well as driving with a suspended or revoked license and operating a vehicle without an ignition interlock. The latter two charges are misdemeanors.
Fettig ran afoul of law enforcement after allegedly returning to the scene of a motor vehicle accident on Education Way about 4:50 p.m., Dec. 23. In an affidavit, Sgt. Chris Pape of the Libby Police Department recalled that the scene was devoid of anything but the crashed truck when he arrived. Fettig showed up soon after, he wrote, and claimed ownership of the vehicle.
Pape recalled that Fettig's eyes were glassy and bloodshot. He spoke deliberately and with slurred speech, Pape wrote. He stood unsteadily "as if he were trying to keep his balance," Pape wrote.
He also acknowledged being on probation for a previous driving under the influence conviction, court documents said.
Fettig denied drinking and driving, Pape wrote. Instead, he said he took a bottle from his truck after the crash, went home to drink and then returned to retrieve the vehicle, according to court documents. Fettig allegedly pulled out a bottle of cinnamon whiskey from his pocket and took a swig during the conversation, Pape wrote.
As Fettig spoke with officers, Pape learned from dispatchers that his license was revoked and his vehicle was to be outfitted with an ignition interlock.
Confronted, Fettig allegedly acknowledged driving without a valid license.
A preliminary breath test confirmed the presence of alcohol in Fettig's system, Pape wrote. Fettig boasted a blood alcohol concentration of .238, which left Pape doubting his version of events, particularly his claim that he began drinking after the accident, according to court documents.
"Due to his BAC of 0.238 and the short amount of time that passed from the time of the crash to the time I made contact with him, I do believe that Fettig was operating the vehicle while he was under the influence of alcohol," Pape wrote in the affidavit.
According to court documents, Fettig has prior driving under the influence convictions dating from December 2001, August 2002, March 2003 and June 2020.
In the 2020 case, officers arrested Fettig after responding to a report of a pickup driving erratically and spinning its tires along U.S. Highway 2 in Libby. According to court documents, Fettig admitted to drinking alcohol when Deputy Luke Hauke of the Lincoln County Sheriff's Office stopped him in the parking lot of a local motel.
Following his Jan. 10 arraignment, prosecutors sought to have his probation revoked, citing his failure to comply with laws and a requirement to remain drug and alcohol free. Fettig disputed both.
Driving under the influence, fifth or subsequent offense or, in the alternative, operating a noncommercial vehicle with an alcohol concentration of .08 percent or greater carries a punishment of up to 10 years with the Montana State Prison and a fine of between $5,000 and $10,000. The two misdemeanor charges carry maximum penalties of six months in the county jail and a $500 fine each.
Fettig is due back in court for an omnibus hearing on April 4 with a pretrial conference scheduled for April 2. Were the case to go to trial, it would begin in June.
---