Libby's Stevenson signs with Griz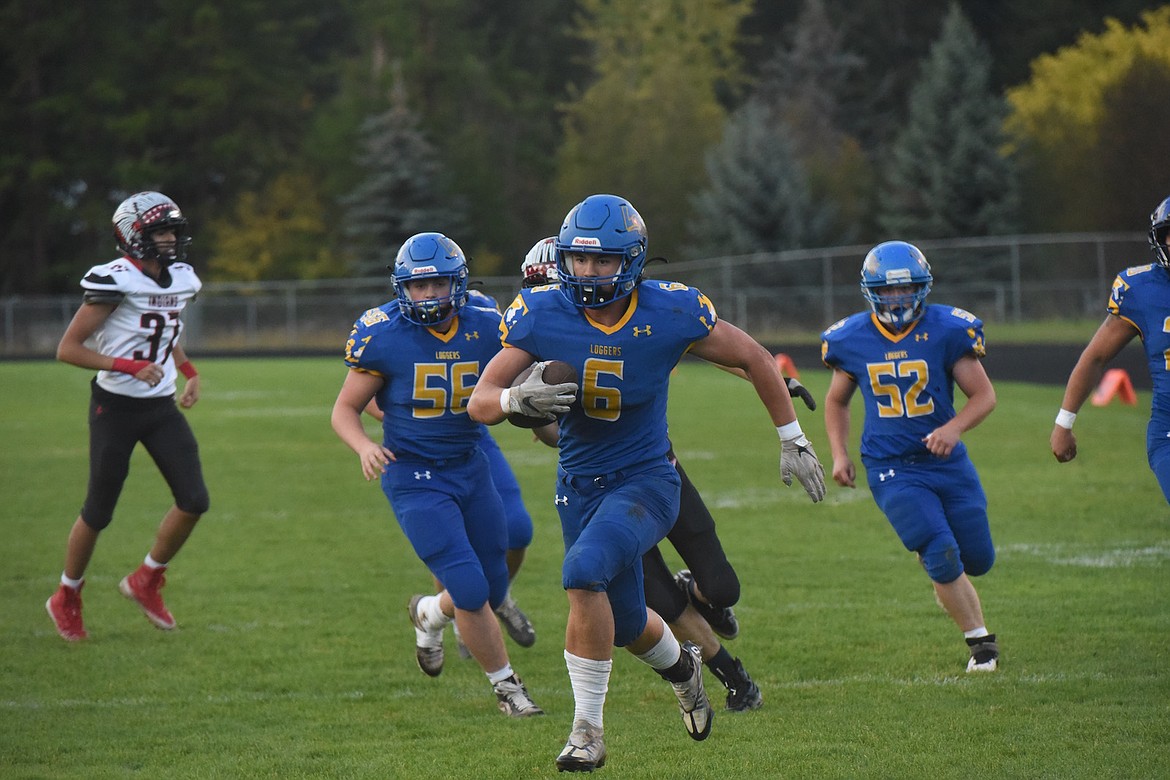 Libby's Cy Stevenson runs for a touchdown on Sept. 30 against Browning. (Scott Shindledecker/The Western News)
by
Daily Inter Lake
|
December 27, 2022 7:00 AM
Gage Sliter, Cy Stevenson and 11 others made it official Wednesday, signing letters of intent to join the Montana Grizzlies football program in 2023.
Stevenson, a Libby product who is one of just three Montanans to rush for 1,300 yards this past fall, is projected to play linebacker for the Griz.
The 6-foot-2, 210-pounder is one of three signed to that position, along with Hayden Opitz of Helena Capital and Clay Oven out of Billings Central.
"Cy has a great frame," Montana coach Bobby Hauck said in a release from UM. "He played a lot of positions in high school like a lot of the smaller school guys do, but he was terrific in our camp this summer.
"That's a recurring theme with a lot of these guys. We see him in camp, they do a nice job and end up on our team, and Cy placed himself in front of a lot of guys in terms of players we were recruiting."
Sliter, out of Glacier High, is one of two quarterbacks in the early signing class (a final signing day will happen in February); the other is Keali'i Ah Yat out of Kaneohe, Hawaii.
Ah Yat is the son of Griz great Brian Ah Yat, a Hawaii native who threw the Griz into the 1996 FCS title game, the first of his three years as Montana's starter.
While Sliter's 3,175 passing yards this fall was second only Patrick Duchien of Florence (a Montana State signee), Ah Yat had more pedestrian statistics at Kamehameha-Kapalama: In eight games, all losses, he threw for 1,249 yards and nine touchdowns, though he had a pair of 300-yard games.
In six games in 2021 he threw 10 TD passes in six games.
"Keali'i had an interesting recruiting process," Hauck said. "With Hawaii so locked down during the pandemic, he didn't have a lot of film. But he came to our camp and just blew it out. He was absolutely terrific at camp. … He's a really great get for us. He was a man of his word with this commitment, and is just a really outstanding get as the quarterback in this class."
Of Sliter, Hauck noted his lifelong devotion to UM, where his parents graduated.
"Gage is a guy who grew up around our program," Hauck said. "We've been watching him in our summer camps for years and he's really developed into a fine player. He's a guy that's going to come in and provide depth at the quarterback position."
The class includes eight Montanans and three football legacies.
Cameron Gurnsey of Butte follows his father Scott's footsteps as a Griz receiver; he had 65 catches for 967 yards this past fall.
Offensive lineman Austin Buehler out of Capital is the third; his dad Eric was a defensive end on the 1995 national champion Grizzlies.
Gurnsey is one of two receivers in the class, along with Jaylen Hall out of El Cajon, Calif. Buehler is one of four offensive linemen signed, including Tate Templton of Missoula Sentinel.
The class includes Iverson Young, a 195-pounder out of Waxahachie, Texas, and Dylan Cohen, a highly-touted offensive lineman out of Seattle's O'Day High School.
Not counting three January transfers Montana State signed 24 players Wednesday, including one Griz legacy (defensive back JJ Dolan) and two Missoula Sentinel products (Dolan and Adam Jones).
MSU also got its share of Helena players: Tom Carter and Talon Marsh of AA champion Capital are joining the squad, as well as defensive back Colter Petre of AA runner-up Helena High.
The Bobcats landed not just Duchien but one of his Florence blockers: 275-pound Jonathan Luhmann. MSU lists Duchien at QB.
---