Ronan, Polson hand Lady Loggers defeats
by
SCOTT SHINDLEDECKER
The Western News
|
December 20, 2022 7:00 AM
The Libby girls varsity basketball team fell to 0-4 after two losses last week at home.
Thursday, the Lady Loggers fell to Ronan, 43-21, then to Polson on Saturday, 40-14.
In the Ronan game, Libby trailed 9-5 after one quarter, but the Maidens took control and opened up a 12-point lead, 21-9, at halftime.
The lead was still 12 entering the fourth quarter when Ronan scored the first nine points to seal the win.
In Saturday's game, both teams struggled to score in the first quarter as the Lady Pirates held a 7-5 lead. But Polson found its shooting touch and outscored the Lady Loggers 17-0 to take a 19-point halftime lead.
Rylee Boltz, Ashley Freese, Kinzee Boehmler and Rachel Kosters did the bulk of the scoring in both games for Libby.
The Lady Loggers play at Thompson Falls on Tuesday before taking on Troy on Wednesday at 5:30 p.m.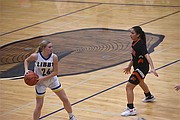 ---