Man escapes serious injury in garage fire east of Libby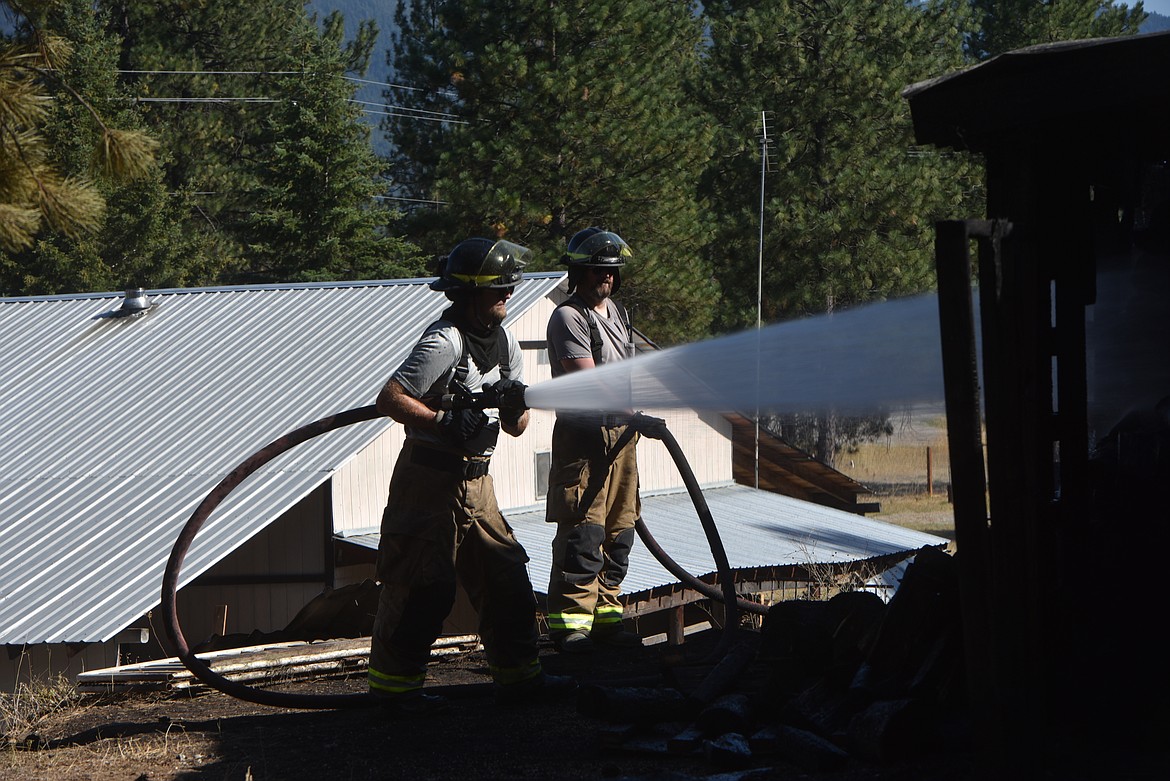 Two Libby Volunteer Fire Department firefighters spray water on a garage fire Wednesday afternoon at Echo Lane off of U.S 2 east of Libby. (Scott Shindledecker/The Western News)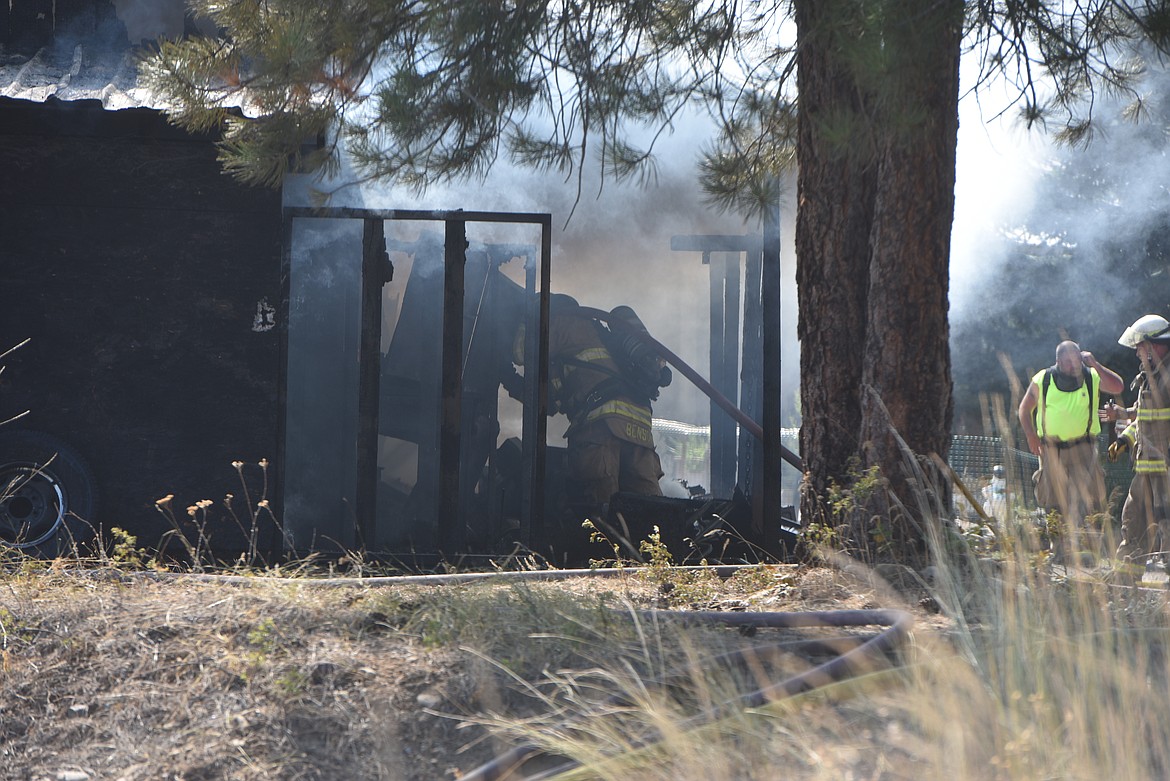 A Libby Volunteer Fire Department firefighter checks on a hot spot at a garage fire Wednesday afternoon at Echo Lane off of U.S 2 east of Libby. (Scott Shindledecker/The Western News)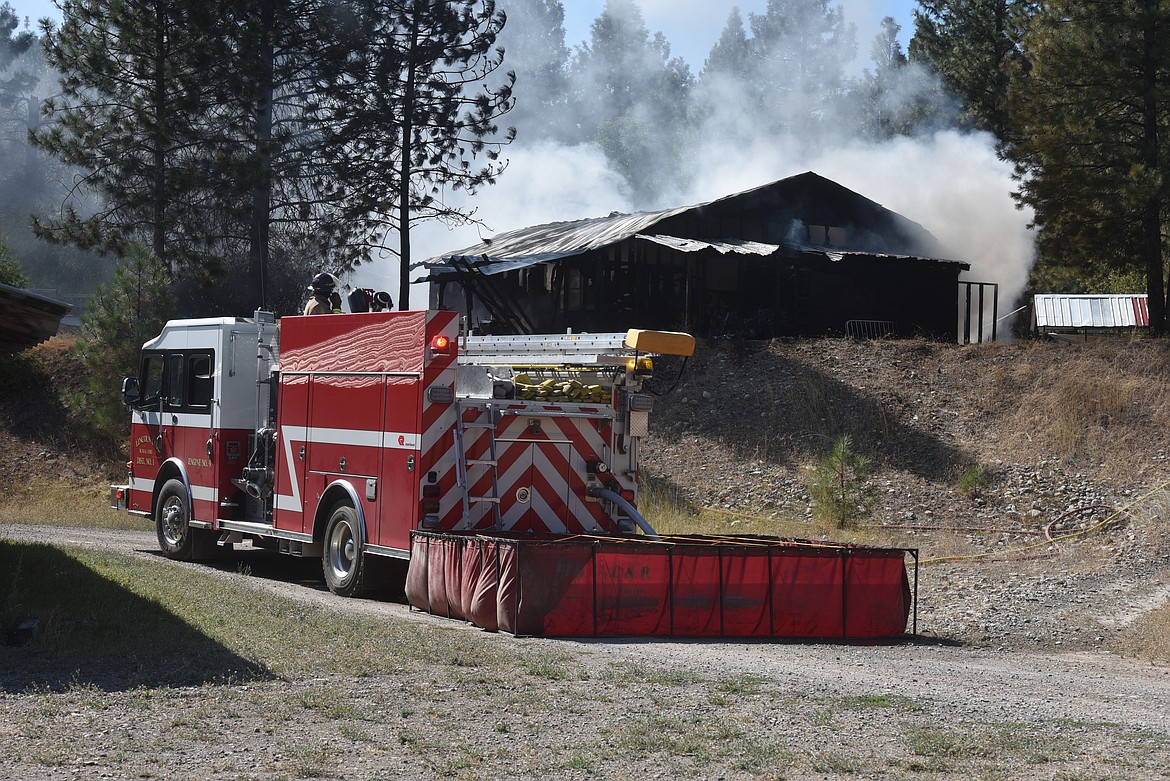 Smoke pours from a garage fire Wednesday afternoon at Echo Lane in Lincoln County. (Scott Shindledecker/The Western News)
Previous
Next
by
SCOTT SHINDLEDECKER
The Western News
|
August 31, 2022 8:00 PM
A Lincoln County man escaped serious injury in a garage fire Wednesday afternoon east of Libby.
The man was in his garage, located on Echo Lane, when the fire broke out sometime around 2 p.m.
Libby Volunteer Fire Department First Assistant Fire Chief Scott Beagle said he thought the man worked to put the fire out with some extinguishers he had on site, but the fire quickly grew large.
He believed the man had some abrasions and probably smoke inhalation before being taken to the hospital.
None of the 16 volunteer firefighters or area residents were injured, but Beagle said fire crews had to battle the extreme heat of the blaze as well as temperatures that quickly rose into the upper 90s during the afternoon.
Beagle said firefighters sprayed about 10,000 gallons of water on the blaze.
Three water tenders, two engines, the department's Command Center, Libby Volunteer Ambulance, the county Sheriff's Office and Montana Highway Patrol all responded to the scene.
The scene was initially chaotic before everyone knew the man was OK.
One woman frantically asked if he was OK before she returned after finding out he hadn't suffered any serious injuries.
The contents of the garage, which included a large amount of fishing equipment, tools and other work equipment, was a total loss.
One neighbor said the man did have insurance on the property.
Heat from the fire melted bumpers on vehicles parked several feet from the garage. A dog and a cat which were in the garage safely escaped the fire, too.
Neighbors who lived on the other side of U.S. 2 said it was fortunate there wasn't much wind. One said the flames were 30 to 40 feet high and another said she started hosing down the grass near her home in case the fire spread beyond the structure.
But it didn't due to the fast response of the fire crews and the use of a two square plastic pools held up by metal frames.
Beagle said two department tanker trucks can hold 2,500 gallons of water while a third holds up to 3,500 gallons.
"When we're not near a hydrant or some plentiful source of water, which is frequent, we can fill a tanker truck in about three or four minutes, dump that into the pool and the tanker can return to a stream to get more water," Beagle said. "It's extremely helpful."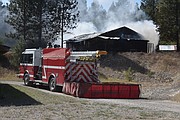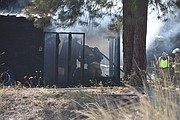 ---