Stories galore at 61st Annual Igniters Car Show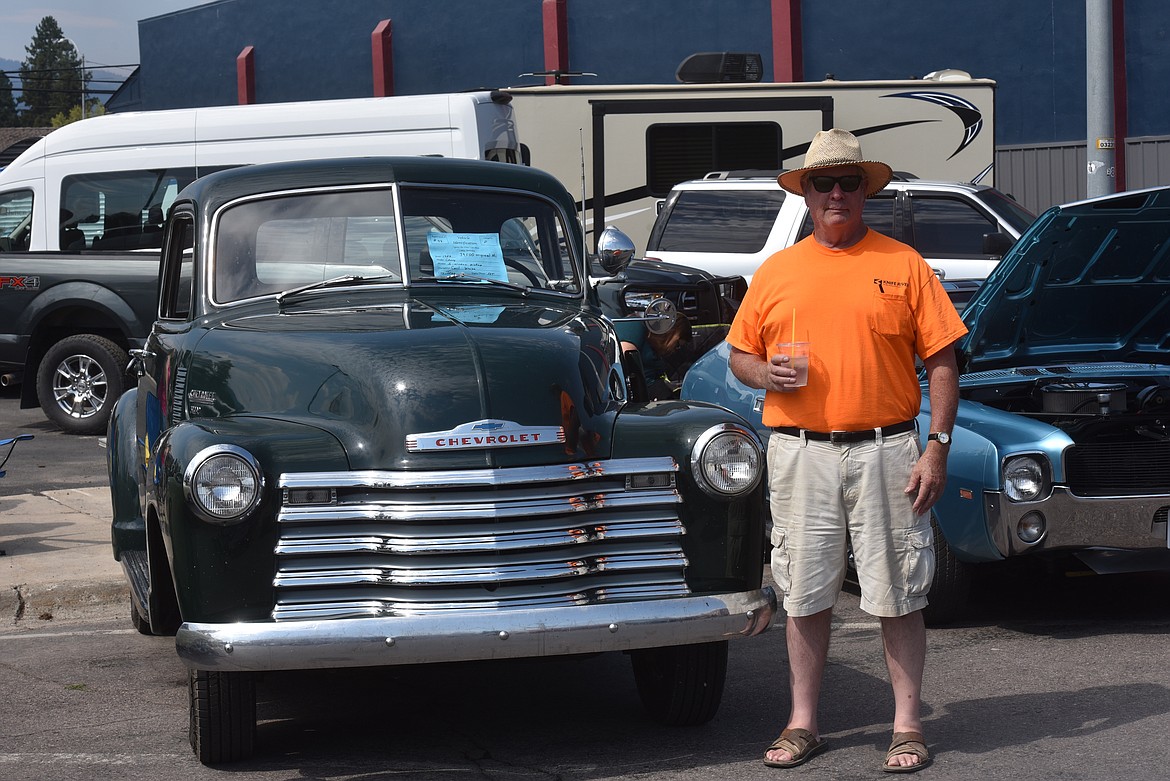 Troy's Carl Weiss shows off his 1950 Chevy 5-window pickup at the Igniters Car Club show Saturday, Aug. 20, 2022, in Libby. (Scott Shindledecker/The Western News)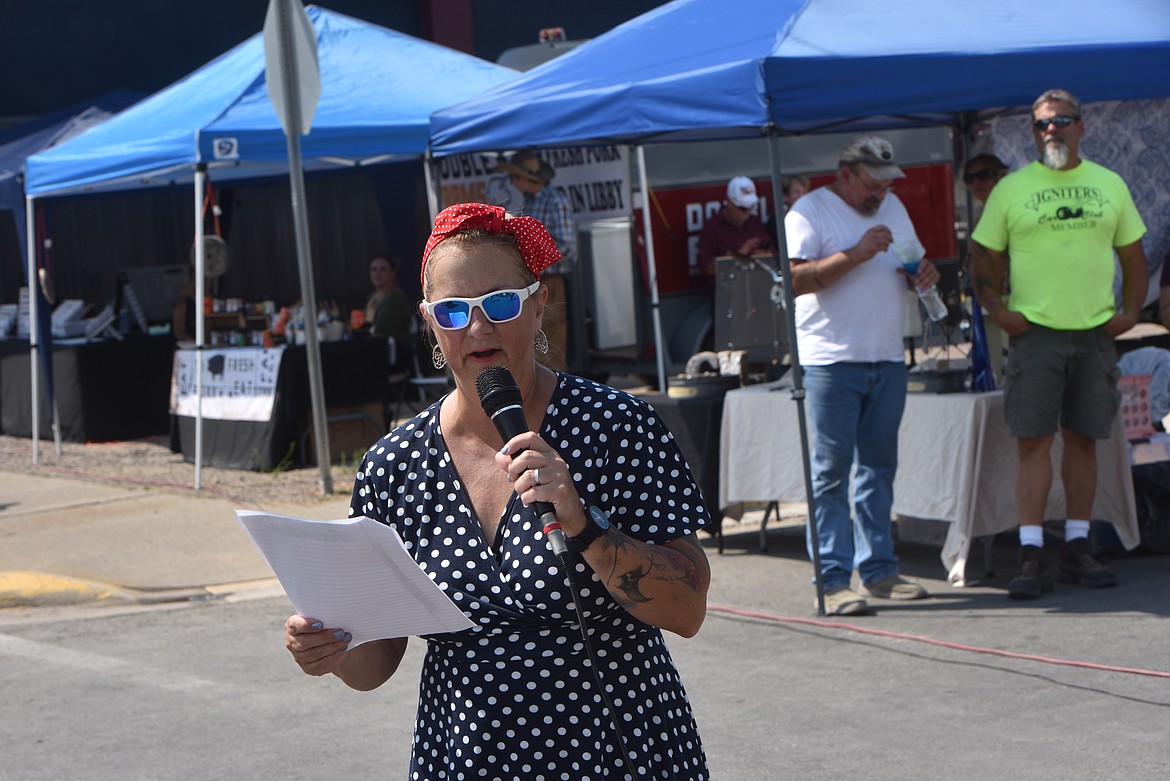 Igniters Car Club show organizer Dee Teske had no trouble staying busy on Saturday, Aug. 20, 2022, at the Ignite the Nite event in Libby. (Scott Shindledecker/The Western News)
Previous
Next
by
SCOTT SHINDLEDECKER
The Western News
|
August 23, 2022 7:00 AM
One of the neat things about car shows are the stories the owners have to share.
For instance, Troy's Carl Weiss talked about the history of his green 1950 Chevy 5-window pickup truck. It is in its original condition, certainly a rarity for a vehicle approaching its 75th birthday.
Weiss said the only thing that doesn't work in the truck is its radio.
"An old fellow in Tennessee first bought it," Weiss said. "Then Hank Williams Jr. bought it and drove it to the Big Hole."
Yes, it was that Hank Williams Jr., the son of country music legend Hank Williams, who has had a career of considerable note himself writing and performing.
The truck, which was eventually bought by a friend of Williams, stayed in the Big Hole for many years.
"I saw it and my wife, Bobbie, wanted it so I bought it a year ago," Weiss said. "She wants to replace the wooden floorboards in the bed, but I'm not so sure."
Also, consider the black 1961 Studebaker Hawk, owned by Wayne and Marge Kroeger of Libby. Wayne explained Marge's parents bought it brand new, the same year the Igniters Car Club was formed in Libby,
Those were just a few of the hundreds of stories that were shared at last weekend's Ignite the Nites 61st Annual Car Show in Mineral Avenue in Libby.
Despite hot, humid weather, the show was not disturbed by rain that fell before and near town.
Event organizer Dee Teske said 283 vehicles were registered for the show and 41 which belonged to Igniters Car Club members that were on display.
Here are the winners of the 2022 show:
Antique Stock 1940 and older
Peyton Tritt, Spokane, 1910 Ford Model T
Street Rod 1948 and older
Lonnie and Toni Wallace, Park City, Montana, 1936 Chevy Sedan
Classic Stock 1941-1959
Tom Kumle, Thompson Falls, 1957 Chevy Nomad
Classic Modified 1941-1959
Eamonns/Jenny Culkin, Spokane, 1957 Chevy 210 Wagon Blown
Custom 1949-1975
Joe Ulrich, Post Falls, 1969 Pontiac Firebird
Rat Rod
Jason Culbertson, Eureka, 1934 International C-1
Late Great Stock 1960-1979
Larry Ellsworth, Spokane, 1964 Chevy Impala Convertible
Late Great Modified 1960-1979
Dave and Cindy McManus, Coeur d'Alene, 1970 Nova
Club Participation
The Outlaws of the Flathead
Late Model Stock 1980-1999
Michael Romani/Kaitlyn Tritt, Spokane Valley, 1993 Ford Mustang GT Convertible
Late Model Modified 1980-1999
Bill Watt, Spokane, 1991 Chevy Corvette
Sport Compact
Rich DuBois, Castle Rock, Colorado, 1962 Austin Healy
Sports Car
Tracie Barnes, Libby, 1964 Corvette
Muscle Car 2000-Present
Larry Pasco, Spokane Valley, 2021 Mustang Coupe
Neon Lights
Crystal Redlinger, Spokane, 1955 Ford F-100
Flame Throwing
Cindy Mcmanus, Coeur d'Alene, 1968 Ford Galaxy Convertible
Antique Truck Stock 1940 and older
Debbie Moore, Kalispell, 1937 Ford Pickup
Antique Truck Modified 1940 and older
Rick Blomdahl, Troy, 1935 International
Classic Truck Stock 1941-1959
Robert Carlson, Troy, 1959 GMC Pickup
Classic Truck Modified 1941-1959
Ray Simpson, Whitefish, 1941 Willy Pickup
Selfie Scavenger Hunt/Poker Hand Winner
Asia Jones and Jeremiah Richardson, Libby
Pinup Girl
Iris Sharpe, Calgary, Alberta
RockaBetty
Linda Gibson, Post Falls, Idaho
RockaBilly
Dan Sidmore, Brady, Montana
Long Distance
Leo Weinman, Colorado Springs, Colorado, 1,387 miles
Late Great Truck Stock 1960-1979
Shawn Lannen, Coeur d'Alene, 1967 Ford F100
Late Great Truck Modified 1960-1979
Rod Thomas, Kellogg, Idaho, 1961 Ford Truck Unibody
Late Model Truck Stock 1980-1999
Bill Pittman, Rathdrum, Idaho, 1985 GMC High Sierra K2500
Late Model Truck Modified 1980-1999
Jerry Michels, Libby, 1994 Chevy S-10
Truck Stock 2000-Present
John Matlock, Libby, 2002 Chevy Dually Pickup
Truck Modified, 2000-Present
Mark Auge, Libby, 2021 Toyota 4 Runners
Shaggin' Wagon (Vintage Van)
Jim Klentschy, Spokane, 1976 Dodge B200 Van
Motorcycle Stock
Damian Horst, Lakeside, 2021 Harley Davidson Road Glide Special
Motorcycle Modified
Mike Turiz, Post Falls, 2007 Harley Davidson
Special Interest
Robert Viergutz, Libby, 1930 Chevy
Pedal Car
Ted Anderson
Neater Than Sh*t Award
Wayne Dick, Magrath, Alberta, 1962 Chevy Corvair
People's Choice
Larry and Cheryl Hall, Spokane, 1957 Ford Del Rio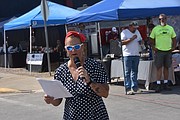 ---