Fish and Wildlife Commission to meet Aug. 25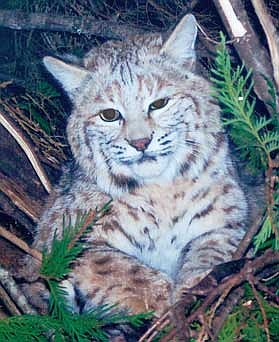 Courtesy Photo Trapping continues to survive through the generations. Above, a northwestern Montana bobcat.
|
August 23, 2022 7:00 AM
The Montana Fish and Wildlife Commission will meet Thursday, Aug. 25 in person at the State Capitol in room 317.
The meeting begins at 8:30 a.m.
The meeting will be streamed live on the FWP website and broadcast through MPAN, YouTube and Zoom. The commission will take public comment on agenda items in person and via Zoom.
To make a comment via Zoom, you must register on the FWP website. A link to register will be available between noon on Aug. 17 and noon on Aug. 24. The public will also be able to comment in person at the meeting or at any FWP regional office.
In Region 1, the Commission will consider a proposal to decrease the annual bobcat harvest quota from 275 to 225 in Trapping District 1. The 275 quota was established in 2013 and has remained that way.
According to a report by FWP Region 1 Biologist Jessy Coltrane, the reduction of the harvest quota is necessary to maintain a sustainable harvest rate for bobcats in the district and a stable population of bobcats in the region.
Coltrane wrote in the proposal that during the annual trapper meeting on May 1, 2022, FWP officials met with members of Montana Trappers Association and Montana Fur Harvesters to discuss the proposed quota change.
"We discussed changing the quota to 200 or 225 and settled on a quota of 225, which was approved at the meeting by majority vote," Coltrane wrote. "In addition, during the trapping season all biologists in the region routinely talked with trappers and hound hunters when they brought their bobcats in for tagging.
"Many trappers indicated that they were not seeing the numbers of bobcats or sign in areas that they have routinely trapped and were concerned about the overall population status of bobcats in TD1. In addition, they were overall supportive of a quota reduction."
The Commission will also vote on a proposal for FWP to combine the furbearer trapping and wolf hunting and trapping regulations in a single published document for fall 2022–winter 2023.
According to the proposal, it is due to the similarity and overlap in regulations.
The Commission will also consider the following items:
Recommend including the opportunity to purchase a C-4 license to hunt bobcats as established by SB 60 from the 2021 legislative session. A hunter that purchases a C-4 license to hunt bobcat may harvest the per person limit under the one C-4 license. (A hunter does not need to
purchase multiple C-4 licenses to harvest more than one bobcat).
• Recommend reinstating the requirement that trappers are required to personally present the pelts of marten for tagging to a designated FWP employee within 10 days after the close of the season.
• Recommend amending the commission regulation on pelt possession by fur dealer license holders to include tagged marten pelts (see attached for specific language).
• Recommend eliminating all wolf management units (WMUs), except for combining former WMUs 313 and 316 into a new WMU 313.
• Recommend establishing a harvest quota of 10 wolves in total for trapping and hunting in WMU 313.
• If a quota is instituted and when a season quota is reached, the trapping and hunting season will close upon a 24-hour notice, but no later than March 15, 2023.
The commission will make final decisions on several items, including the following:
Enforcement
Classification review committee's recommendation on classifying caracal cats as a prohibited species.
Fisheries
Future Fisheries Improvement Program decision on funding proposed projects from the Future Fisheries Review Panel.

Amend Angling Restriction and Fishing Closure Administrative Rules, 12.5.507 and 12.5.508
Land and Water
Big Snowy Mountains WMA Land Project, Region 5

Cornell Park Fishing Access Site Acquisition, Region 3

Sha Ron FAS Site MDT Recreation Permit, Region 2
Wildlife
Fall 2022–Winter 2023 furbearer and wolf trapping and hunting seasons and quotas

Approval of request to translocate sage grouse to Alberta, Canada, in 2023

Program Approval of Habitat Conservation Lease Agreements

Amendments to ARM 12.9.1403 Grizzly Bear Demographic Objective for the Northern Continental Divide Ecosystem
The commission will also hear a drought update.
FWP ensures its meetings are fully accessible to those with special needs. To request arrangements, call FWP at 406-444-3186.
For the full agenda, background on the scheduled topics and public comments, go to the Fish and Wildlife Commission page https://fwp.mt.gov/aboutfwp/commission on the FWP website.
FWP's website offers live streamed audio of each Fish and Wildlife Commission meeting.
---