Libby School Trustees OK contract for Asa Wood cleanup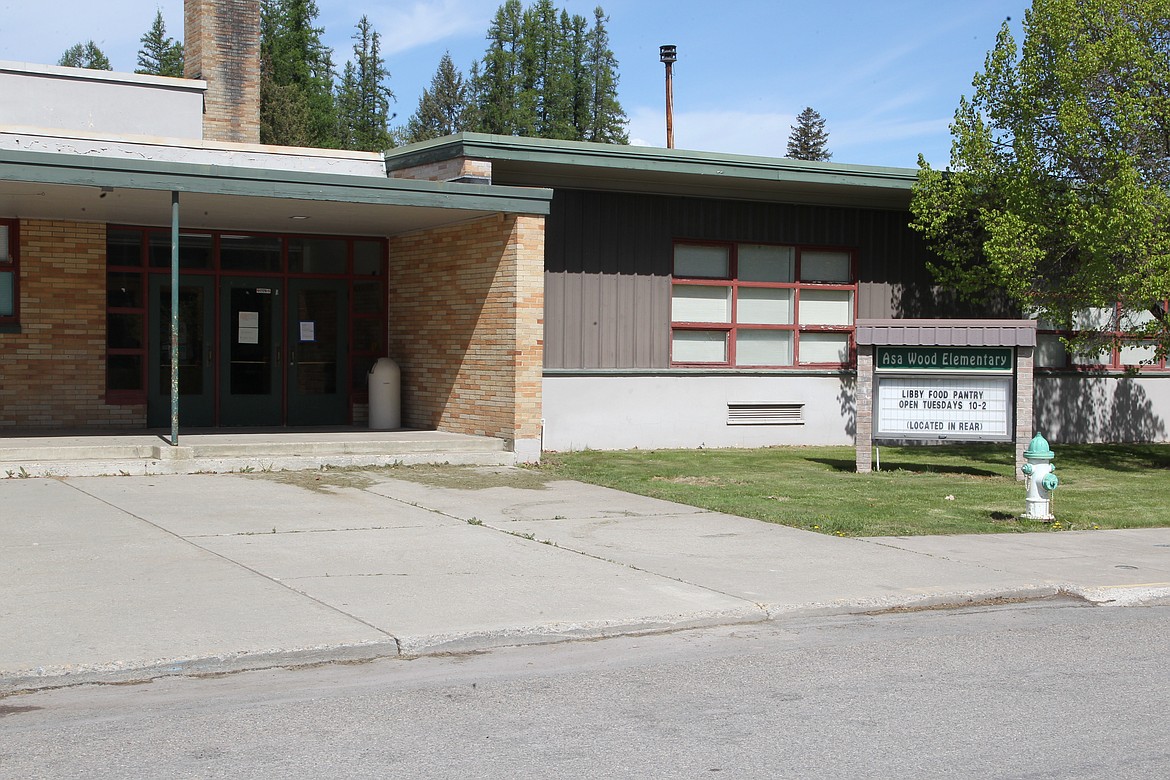 The EPA has offered $388,000 to Libby School District administrators to clean up the defunct Asa Wood Elementary School. School board members approved to work with United Country Real Estate to advertise the property on the national market. (Will Langhorne/The Western News)
by
SCOTT SHINDLEDECKER
The Western News
|
August 12, 2022 7:00 AM
It's been a years-long process, but the Libby School District is getting closer to moving on from Asa Wood Elementary School.
At its Aug. 1 School Trustees meeting, board members voted to approve a contract with Manzo Hauling Management to perform abatement work at the school, which closed in June 2011 due to a budget shortfall.
Manzo, a company based in the Flathead Valley, submitted a bid for $199,904, substantially less than three other contractors. Missoula-based Abatement Contractors of Montana's bid was $289,620, Butte-based Ingraham Environmental's bid was $370,333.10, and Environmental Contractors of Billings bid $383,564.
The school district received a $388,000 grant from the Environmental Protection Agency's Brownfields Program in 2021 to clean up toxic buildings materials on the property, which include asbestos, thermostats which contain mercury and lead-based paint on the inside of the building.
At the Board of Trustees July 11 meeting, Newfields' Asbestos Specialist Mike Kelly provided information to the Board on the abatement process.
Kelly reported that the Brownfields Cleanup Grant from the EPA of $388,000 should be a sufficient amount to fully cover the costs of the abatement project that is tentatively scheduled to start in August.
Kelly also reported Newfields will perform quality testing throughout the project to ensure contaminants have been completely removed. Kelly reported the cleanup project is scheduled to conclude by the end of October 2022.
Once the work is completed, California-based Compass Health Inc. will be able to move in. Compass manages assisted living facilities.
The district agreed to sell the school in September 2021 to Compass for $730,000 and have put down $50,000 in earnest money. There is a 2-year buy-sell agreement.
Libby Public Schools Superintendent Ron Goodman is pleased the district is getting closer to completion.
"We're not sure what they'll do with the property, but we've done a lot of vetting to find a company that would start and finish it," Goodman said.
Compass Health executives has presented plans to build a 35- to 45-unit assisted living facility on the property or developing the lot into commercial and mix-use buildings and homes with sections for senior and low-income housing.
Darren Smith, CEO and owner of Compass Health, previously said, "Our motivation is not financial but rather to have an opportunity to enjoy a project outside of our home state of California."
Once the school is sold, the money will help pay for maintenance projects on school property.
Meanwhile, work on a new kitchen at the Libby Central School continues. The district lost the use of the kitchen at Asa Wood after making an agreement to sell the property.
A new loading dock, freezer and dumbwaiter have been built and work on the rest of the kitchen will be complete soon. 
Transitioning to a kitchen in the central school also represents significant savings for the district. Heating Asa Wood alone eats up around $20,000 a year.
"Now, we run it, it's totally self-sustaining with a lower cost and it's better than getting the wrong food at the wrong time from an outside source," Goodman said.
In other business, the Board of Trustees will hold its final budget hearing at 3 p.m. Monday, Aug. 15 in the K.W. Maki Theatre in the Central Administration Building on Louisiana Avenue.
---