Fire crews continue battle on Weasel Fire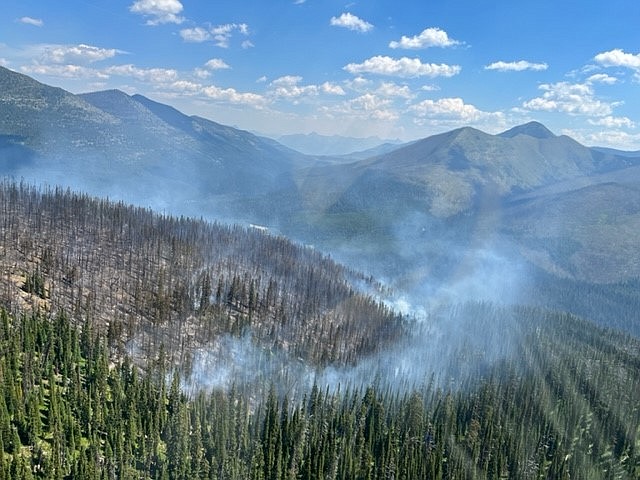 The Weasel Fire, which was detected July 30, has burned ? acres in a remote section of the Kootenai National Forest in the Ten Lakes Area. (U.S. Forest Service photo)
by
SCOTT SHINDLEDECKER
The Western News
|
August 5, 2022 7:00 AM
Firefighters continue to battle the Weasel Fire in the Ten Lakes Scenic Area on the Kootenai National Forest, 14 miles northeast of Eureka.
The lightning-caused fire was detected Saturday, July 30, near the Weasel Cabin turnoff. The historic Weasel Cabin was built in 1943. Forest Service officials said the cabin was wrapped on Tuesday for protection.
The fire is burning in steep terrain in sub alpine Fir and Spruce with a substantial amount of blowdown and snags. It had consumed about 200 acres as of Thursday afternoon. Officials said it's experiencing moderate fire behavior with torching and spotting.
A Type 3 team from Libby took over the fire on Monday. According to the National Interagency Fire Center, fire crews will look for opportunities to suppress the fire as well as continue patrols and control the fireline along Road 114.
Grave Creek Road (Forest Service Road 319) is closed from Foundation Creek Trailhead north to the end of FS Road 319. Big and Little Therriault campgrounds are closed.
Fire officials are asking people to avoid the area. For those who must travel up Grave Creek Road, they are asked to drive slowly and watch for fire personnel in the area. Because it is an emerging incident conditions and closures could change.
Sixty-nine personnel are battling the fire along with bulldozers, a water tender and a helicopter primarily being used for bucket drops.
Kootenai National Forest officials raised the fire danger level to very high on Monday morning with hot temperatures, low relative humidity and extended time without measurable precipitation.
When the fire danger is "very high," fires will start easily from most causes. The fires will spread rapidly and have a quick increase in intensity, right after ignition. Small fires can quickly become large fires and exhibit extreme fire intensity, such as long-distance spotting and fire whirls. These fires can be difficult to control and will often become much larger and longer-lasting fires.
Temperatures have cooled a bit since midweek, but according to the National Weather Service, are forecast to rise in Eureka area this weekend with daytime highs in the mid 80s to lower 90s with nighttime lows around 50 degrees.
By Monday, temperatures are forecast to be back in the mid to upper 90s.
For more information, contact the Ksanka Ranger District at 406-296-2536.
---