Ray M. Hammons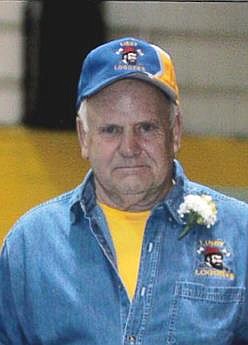 Ray M. Hammons, 86, passed away from complications due to a fractured hip at Logan Health in Kalispell, Montana, on July 25, 2022.
He was born in Eureka, Montana, on July 10, 1936, to Hedge and Anna Hammons.
He was raised in Ural, Montana, and Warland, Montana, graduating from Libby Senior High School in 1954.
In 1957, he met and married Darlene Fairchild and they stayed that way for over 64 years. Together they had three daughters, Donna (1958), Debbie (1960), and Dianna (1970).
After graduating high school, he briefly work at his brother's mill, and then for the railroad. In his 36 years of service with the U.S. Forest Service he performed many jobs. Some of these jobs included road and bridge building, working forest fires, and prior to retirement in 1989 as fleet manager for the Kootenai National Forest.
Ray had many hobbies and interests in his life. One of his first endeavors was to build a Chris-Craft boat in the living room of their home. Through the years he had owned many boats for fishing and water sports, pulling every kid who wanted to be pulled.
Ray was very much a family man, doing everything for his family. Being the biggest kid of all, he loved ice skating, camping, hunting, cutting fire wood, family vacations.
Once the kids were grown, Ray and Darlene traveled every state and province. He was an avid skier, serving on ski patrol. He was a lift operator for the old "T" bar. Plowed the road into Turner, and was president of Kootenai Winter Sports for many years.
His other great sport passion was sledding. There was no hill unattainable. Weeks prior to a sledding party, Dad would help prepare the two-mile route by plowing and misting road. He would ready the sleds for competition by sanding and waxing the runners.
Speed and comfort were given a high priority.
When his grandsons started wrestling in AAU, and Little Guy, so began the road trips. While in the car prior to leaving, he would always say, "On the road again," in the familiar Willie Nelson way.
Throughout the years, he spent countless hours on the bleachers watching the mighty Greenchain. For 30 years they followed the Logger Greenchain to the state wrestling tournament in Billings, Montana, and all matches in between.
Ray is survived by his wife Darlene, daughters Donna Fiscus (Bob), Debbie Mickelson (Marvin), Dianna Green, and Terri Comer (Charlie); grandchildren, Brady, Christopher, Lee, Mitch, Keeli and Kaide; great grandchildren, Jaydin, Brendin, and Camryn; and nieces Sharon Osler, and LaVerna Munro.
He was preceded in death by his parents Hedge and Anna Hammons, brothers Delbert and Freddy, and nephew, Dick.
He will be greatly missed by his family, friends, and by all who knew him.
Services were held at Schnackenberg Funeral Home Friday, July 29, with burial to follow at the City of Libby Cemetery.
Online condolences & memories may be shared at www.schnackenbergfh.com.
---