Fortine man accused of assaulting family members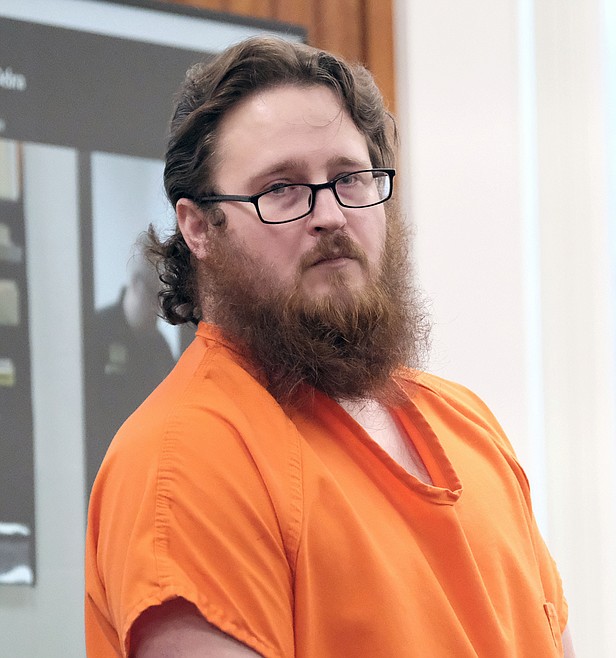 Steven Houchin appears in Lincoln County District Court on July 25. (Paul Sievers/The Western News)
by
SCOTT SHINDLEDECKER
The Western News
|
August 2, 2022 7:00 AM
A Fortine man pleaded not guilty on July 25 in Lincoln County District Court to assaulting two family members last month at a residence on Second Avenue South.
Steven James Houchin, 34, is accused of choking his sister-in-law and punching her son on July 7. Houchin is charged with felony strangulation of a partner or family member and misdemeanor partner or family member assault.
According to court documents, Lincoln County Sheriff's Deputy Clint Heintz responded to the Fortine residence where Houchin allegedly told him he punched his nephew in the face because he caught him watching adult content on the internet in the living room. Houchin said when he confronted his nephew, the boy told him to (expletive) off twice.
Houchin allegedly said he knocked his nephew to the ground, then the boy grabbed a knife. Houchin said his mother, Roberta Waters, grabbed the knife from the boy. Then everyone went outside with the exception of Houchin and his son who was in the back room when the fight occurred.
After that, according to court documents, Houchin's sister-in-law confronted him and claiming he was the one looking at adult content. He allegedly said he grabbed her by the neck and pushed her against the wall.
Waters told Deputy Heintz that they had issues with their internet due to a virus from someone watching "porn." She said Houchin punched the boy when he called her names and told Houchin to (expletive) off. She said the boy grabbed a knife while he was on the floor, but she took it from him and nicked her finger on the knife.
Deputy Heintz also spoke to the boy who said he didn't think anyone was awake when Houchin walked into the living room. He said after the defendant punched him, he grabbed a knife to defend himself and that his mother grabbed the knife.
When the officer spoke to Houchin's sister-in-law, she said she yelled at him and he grabbed her by the neck and pushed her into a wall. She said she saw stars and thought he was going to kill her, according to court documents.
At the July 25 court hearing, Houchin sought a reduction in bond. Waters testified on her son's behalf in seeking a lower bond amount that he could afford to post and be released from the Lincoln County Detention Center.
"He lives with me and helps me around the house, he cooks and cleans and cuts the grass," Waters said after taking a seat in the witness chair.
Public defender Keenan Gallagher questioned Waters about Houchin's employment status and where the sister-in-law and nephew now live.
"He is full-time employed by me," she said. "I broke my back and he helps me."
Waters said the alleged victims have moved out and that Houchin has an 8-year-old son who spends the summer with them before going back to Columbia Falls for school.
"I'm sure they (the alleged victims) are fine with his release," Waters said. "He has helped with Special Olympics in the past, he's never had a court date and I'm sure he'll make future court dates."
She also said Houchin spent eight years in the U.S. Army. He said he was discharged in 2017.
Lincoln County Deputy Attorney Jeffrey Zwang questioned Waters about the alleged victims.
"They left the same day, I asked them to move out, I took 'em up Pinkham and it's the last day I saw them," Waters said.
Gallagher said Houchin had no criminal history, he's not a flight risk.
But Zwang offered his thoughts on the matter.
"We're concerned because the victims have already called our office to report possible witness tampering and we don't believe a bond reduction is in the best interest of the victims."
Lincoln County District Court Judge Matt Cuffe said he'd take the matter under advisement before issuing an order.
Houchin is in the county Detention Center.
Conviction for felony strangulation of a partner or family member may result in a maximum sentence of five years in the Montana State Prison and a $50,000 fine. Conviction for misdemeanor partner or family member assault may result in a maximum sentence of one year in the county jail and a $1,000 fine.
---