Eureka woman convicted of drug crime accused of probation violation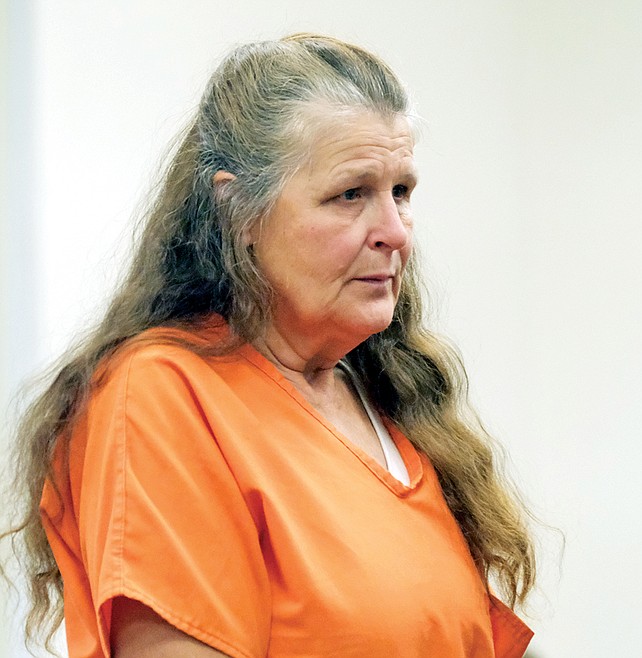 Teresa Carr Mocko (Paul Sievers/The Western News)
by
SCOTT SHINDLEDECKER
The Western News
|
August 2, 2022 7:00 AM
A Eureka woman convicted and sentenced for possession of methamphetamine more than two years ago is back in the Lincoln County Detention Center on alleged probation violations.
District Court Judge Matt Cuffe sentenced Teresa Carr Mocko, 59, to five years, with three suspended, in December 2019. She pleaded guilty to possession in November after authorities arrested her on Sept. 26, 2019, after learning she was frequenting known drug houses, according to court documents.
Authorities found a bag containing about two grams of methamphetamine tucked into her bra and two pens converted into snort tubes, court documents said.
Mocko's probation officer in Cascade County, Erica Schell, wrote in a July 11, 2022, court document that Mocko's adjustment to supervision was satisfactory before her arrest in Great Falls on June 28 when she allegedly admitted using meth a few days prior. Mocko was served with three Cascade County warrants on June 29 for criminal distribution of dangerous drugs.
"The defendant (Mocko) maintained steady housing and employment while on supervision and keeps in good communication with her Probation and Parole Officer and is always cooperative," Schell wrote.
But Schell also wrote that Mock struggled to maintain boundaries with peers who are actively using drugs and dealing illegal drugs, which she recognizes. According to the court document, Mocko said she does not have an addiction to illegal drugs and does not believe she needs chemical dependency treatment.
According to court documents, after being sentenced in December 2019, Mocko was placed at the Passages Assessment and Sanction Center in Billings on Jan. 14, 2020. On May 19, 2020, she was moved to the Great Falls Transition Center.
On June 3, 2021, Mocko was approved for conditional release and she was placed on community supervision on June 21, 2021. On Sept. 9, 2021, Mocko transferred her supervision to Great Falls before returning to Libby on Nov. 23, 2021. Mocko returned to Great Falls on May 10, 2022.
Schell recommended Mocko's sentence be revoked so she could go to a more intensive treatment center.
"This officer believes the defendant needs more intensive interventions to combat her criminal thinking, illegal drug use and criminal behavior in the community," Schell wrote.
Lincoln County Attorney Marcia Boris filed a petition on July 15 to revoke Mocko's probation.
---