Fire crews battle blaze near Weasel Cabin in Ten Lakes area
|
August 1, 2022 12:00 PM
While there have been several fire starts in Lincoln County over the last few weeks, it now has its first sizable wildfire.
The Weasel Fire was detected at about 4 p.m. Saturday, July 30, near the Weasel Cabin turnoff in the Ten Lakes Scenic Area on the Kootenai National Forest. The Weasel Cabin was built in 1943.
The fire is burning in steep terrain in sub alpine Fir and Spruce with a substantial amount of blowdown and snags. It had consumed about 150 acres as of Monday evening.
According to the officials at the Ksanka Ranger District office, who believe the fire was caused by lightning, there are several closures in the area due to the fire that was described as a "emerging incident."
Grave Creek Road (Forest Service Road 319) is closed from Foundation Creek Trailhead north to the end of FS Road 319. Big and Little Therriault campgrounds are closed.
Fire officials are asking people to avoid the area. For those who must travel up Grave Creek Road, they are asked to drive slowly and watch for fire personnel in the area. Because it is an emerging incident conditions and closures could change.
According to Ally Talbot, Prevention Technician with the Ksanka Ranger District, a Type 3 team from Libby took over the fire on Monday. She also said there were plans to wrap the Weasel Cabin on Monday.
Sixty personnel are battling the fire along with bulldozers, a water tender and a helicopter primarily being used for bucket drops.
A firefighter was struck by a snag on Sunday, but is stable and recovering at home, according to Ksanka Ranger District Assistant Fire Management Officer Raymond Flanagan.
Kootenai National Forest officials raised the fire danger level to very high on Monday morning with hot temperatures, low relative humidity and extended time without measurable precipitation.
When the fire danger is "very high," fires will start easily from most causes. The fires will spread rapidly and have a quick increase in intensity, right after ignition. Small fires can quickly become large fires and exhibit extreme fire intensity, such as long-distance spotting and fire whirls. These fires can be difficult to control and will often become much larger and longer-lasting fires.

Fire officials recommend the following steps:
• Make sure your campfire is dead out before you leave your campsite
• Do not park or drive on dried grass
• When towing, make sure all chains are properly attached to vehicle
Never leave a campfire unattended. With warm temperatures in the forecast this week and lower relative humidity unattended fires could spread quickly and escape campfire rings. Make sure to follow these tips when your campfire is going, and you are at your campsite:
• Have a shovel and bucket of water nearby the campfire in case it gets out of control
• Keep your fire small and within the boundary of fire ring
• Do not burn green (live) or oversized wood, these can be difficult to extinguish and can easily spread fire if logs extend beyond the boundary of the fire ring.
• Pay close attention to the wind, sudden changes in weather can blow sparks into unexpected places.
• Supervise children and pets around the campfire
• Do not burn trash or other debris that could explode or spread embers
When you are done with your campfire, or leaving your campsite, make sure your campfire is dead out.
To properly extinguish your campfire:
If possible, allow your campfire to burn completely to ash. Pour lots of water on your campfire and drown all embers.
Use your shovel and stir water into ash and embers. Scrape any remaining sticks to remove embers, taking care not to let any embers outside of the fire pit.
Continue to add water and stir with shovel until all material is cool.
Feel your fire pit with the back of your bare hand. All material should be cool to the touch.
Fire officials warn that if a campfire is too hot to touch, it's too hot to leave.
The National Weather Service issued a red flag warning Monday for Northwest Montana due to west to southwest winds 10 to 20 miles per hour with gusts up to 35 mph. Minimum humidities are forecast at 10 to 18%
According to the National Weather Service, temperatures are forecast to moderate a bit in the Libby and Eureka areas this week with daytime highs in the upper 80s to low 90s and nighttime lows in the upper 40s to mid 50s.
But forecasters say Troy will still have daytime highs in the 90s and near 100 by Sunday.
The Weasel Fire of 2017 burned nearly 4,000 acres and was part of a complex of three fires which included Gibralter Ridge (12,725 acres) and the Caribou Fire (24,753 acres) that burned more than 41,000 acres.
2017 was a historic fire year in Montana with major wildfires in burning about 1.3 million acres, according to the Northern Rockies Coordination Center. Libby's West Fork Fire burned 19,497 acres in 2017.
For more information, contact the Ksanka Ranger District at 406-296-2536.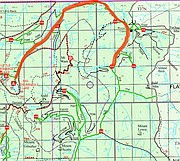 ---