Amish Farm to Market brings community together through dinner
by
CYNTHIA INES The Western News
|
April 29, 2022 7:00 AM
Amish Farm to Market on April 6 catered a dinner event inside of their market, which included a traditionally inspired Amish dish: salad topped off with their homemade salad dressing, breaded and baked chicken leg, Salisbury steak, creamy mashed potatoes and gravy, vegetable casserole and homemade dinner rolls. Dessert followed, with their baked pies, chocolate cream and apple crumble topped off with homemade Amish peanut butter on the side.
Libby locals could be seen enjoying and laughing while making new friends.
Farm to Market has been operating for more than 25 years and has since expanded in size.
Co-directors Bryan Smylski and Leona Mast organized the dinner event. The last two dinners held were in January and February, a special Valentine's event providing a violinist as part of the entertainment.
Smylski and Mast plan on having two more fundraising dinners in the near future. Ten percent of all proceeds from sales, dinners and events held at Farm to Market assist in covering costs for their school.
"This is how we pay our teachers and principals, and keep our schools running," Mast said.
Twenty students are currently enrolled, with two teachers and a principal. Volunteers and parents make up the majority of staff.
With Smylski's background in event management, he put forward the idea of bringing fundraisers and events to the Amish community. With all the space provided at the location, Smylski saw fit for opportunity.
Smylski said he wants local residents to understand and feel the warm welcoming friendship that the Amish have to offer. Both Smylski and Mast are working on creating a website so it will be easier for locals to order food.
Leona Mast has been co-managing for 25 years.
"Amish community is about family and being together," she said.
A restaurant, among other ideas are foreseen in the near future. Farm to Market currently has a deli which sells some breakfast, lunch and dinner items, they also bake and sell fresh pies and other baked goods and have a small coffee shop.
"The meals are different, rather than a menu meal; it's more traditional, family-style meals," explained Smylski.
On Saturday, May 21 at 9 a.m., Farm to Market will be holding an Eagle Community Auction. All items sold will be Montana made. Big ticket items, such as log homes and cabins as well as furniture, unique and handmade items, will be sold and auctioned off. Vendors are wanted.

The event will be held at 50 Meadowlark Lane in Libby. More information is available at www.Meadowlarkloghomes.com or by calling (800) 850-8554 or (406)293-8707.
More information is at www.facebook.com/AmishMeadows/.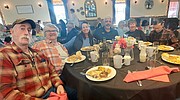 ---