Pitching key for Legion Loggers baseball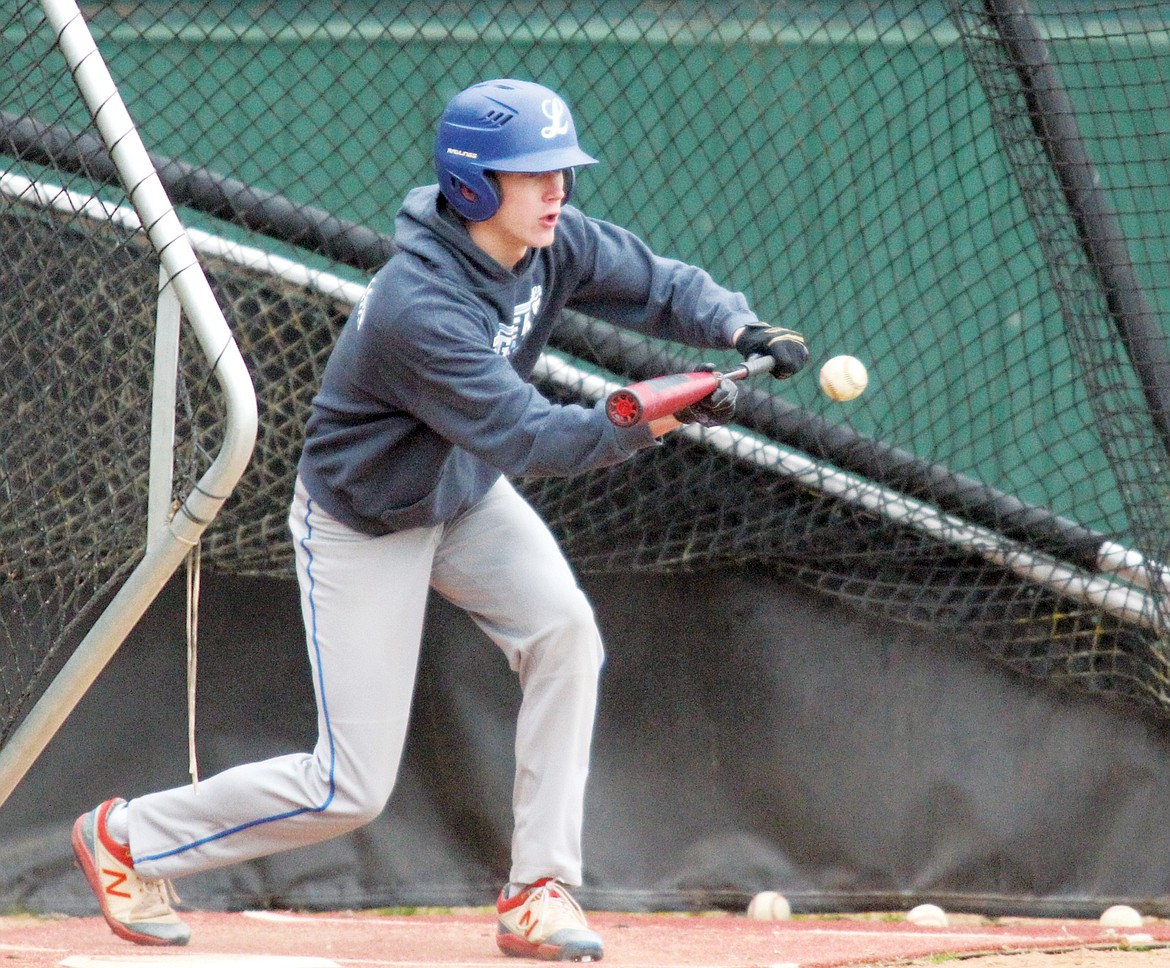 Legion Logger Cy Williams lays down a bunt during practice earlier in April. The Loggers' A team starts its season April 30 at the Lumber Yard against Mission Valley. (Paul Sievers/The Western News)
Dark and rainy skies awaited Libby's Legion Loggers baseball team on its first day of practice earlier this month.
The Loggers field A and B teams. Evaluating talent and setting rosters for both teams take play during the first week.
Manager Kelly Morford returns this year for his 16th season leading the team, joined by assistant coach Micah Germany.
Entering his fourth year, coach Joe Flores heads the B team with assistant coach Zach Sherbo.
The Loggers return eight starters to the lineup.
Missing is left fielder Tucker Masters. Returning to the team are center fielder Tripp Zhang, outfielder and pitcher Caden Williams, and outfielder and first baseman Ayden Williamson.
Zhang batted 400 last season and led the team in most every offensive category. With pitching being a concern, Caden Williams returns to the mound.
"Caden's proven himself on the mound," Morford said. "He's the Ace of our staff."
Heavyweight wrestler first baseman Williamson is expected to bring Brock Lesnar-like power to the lineup, and catcher Rusty Gillespie brings experience behind the plate.
Shortstop Aiden Rose, second baseman Dylan Buckner, and outfield and pitcher Cy Williams were promoted from the B team last year.
Rose and Buckner bring solid defense to their positions. Cy Williams can catch and play outfield. The sooner the threesome can adjust to A-level pitching, the better for the Loggers.
"They make contact," Morford said. "They hit the ball hard. Now, they need to start putting more balls into play."
But it comes back to pitching, he said.
"We had several players throw a number of innings last year," Morford said. "We'll see who can step forward and become part of the rotation."
The Loggers' B team starts its season away on April 25 against Eureka. The Loggers' A team starts its season at the Lumber Yard on April 30 against Mission Valley.
---