Feds, DEQ propose deleting OU6 as national priority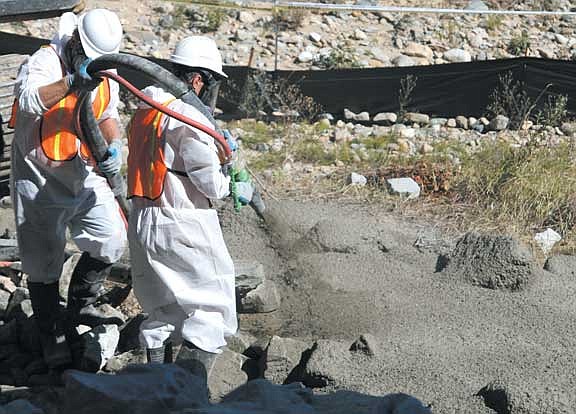 File/The Western News: Workers spray shotcrete on rocks at Granite Creek as part of the asbestos cleanup in Libby.
by
The Western News
|
April 5, 2022 7:00 AM
Federal and state officials have proposed deleting from the National Priorities List a portion of the Libby Asbestos Superfund site containing BNSF Railway yards in Libby and Troy.
The proposed unit, Operable Unit 6, also includes roughly 42 miles of railroad rights-of-way. The U.S. Environmental Protection Agency and state Department of Environmental Quality are accepting public comment through April 21 on the proposal.
"OU6 has been cleaned through remedial actions at other Operable Units of the site, including the former export plant (OU1), former screening plant (OU2) and residential and commercial areas in Libby (OU4) and Troy (OU7)," the EPA said in a recent release.
"OU6 does not require any additional remedial action to protect human health and the environment and is therefore eligible to be partially deleted from the site," the agency said.
The rail line will continue to be used, but owner BNSF Railway agreed to manage the area in a way that will protect human health, under a 2020 consent decree with federal authorities. That includes preventing the disturbance of soil and building materials that still contain asbestos.
OU6 will still be subject to operation and maintenance activities, including regular reviews for protectiveness, according to the EPA.
Libby Mayor Peggy Williams said the city isn't having problems now with BNSF's property, where topsoil and contaminated structures were previously removed.
But she said residents can still encounter vermiculite at home, such as during reconstruction work on houses where the material was used as insulation.
"The only thing that's lingering, that's giving us problems, is the vermiculite left behind in residential structures," Williams said.
Public comment may be submitted online at regulations.gov; via email at superfund.docket@epa.gov; or by mail to Dania Zinner, U.S. EPA, Region 8 (SEM-RB), 1595 Wynkoop St., Denver, CO 80202-1129.
— The Associated Press contributed to this report.
---