Spring turkey hunting draws near, bird numbers appear strong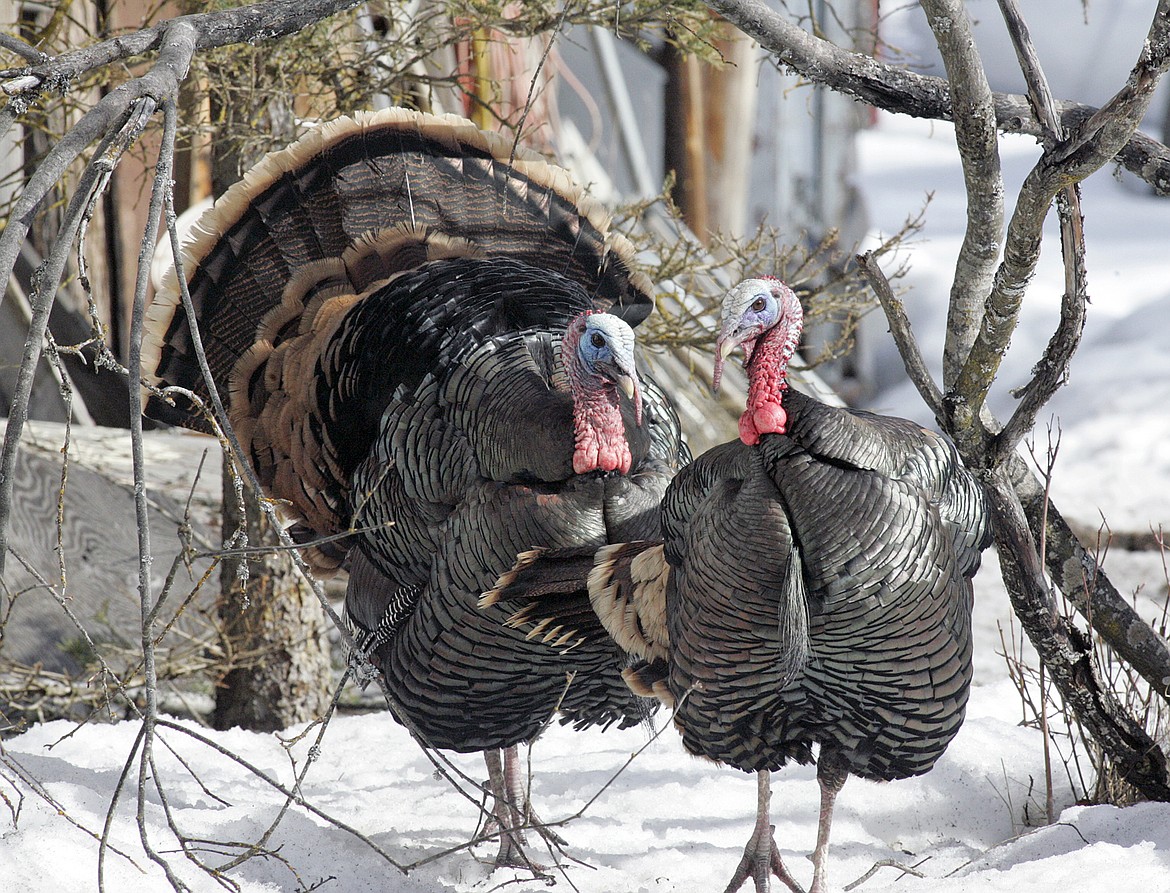 Unusually clever and hard to trap, wild turkeys prove vexxing for wilflife officials in Libby. (Paul Sievers/The Western News)
by
JOHN MCLAUGHLIN
Hagadone News Network
|
April 1, 2022 7:00 AM
Montana's spring hunt for nonnative wild turkey starts five days later this season.
The state's Fish and Wildlife Commission last month approved spring turkey hunting to start April 15 and last through May 31 for the upland game bird.
"That was a change the commission made just to line up our seasons," Dillon Tabish, regional Montana Fish, Wildlife and Parks spokesman, said. "Now, it's uniform."
Fall turkey hunting remains set from Sept. 1 to Jan. 1 for the year.
David Nikonow, western Montana cooperative wildlife biologist for the National Wild Turkey Federation, said mild winters and healthy hatches bode well for hunters in both seasons.
Hunting varies region by region. Complete regulations are available at FWP's website and licensing counters.
Overall, hunters statewide could hold up to 11 turkey licenses in 2022, one less than last year.
An over-the-counter general license — good for one bird, spring or fall — allows turkey hunting largely across the state, with additional over-the-counter regional licensing options available.
In northwestern Region 1, holding the general and two available regional licenses would allow three total turkey kills from the area this year per hunter.
The statewide general hunting license allows one spring tom or one either-sex turkey during fall.
Then, per one regional licensing option, turkey hunters could take one additional tom in the spring or one additional either-sex bird in fall.
A third bird, either a female or beardless turkey, also could be taken during fall with a separate regional license specific to the season.
Tabish cautioned hunters within Region 1 to ask permission before hunting private land, where turkeys mostly will be found.
"A lot of landowners, especially when it comes to turkey, they're probably going to be open to you hunting on their property," Tabish said.
He said turkey tend to congregate, and the department often hears complaints of damage and other nuisances caused by the wild birds weighing upwards of 16 or more pounds.
Wild turkeys are considered nonnative across the state, according to the Montana Field Guide.
The guide indicates that populations are largely concentrated in southeast and central Montana, with a comparative smattering of turkey populations within Region 1 counties.
Nikonow said the state does not yet complete a wild turkey survey to determine population numbers, so it's tricky to pin down a firm count.
Generally, however, he said two main drivers affect healthy turkey numbers: winter survival and spring hatch success.
Both the latter have favored the sharp-eyed birds for the past several years in western Montana, Nikonow said.
"They're a resourceful critter," he said. "They know where the living can be easy."
During winter flocking and in early spring, Nikonow said, wild turkey group in and near agricultural fields.
He said they tend also to congregate near developments or homes where food and foraging prove fruitful. Overall, turkey populations appear healthy coming into spring.
"We've had a pretty favorable winter for them," he said. "That should bode well for good [hunting] opportunity this season."
---