Dispensaries secure initial approval for locales in Libby commercial districts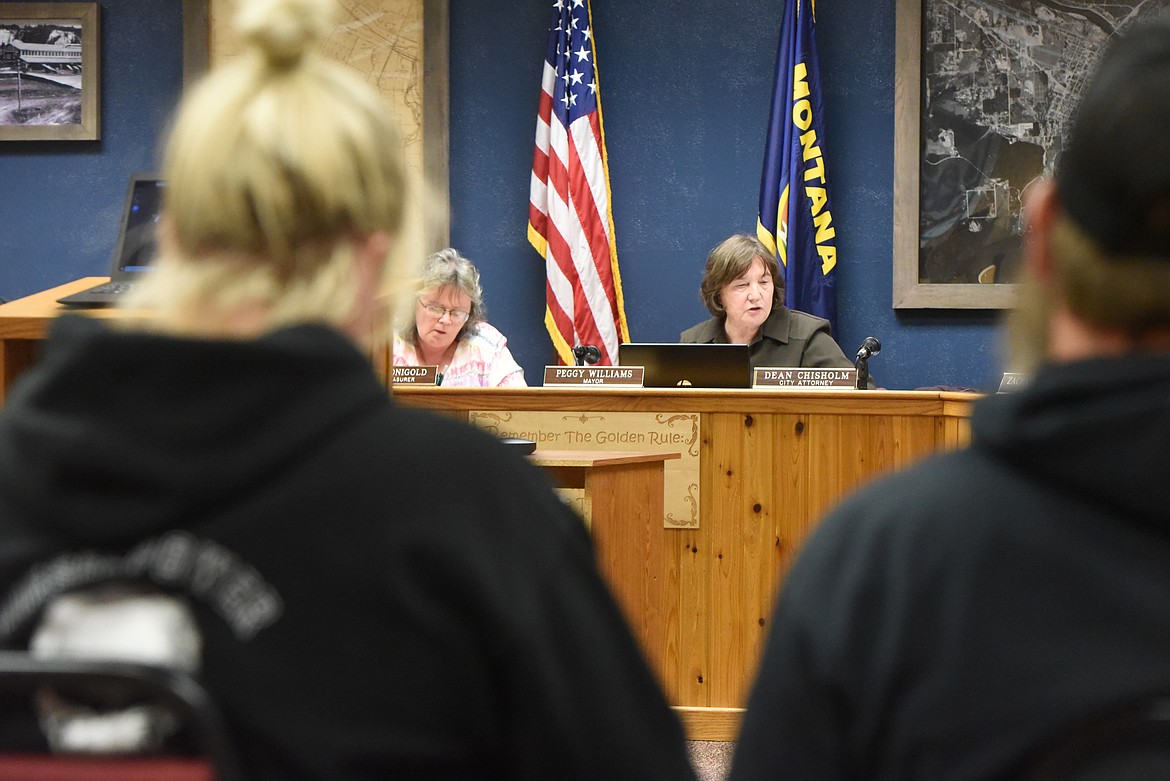 Mayor Peggy Williams oversaw a muted debate among city councilors on March 7 over whether to ask the county to pursue a local tax on retail recreational cannabis sales. (Derrick Perkins/The Western News)
by
JOHN MCLAUGHLIN
Hagadone News Network
|
April 1, 2022 7:00 AM
Would-be cannabis shops in Libby proper garnered initial approval this week to operate downtown and within the city's U.S. Highway 2 commercial district.
On Monday, the Libby Zoning Commission unanimously recommended that both dispensary varieties be allowed as conditional uses within the city's downtown business and highway commercial districts.
The proposed zoning additions come as part of a broader set of regulations being developed by the Libby City Council, dubbed simply as its "Marijuana Ordinance."
New recreational pot facilities still will be not allowed statewide until July, 2023.
Locally, the proposed zoning allowances for both commercial districts include restrictions on dispensary window signage and obstructions, essentially requiring that windows not be "covered or made opaque in any way," according to the ordinance.
The proposed zoning also would require cannabis retailers to have a facade that "visually blends in with the design, style and appearance of adjacent storefronts."
Among several stipulations, the city's ordinance overall prohibits growing weed commercially within city limits, and proprietors could not make cannabis facilities a home business.
Dispensaries also would not be allowed within 500 feet of churches, schools and parks, according to the ordinance.
It will now move to the full Libby City Council for review. An agenda had not been released Thursday for the council's regular April 4 meeting.
Responding to commission questions Monday, council member Kristin Smith said downtown dispensaries would not be required to create onsite parking, per existing city statute to limit surface parking lots and foster active area streetscapes.
"That's why we crafted the downtown district the way we did," Smith said.
The downtown district generally includes California and Mineral avenues from the north side of Lincoln Boulevard through to East First Street.
Smith said businesses within the city's highway commercial district — which includes a swath of southern Minnesota Avenue, and then U.S. Highway 2 generally west through town — would still have to build suitable parking facilities as part of new development.
Smith said the ordinance also does not impose a quota for Libby cannabis shops.
Kathleen Sheffield, a prevention specialist with Lincoln County, said during the meeting that she feared having cannabis retailers downtown would negatively impact its family-friendly scene and general walkability.
"If we want to keep the atmosphere family-friendly," Sheffield said "is it going to disrupt families from coming down there? What's going to happen?"
Sixty-three percent of Libby voters approved Montana's 2020 initiative petition fully to legalize cannabis in limited quantities for use by adults aged 21 years and older.
The petition ultimately tasked the state Department of Revenue to regulate cultivation, transportation, and the sale of cannabis and cannabis-infused products.
The department and its Cannabis Control Division are also charged with inspecting cultivation and retail facilities.
Until July 1, 2023, only medicinal cannabis licensees approved on or before Nov. 3, 2020 — or at least had a state application pending — may now be licensed to grow, produce or sell recreational cannabis, according to the Revenue Department.
Local dispensaries currently open do not operate within Libby city limits.
The Lincoln County Commission, meanwhile, moved in February to block new dispensaries from coming to the region until July, 2023, unanimously staying any outside distributors or growers.
Earlier this month, the city council petitioned the commissioners to pursue an additional 3 percent local tax on recreational marijuana sales.
Editor's note: This story has been updated to reflect the correct April 4 meeting date of the Libby City Council.
---