School officials catch flack for communication woes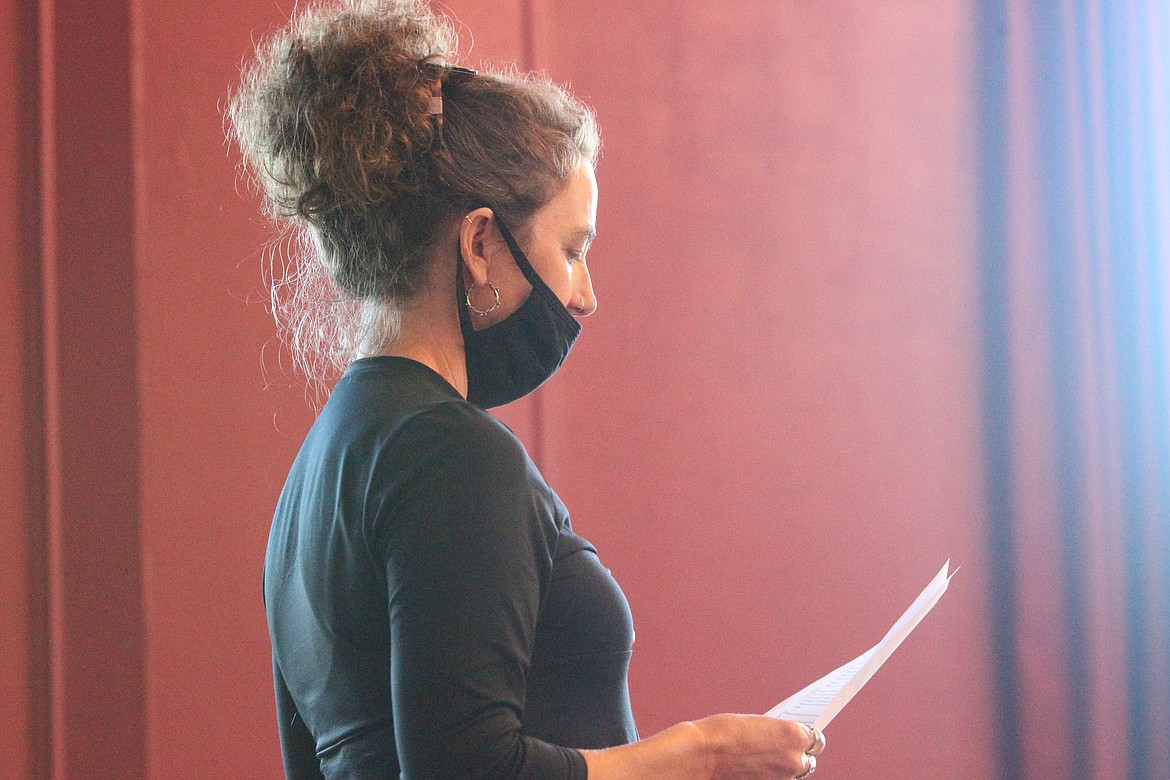 Kristin Smith addresses Libby School Board members on Sept. 13. Smith, who is a local business owner and the mother a Libby student, said she was angered and frustrated by the district's lack of communication regarding a recent outbreak at Libby Elementary School.
by
WILL LANGHORNE
The Western News
|
September 21, 2021 7:00 AM
Libby Public School Board members discussed ways of improving family outreach last week after hearing from at least one parent who was frustrated with how the district handled a recent outbreak at the elementary school.
Kristin Smith, a mother and Libby city councilor, told board members that the lack of communication and action from school officials left her concerned about the well-being of her child.
"It's a failure of leadership," she said during the public comment portion of a Sept. 13 meeting. "You're gambling with our children's lives, children that are not eligible to get a vaccine."
During the recent surge in coronavirus cases at the elementary school — which left at least 21 students and staff with positive test results — Smith said she had not received any communication from school officials. In mid-August, Smith said she sent an email to the board and received no response.
She also found the Libby Public Schools website to be lacking information.
"I've asked three times what the school's plan is and have been completely stonewalled," she said.
Smith pointed to nearby Idaho, where hospitals were rationing care, as a possible outcome of lax coronavirus policies. At the time of the meeting, 22 patients in Lincoln County were hospitalized with the virus.
"It appears that the plan is to wait until the first child of Libby dies. I don't mean to be dramatic, but it is happening around the country," she said.
Smith's concerns echoed comments made by Wendy Chopyak, an elementary school teacher, the week prior. Chopyak told board members that teachers were worried that the district's plan was "wishy-washy" going into this fall.
Smith asked school board members to remember that the effects of their decisions extended beyond classroom walls. As a co-owner of the Cabinet Mountain Brewery, Smith said she and other local business owners would have to deal with the fallout of an outbreak originating in the schools.
"Children who are sick, who are quarantined, their parents have to find care or stay home," she said. "I face closures. Public health is economic health. Who will cut your hair if they're sick or hospitalized? Who will sell your groceries, fix your car, clean your teeth, chop your wood?"
Administrators noted later in the meeting that changes in staff affected the way the district was able to respond to the outbreak at the elementary school. Jeanine Kidwell, who recently came aboard as the elementary school principal, said she did not have access to the district's all-call system and wasn't able to contact parents en masse when the virus began spreading through the school.
Ruth Vanworth-Rogers, Libby Middle High School principal, said that the district's website does contain a link to coronavirus information. The attached guidelines for reopening schools, however, were a year out of date, she said.
While some board members said they hadn't received emails from Smith, Superintendent Ron Goodman confirmed that she had sent him one.

Goodman suggested sending out an email to parents briefing them on the outbreak at the elementary school and letting them know the district would now be strongly recommending masks.
Administrators could produce a video informing families of the district's policies. He suggested forming a group of school officials to clarify how the board was tackling the pandemic.
Jim Germany, assistant principal of the Libby Middle High School, stressed that the district was still following guidance from Lincoln County public health officials and the Centers for Disease Control and Prevention.
"It is the same message coming from us as it is them," he said. "It's their documentation that we're using."
Normally public health officials are available to assist schools with contact tracing but a recent surge in coronavirus cases throughout the county had left them bogged down. Goodman said administrators were in the process of hiring a nurse who could assist the district with managing the virus.
"I think there's a heightened awareness now, too, as younger kids now are getting sick, just as we heard tonight, " said board member Bgee Zimmerman. "I think any information we can put out there about what we're doing … we're not just sitting here twiddling our thumbs. We're not."
School officials noted that guidance from state officials had constrained what the district could do going into the school year.
An emergency rule passed down from Gov. Greg Gianforte urged school board members to take into account parental rights when making decisions regarding mask requirements. The Aug. 31 rule states that some responses to the pandemic, including mask mandates have "imposed additional burdens on citizens, including on their health and well-being." Ironically, this rule made it difficult for the board to adopt a more proactive coronavirus plan that some parents like Smith would have preferred.
---