Recent Libby Care Center outbreak stretched staffing thin as it raced through facility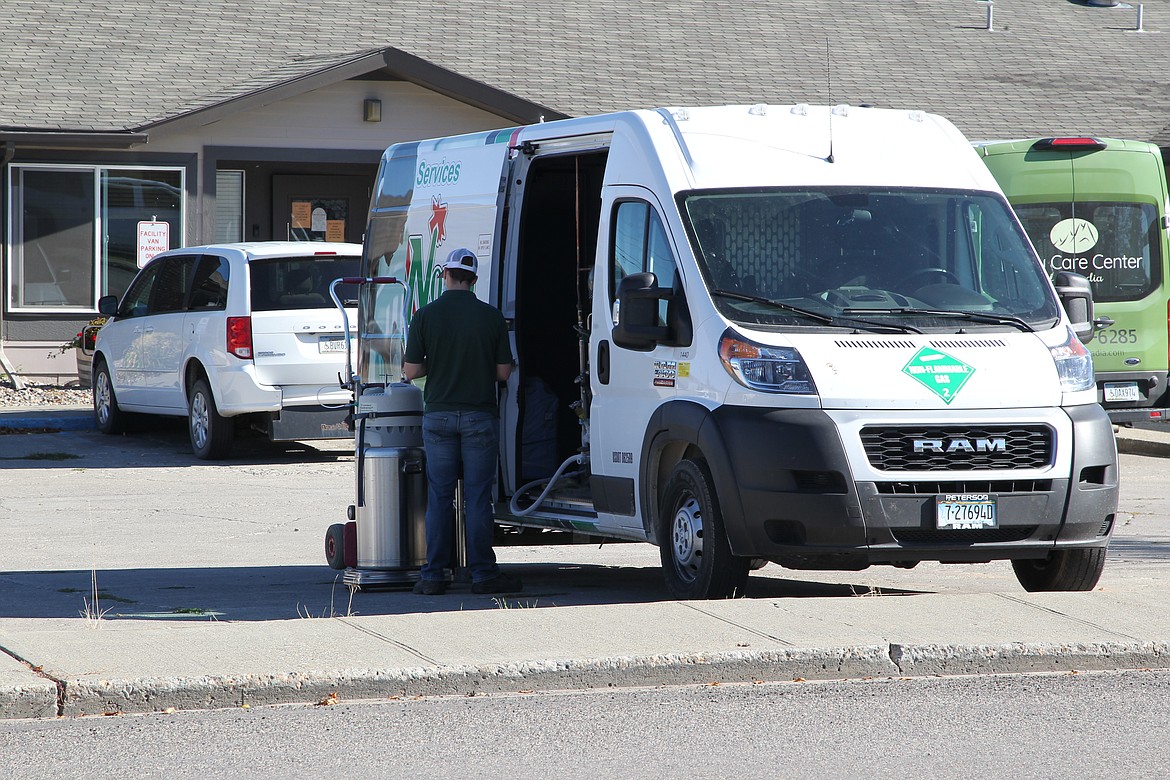 Norco, a medical equipment company, resupplies the Libby Care Center on Sept. 17. (Will Langhorne/The Western News)
by
WILL LANGHORNE
The Western News
|
September 21, 2021 7:00 AM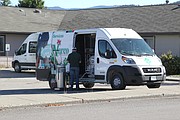 An outbreak at the Libby Care Center, which left at least 10 residents dead and infected 20 staff members last month, has worn the local nursing home thin.
Within 10 days of an employee testing positive, the virus had infected 36 residents, according to Rachel Toland, facility administrator.
"It went very quickly. It was all very connected," she told members of the Lincoln County Board of Health during a Sept. 14 meeting.

The care center was out of outbreak status as of the meeting. The facility is testing staff at least twice weekly and assessing potential exposure risks, such as the virus spreading through schools. Employees with sick family members are not allowed to come to work, according to Toland. Only one quarantined staff member was positive at the time of the meeting. Toland said the employee's exposure to the virus came from outside of the care center.
While facility administrators are waiting to hear back if the delta variant of the virus was responsible for the outbreak, Toland said the recent surge spread much faster through the care center than previous outbreaks. The delta variant began hitting Lincoln County in July, according to Dr. Gregory Rice.
The virus spread through the center twice before the recent outbreak, each time infecting less than a dozen residents. Previous outbreaks also claimed fewer lives. The facility saw four deaths related to the coronavirus before the recent surge, according to the U.S. Centers for Medicaid and Medicare Services (CMS).
To compensate for the staff members out due to infections and quarantines, Toland told board members the facility had to turn to Montana disaster relief volunteers.
"The staffing crisis that it put us in was tremendous," she said.
Vaccinated employees infected by the virus saw more mild symptoms than staff members who were unvaccinated, according to Toland. Many of the vaccinated staff who tested positive for the virus were able to continue working in the facility's coronavirus ward where infected residents were cared for. One unvaccinated staff member was reinfected with the virus.
Toland didn't say how many staff were unvaccinated but noted that 32 of the 36 infected residents were vaccinated. While vaccines might be less effective at preventing delta variant infections, Rice said shots still significantly reduced the likelihood of a COVID-19 patient suffering severe symptoms or having to be vaccinated.
Executives at Cascadia Healthcare, the care center's parent company, said just under 50 percent of employees were vaccinated as of Aug. 14. Steve LaForte, director of corporate affairs and general counsel at Cascadia, said 83.5 percent of residents were vaccinated as of that date.
Some family members of residents who died during the outbreak voiced outrage over the low vaccination rate among staff members. Karen Wickersham, who lost her uncle Earl Stanley, said she had heard from employees at the facility that an unvaccinated employee was responsible for bringing the virus into the center. LaForte was unable to confirm the claim since Cascadia keeps vaccination records for employees in a blind database.
"My uncle, Earl Stanley, was preceded in death by more than 4,531,799 others infected with COVID-19. He was vaccinated but was infected by others who chose not to be. The cost was his life," said Wickersham on Sept. 16.
Relatives of other residents, such as Deborah Ellis who lost her uncle Rolf Zillmer to the outbreak, were less critical of the center, saying many other nursing homes across the country were unable to stem the tide of the virus. Ellis said employees at the center gave her uncle wonderful care up to his death.
At least one nurse at the care center took to social media to call vaccines ineffective during the outbreak. Sandra Dubler Hendricks, a certified nursing assistant, berated a man on Facebook who claimed to have had his hip replacement surgery canceled due to unvaccinated COVID-19 patients taking up hospital beds. Dubler Hendricks said the outbreak at the care center among highly vaccinated residents as proof that the vaccine was ineffective.
While impending federal regulations could require the care center to mandate vaccines, Dubler Hendricks said she would refuse to take the shot.
Public health officials and medical experts have repeatedly urged people to get vaccines pointing to overwhelming data that show shots to be safe and effective.
Hospitals across the region — and the rest of the country — are facing a critical shortage of beds. During the health board meeting, Dr. Kelli Jarrett, who works at the Libby Clinic and Cabinet Peaks Medical Center, said she had to make decisions as to which patients could receive nebulizer treatments based on bed availability. In at least one case, local hospital staff have had to send a patient as far as Salt Lake City to receive treatment.
Board member Deb Armstrong suggested care center staff look into using a controversial anti-parasite medication to prevent future outbreaks at the center. She pointed to a long term care facility in Eureka supposedly staved off three outbreaks using ivermectin. During the surges, Armstrong said the facility treated infected patients with the drug and nurses provided around the clock care.
While the FDA approved ivermectin for treating parasitic worms and head lice, the agency has not approved the medication to treat or prevent COVID-19.
Jarrett said she knew of a patient who suffered from an embolism in her lung after using a veterinary version of the drug to treat COVID-19.
"This is what happens when we start to spread misinformation," said Jarrett. "People start to take it into their own hands."
Libby public health officials and the Libby Clinic previously urged residents not to turn to ivermectin as a form of treatment for COVID-19. Veterinary forms of ivermectin, often intended for horses and cows, can contain doses of the drug that are dangerously high for humans. These versions of the drug might also contain inactive ingredients not approved by the FDA for use in humans.

Health board member Josh Letcher pushed back against Jarrett's assertion saying there was a stigma against the drug. He said he knew a lot of doctors who were prescribing ivermectin.
"Well, there are a lot of fringe doctors that are prescribing it," said Jarrett.
"Watch your step there," warned Armstrong. "We have very good doctors in Eureka."

Officials with the Centers for Disease Control and Prevention have reported a spike in ivermectin prescriptions since the start of the pandemic. Across the country, poison control centers have seen a five-fold increase in the number of calls related to ivermectin in July over pre-pandemic levels, according to the CDC. The increase in reports was associated with a rise in emergency department and hospitalization visits, according to the CDC.

---