Libby schools adjust policies after virus surge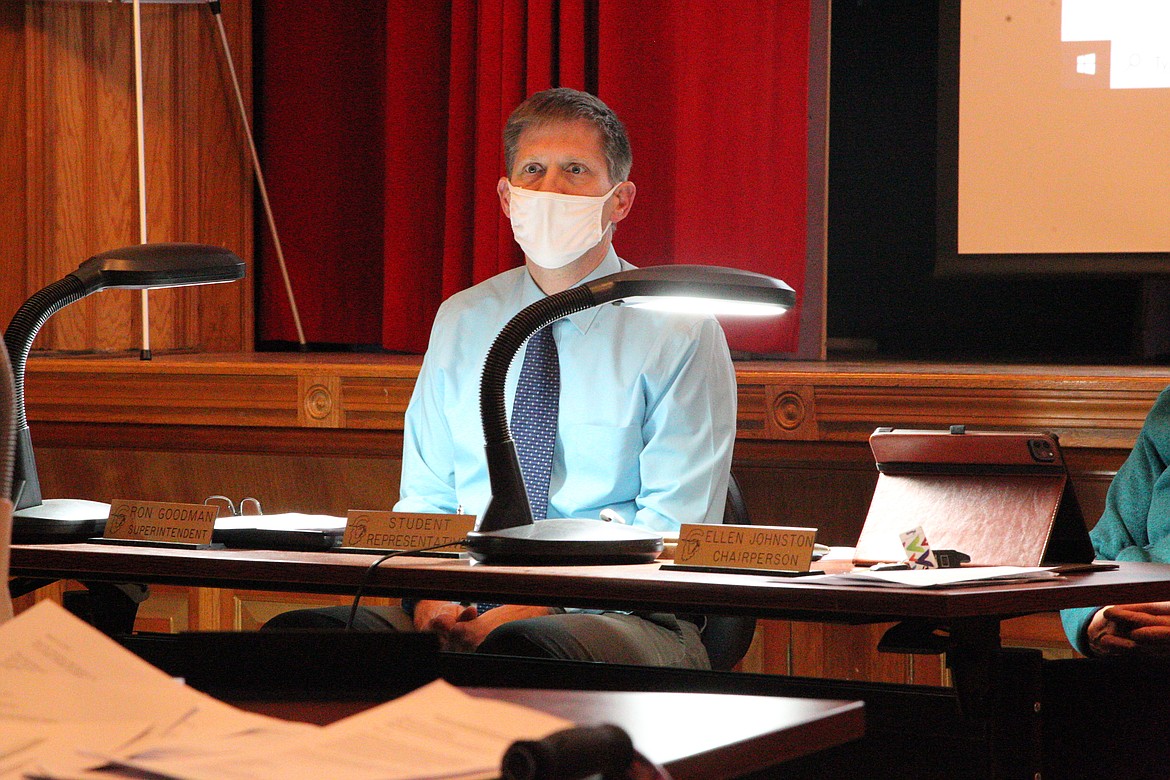 Superintendent Ron Goodman reviews policies during a March 8 school board meeting. (Will Langhorne/The Western News)
by
WILL LANGHORNE
The Western News
|
September 17, 2021 7:00 AM
Administrators with Libby Public Schools are strongly recommending that students and staff wear masks while on campus, pointing to a recent coronavirus outbreak at the elementary school that spread among first graders and left over 20 students and staff with positive test results.

Superintendent Ron Goodman told school board members the district was in a delicate position during a Sept. 10 meeting. Last fall, school officials struggled to keep classes open when confronted with 100 active coronavirus cases in Lincoln County. At the time of the meeting, county public health officials had recorded 316 active cases.
"A tenuous situation means a phone call can change everything in our lives," said Goodman. "All of a sudden three or four people test positive and holy smokes."
At the time of the meeting, the elementary school had seen 25 students and eight staff members test positive for the virus. The two first grade classes most severely affected were back in classrooms.
Last week, school officials incorrectly stated that 88 percent of students at the elementary school were participating in classes either remotely or in-person. The correct figure was 76 percent.

School officials saw a total of 47 positive cases in all of last year.
The Libby Middle High School had only seen one high school student and one staff member test positive. Two high school students and one middle school student were in quarantine as of Sept. 13.
Goodman announced he was dropping schools down to phase one of the district's COVID-19 guidelines during the board meeting. The superintendent said he decided to make the change because officials had seen the virus spread within schools during the elementary school outbreak.
Under phase one, administrators strongly recommend — rather than just recommend — that face coverings be worn. All buses will switch to assigned seating. School officials will limit public visitation and put restrictions on student mixing, as outlined in the district's plan.
Jeanine Kidwell, elementary school principal, said students in lower grade levels tended to be isolated in separate classrooms. While older students might rotate between teachers, Kidwell said class sizes were small enough that students could socially distance. School officials have set up zones for classes to keep them from intermixing at lunch.
To keep the coronavirus in check at schools, Goodman said the district was counting on contact tracing and testing.

While the Lincoln County public health officials who assist the district with contact tracing may be bogged down with the recent surge in local coronavirus cases, Goodman said the elementary and middle school had over 80 rapid tests between them.
Jim Germany, Libby Middle High School assistant principal, and Tom Gallagher, Libby Elementary School assistant principal, said parents have been willing to let school officials test their children.
Goodman told board members that it was hard to tell if the severity of the recent outbreak was worse because students and staff were no longer wearing masks or because the predominant form of the virus in Lincoln County was the delta variant.
"I can tell you things move much faster with the delta variant," he said.
In January, when Gov. Greg Gianforte announced plans to lift the statewide mask mandate, Goodman pointed to face coverings in schools as one of the primary reasons Libby Public Schools had seen so few positive test results compared to the county as a whole that academic year.
Administrators have faced pressure from state officials to not require students to wear masks this school year. An emergency rule issued in August by Gov. Greg Gianforte urges school boards to factor input from parents into their decision making process and states that mask mandates have "imposed additional burdens on citizens, including on their health and well-being."
Libby Public School officials continue to follow guidelines issued by the Lincoln County Health Department and the Centers for Disease Control and Prevention.
---