Tapping the brakes: Residents want to see speed limit on state highway lowered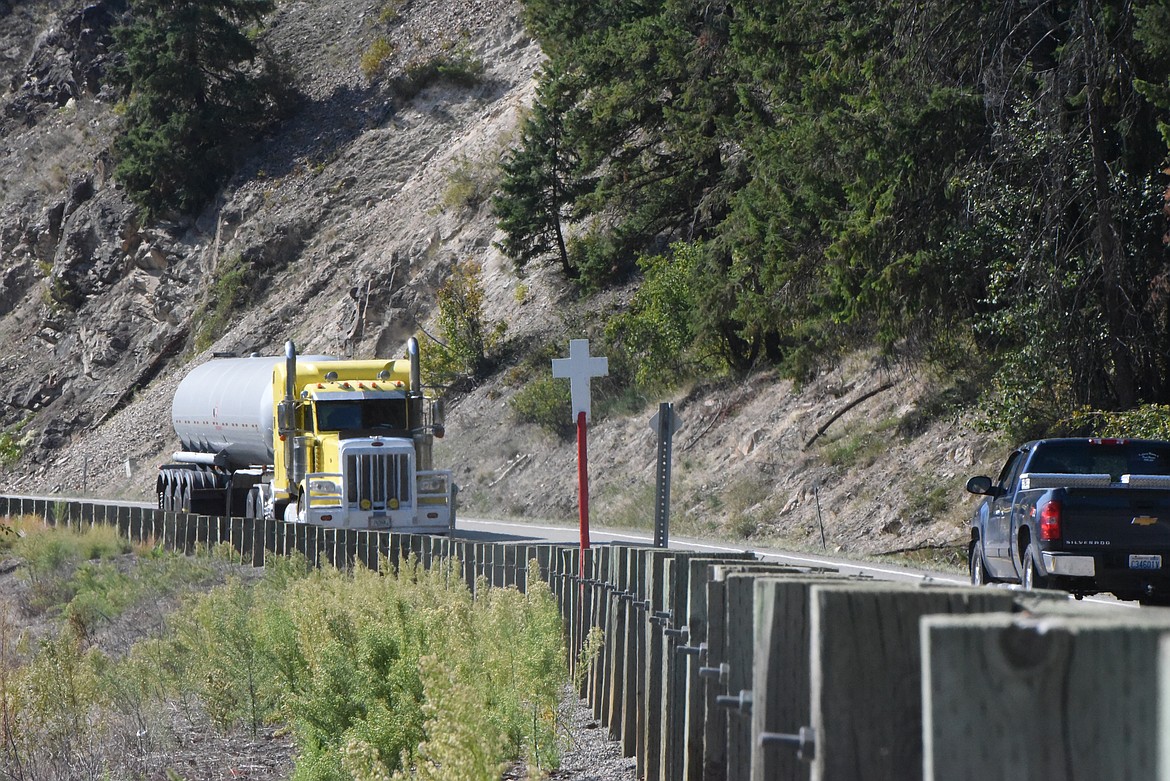 Vehicles fly by one another on state Highway 37 on Sept. 7 near a cross marking the spot of a fatal wreck. Residents of the road want to see the speed limit lowered to 55 miles per hour. (Derrick Perkins/The Western News)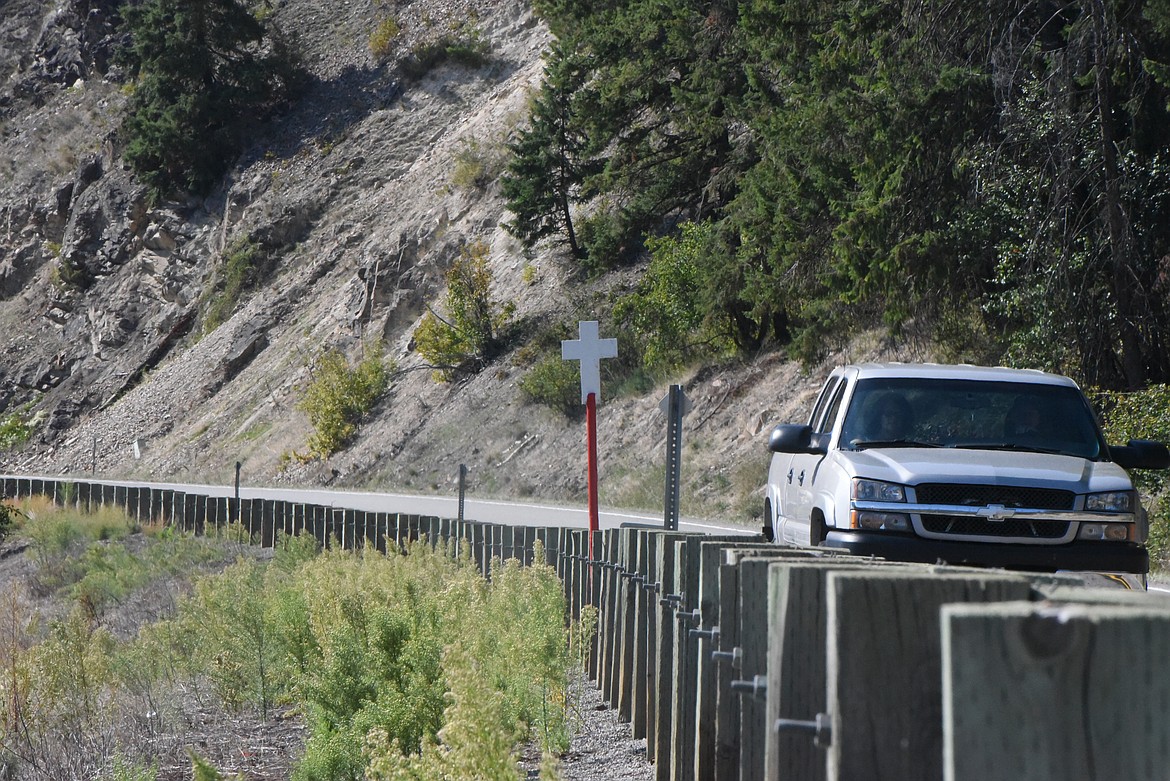 A vehicle heads along state Highway 37 on Sept. 7. (Derrick Perkins/The Western News)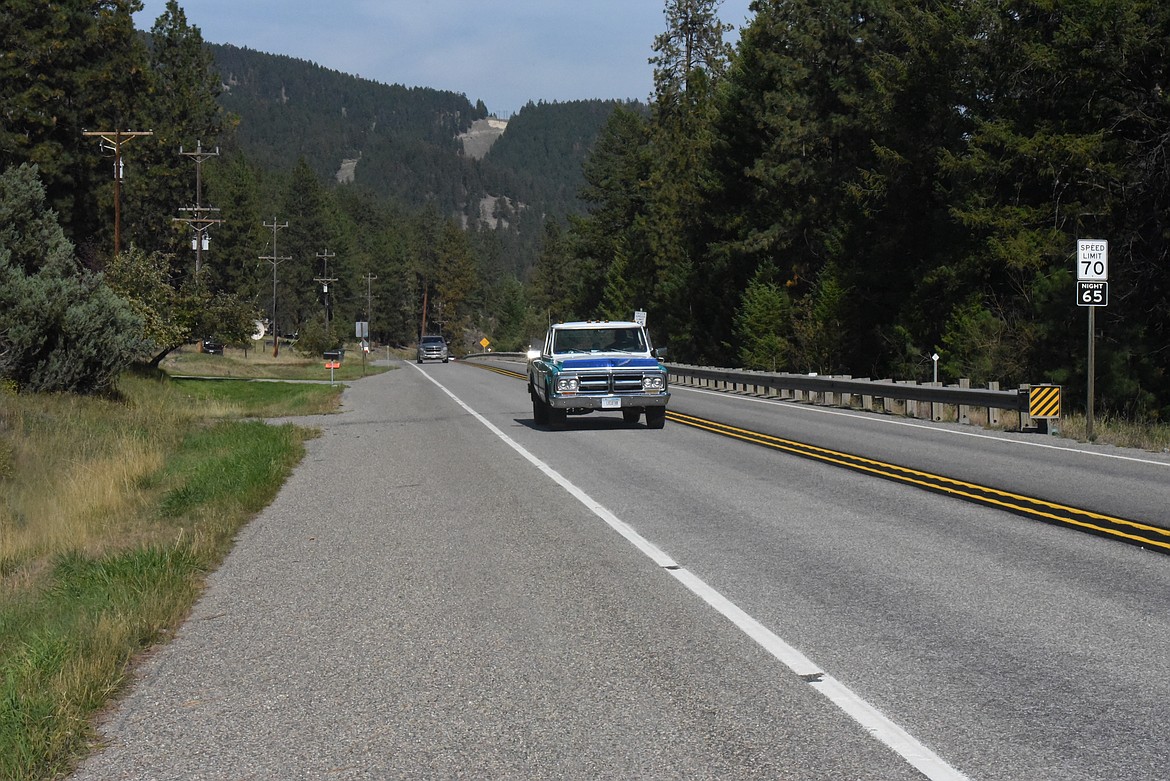 A sign marking the start of the 70 mile per hour zone on state Highway 37. (Derrick Perkins/The Western News)
Previous
Next
by
DERRICK PERKINS
Daily Inter Lake
|
September 10, 2021 7:00 AM
A group of residents along state Highway 37 want to see the speed limit dropped to 55 miles per hour, saying the thoroughfare has grown increasingly busy and dangerous in recent years.
They presented the Lincoln County Board of Commissioners with a petition, signed by 225 people, calling for the speed limit reduction on Sept 1. Currently, the limit for much of the state highway is 70 miles per hour. Any adjustment to the speed limit ultimately rests in the hands of officials with the state Department of Transportation.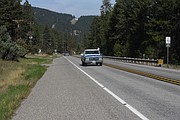 "We … are experiencing many difficult, dire situations every day on state Highway 37 regarding our safety and the safety of animals," resident Lerah Parker told commissioners before a packed audience in the Lincoln County Courthouse complex.
Neighbors along the road, which takes travelers from Libby to the Libby Dam and the shores of Lake Koocanusa before heading into Rexford, reported increasing difficulty in exiting and entering driveways, near-misses with local wildlife and incidents of road rage. Adding to that last problem, sightseers and other motorists are driving at well below the posted speed limit, Parker said.
"Many people are going 50 to 55 miles per hour because of age and to experience the beauty," she said, referring to how the road shadows the Kootenai River.
The roughly two dozen residents in attendance took turns recounting anecdotes about the increased danger on the roadway. Veronica Bovee-Anderson worried about the lack of turning lanes, especially near M-K Village, among other deficiencies.
"Plenty of cars that come screeching to a halt right there," she said. "There are few shoulders and what guardrails there are are limited. The highway is kind of up to code, but barely. Slower speed limits would be beneficial."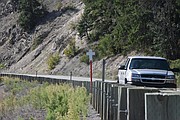 Others pointed to the slower moving vehicles towing boats or trailers that often leave heavier-footed drivers stacked up behind them. Lee Stegmen said he routinely sees vehicles passing at dangerous speeds around mile marker nine, where the road straightens out.
"We see cars come by there in excess of 80 or 90 miles per hour all day long," he said. "Because they're bunched up behind traffic until they get [to] that straightaway."
And then there's the wildlife. Deer, sheep and turkeys all congregate on the blacktop, residents said, posing a risk to motorists.

"Just this year, we are aware of a bear, bighorn sheep and several turkeys being hit in this area, which also comes with a drastic cost to motorists involved," Parker said.
County Commissioner Jerry Bennett (D-2) thanked the crowd for presenting the petition, saying it allowed the board to contact the state and request a traffic study. The road to getting the speed limit eventually lowered was long and slow, he warned.
"The timeline is I'll call the state [Department of Transportation] in Kalispell," Bennett told the petitioners. "They will put it on their list and, unfortunately, it's not a rapid turnaround, but we've been having conversations."
Over the past several years, commissioners have asked the state for studies on four stretches of road. Just two have been approved for analysis, Bennett said.
The county also could hire an engineer to inspect the road at its own expense, he said.

"But that's pretty costly," Bennett said. "If we don't get some results we could mention that to them."
When one resident half-jokingly suggested in the meantime launching a roadwork project along the highway, thus requiring lower speed limits, Bennett laughed and said he suspected Helena would catch on.
County Commissioner Brent Teske (D-1) told the petitioners that the state likely would look at traffic flow and whether or not lower speeds would affect that flow. But public pressure could sway state officials, he said.
"Public pressure is where this stuff gets leveraged and changed," he said.
---