Public weighs in on affordable housing project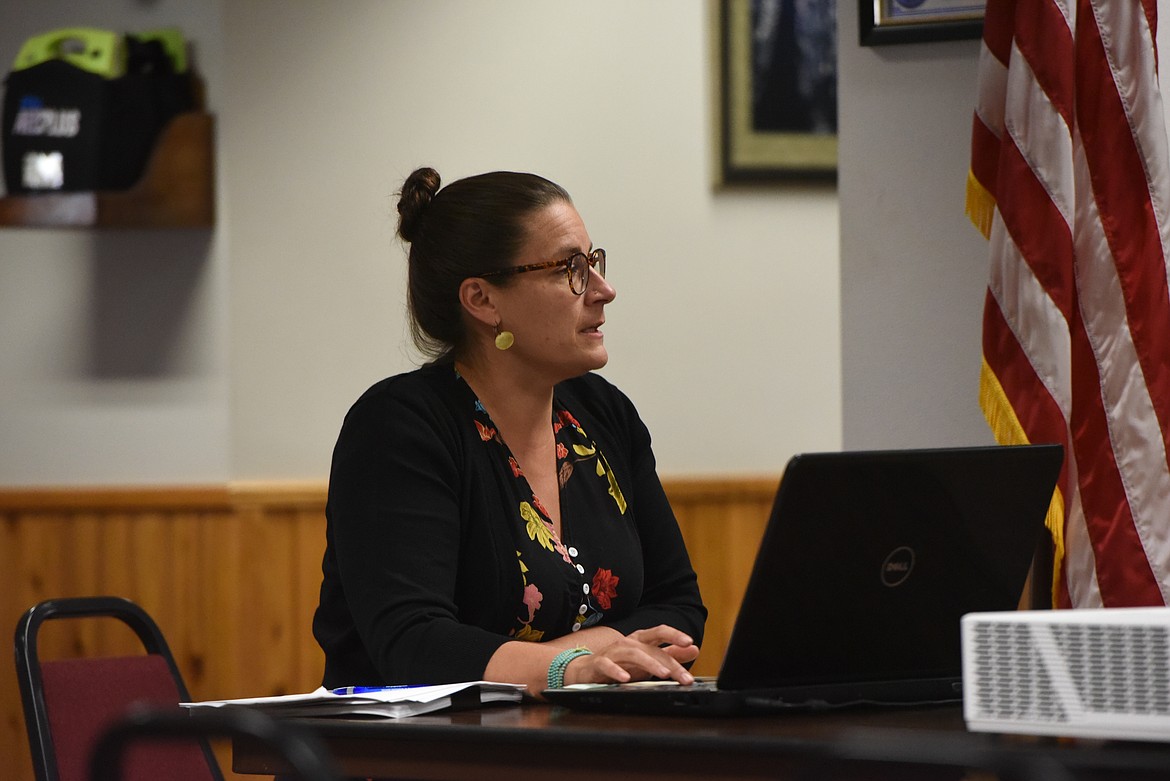 Cassidy Kipp of Community Action Plan presents plans for a proposed affordable housing project on Commerce Way at a public hearing in Libby on Aug. 23. (Derrick Perkins/The Western News)
by
DERRICK PERKINS
Editor
|
September 10, 2021 7:00 AM
Backers of an affordable housing complex on Commerce Way outlined more details about the project at a public hearing before Libby City Council on Aug. 23. Cassidy Kipp of the Community Action Partnership updated city councilors on the plans for the future of a 4.1-acre lot as part of an effort to secure tax credits for the project. Announced earlier this summer, the proposal calls for 24 units in 12 duplex buildings with rent starting at about $450. When finished, the development would boast 10 two-bedroom and 14 one-bedroom units.
Kipp told city councilors that the development would feature an office and community room where her group can connect both tenants and area residents with its services, including homebuyer education and financial skill building courses. "We're building good taxpayers. We're getting skills, skills for long-term success and also assisting for things such as the burden for heating expenses during the winter months," she said. "It's really going to be a place where we serve the community in a real accessible
manner." An affordable housing project in Libby last received a tax credit more than 20 years ago, Kipp told city councilors. That was for Green Meadows Manor, a senior low-income housing development, which Community Action Plan also oversees, she said. Three out of the four affordable housing developments in the area are geared toward the elderly. There is a need for housing for younger families, like single parents and children, she said. "What we see is there is absolutely a shortage of safe and affordable homes," Kipp said. "We see renters terribly cost burdened with what they're paying."
About 30 percent of residents in the Libby area spend 50 percent or more of their income on housing and utility costs, she said.
And housing is in short supply. The vacancy rate is about 1.2 percent at present. "There are just not a lot of units that are out there," Kipp said. "When the market is tight the ones who hurt the most are those with the lowest income." City Councilor Brian Zimmerman joined residents in questioning the amount of families the project could help with 14 one-bedroom units.
Resident Zach McNew, a local landlord and candidate for city council, raised similar concerns.
The project looked like it was geared for seniors given the amount of single bedroom units, he said.
Kipp said U.S.
Department of Housing and Urban Development rules dictate that every bedroom hold two people.
"It's not uncommon to see households in single rooms and spaces that are pretty small," she said.
"What we envision here is a single mom and a child, a single parent and a child." Gerald Fritts of American Covenant Senior Housing Foundation, which is cooperating with Community Action Plan on the project, said that proposed development did not prohibit senior tenants.
"We only have two types of products we can put forward to the Montana Board of Housing: It's either going to be a senior facility or a family facility," he said.
"Even though the need is for one and two bedroom units … it doesn't preclude [seniors] either. It's a much broader definition for the community."
Resident Jennifer Nelson wondered whether the project's tax-exempt status would cost taxpayers. Tenants would still draw upon fire services, for example, she said.
Kipp said that money tenants saved on rent likely would go back into the local economy. Less money spent on rent meant more on other goods and services in the area, she argued.
Resident Vince Backen, who owns several businesses in Libby, asked whether the complex would accept tenants from outside of the community.
Kipp replied that a third party would manage the application process, the same company already in charge of Green Meadow Manor. When he asked for a copy of an application, Kipp referred him to the front office at Green Meadow Manor.
As for opposition to the project, then Mayor Pro Tempore Peggy Williams acknowledged receiving an unsigned letter submitted by people purporting to be neighbors.
While the proposal was not up for a vote — the public hearing was held as part of a requirement to secure tax credits from the state — City Councilor Kristin Smith repeated her support for the project. Echoing her remarks when the project was unveiled, she described it as much needed in the community.
"As an employer who has employed, historically, a number of single women with children, I know there is a need," Smith said. "I'm very grateful for the partnership. I can't wait to see it built."
---