Libby finalizes $9.7 million budget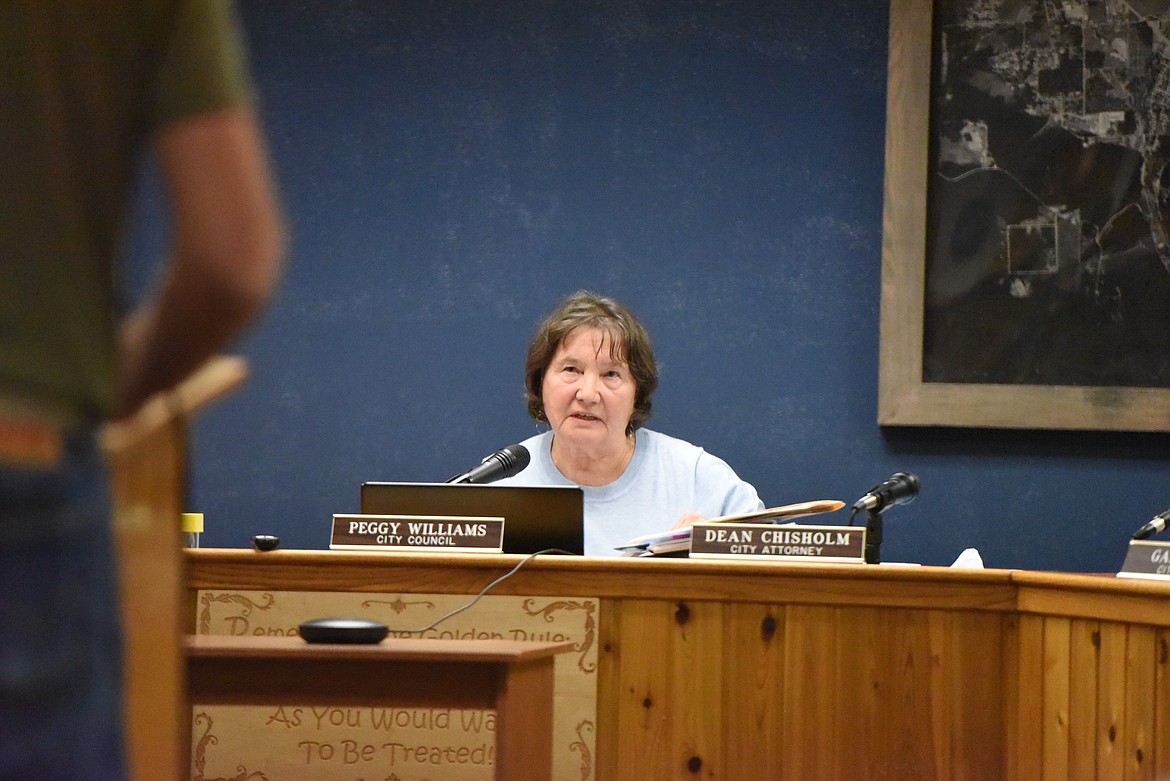 Mayor Peggy Williams at the Sept. 7 Libby City Council meeting. (Derrick Perkins/The Western News)
by
WILL LANGHORNE
The Western News
|
September 10, 2021 7:00 AM
Libby City Council approved a roughly $9.7 million final budget for this fiscal year during a Sept. 7 meeting.
The financial road map represents a roughly $3.9 million increase in spending over last year's budget.
The city received a windfall from grants and government funding while crafting this year's fiscal plan. Under the American Recovery Plan Act, Libby received $354,933. The city's allotment from the state gas tax increased by about $20,000, bringing that figure to $73,155 this year. A new item on the budget for grants and contributions under the city's community development fund represented an additional $691,000.
The city's revenue jumped to $7.3 million in this budget cycle, up by $2.1 million.
City Councilor Hugh Taylor thanked the council's budget committee for its work, but hoped City Hall could trim spending in the years to come.
"I think somewhere in here we've got to figure out how to tighten this up," he said.
City Clerk and Treasurer Sam Sikes said officials saw a decrease in the number of mills they could levy. City Hall was allowed 158.8 last year and 143.25 this year. The value of a mill grew, however, from $2,750 to $3,211, leaving the city with more funds it could levy.
"Just to let you know these are two years behind," said Sikes of the mill levies. "So the increase in home values that we're feeling now won't be reflected for two years." Libby's budget includes six new capital improvement funds. These pots of money, part of the city's capital improvement plan, are intended to ease the burden of major purchases. While Libby has traditionally taken out loans to support building projects and vehicle purchases, city officials can now set aside dollars ahead of time to avoid taking on debt. City buildings, the police department, the volunteer fire department, streets, the water plant and sewer treatment each received a capital improvement fund. Officials set aside $65,000 for the city building fund, $35,000 for the police department, $74,490 for the fire department and $121,297 for streets. The budget contains $1 allocations for the sewer treatment and the water plant capital improvement funds.
City employees will see a 2 percent cost of living increase along with a 1 percent wage bump.
Staff also can avail themselves of a cash in lieu of benefits program under the new budget. Employees who can take advantage of another health care package can opt out of the city's benefits and collect twothirds of their plan. The city would receive the remaining third. Most employees with alternative plans receive benefits from their spouse or the U.S. Department of Veterans Affairs. This year, the city will begin offering employees 120 hours of holiday a year instead of 15 days off. The 15 days of off time created some confusion as some employees work more hours each day than others, making them technically eligible for more time off under the previous system.
In passing the budget, city councilors approved resolutions to request distribution of bridge and road safety and accountability program funds, fix annual appropriations, set tax levies and set salaries and wages.
---