Bonners Ferry outlasts Libby for win on the volleyball court
by
WILL LANGHORNE
The Western News
|
September 7, 2021 7:00 AM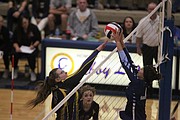 The Lady Logger volleyball squad lost their first home match against Bonners Ferry over five games on Sept. 2.
Throughout the match, Libby and the Badgers remained neck-and-neck. Three of the games finished with a spread of only two points.
The Lady Loggers fell 25-23 in the first game, but battled back and won the second 25-15. The Badgers gained the upper hand in the third game, closing it out 25-15. In the fourth game, the Lady Loggers won 25-23. They faltered 18-16 in the final game.
Ember Rhode and Mariah Goucher led the Lady Loggers with five aces each. Rhode racked up eight kills. Julia Martineau and Goucher each followed with six. Sidney Rusdal landed 19 assists for Libby. Rhode and Martineau secured 21 and 18 digs respectively. Rhode led the team with two blocks.

The Lady Loggers will hit the road for a rematch with Bonners Ferry on Sept. 9.
---