Martin Todd Gehrke, 58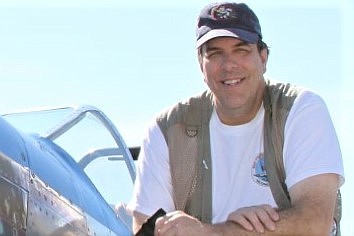 |
October 29, 2021 7:00 AM
Martin Todd Gehrke, 58, of Bellingham, Wash., died suddenly Sept. 29, 2021, at home while watching his beloved Dodgers. He died from complications of stomach cancer, but kept his positivity, dignity and determination to live a normal life throughout the course of his illness.
Todd grew up in Libby, graduated from the University of Montana with an information technology degree and moved to Seattle. He landed his first job at Nintendo before moving to Microsoft. After leaving Microsoft, his career expanded to provide IT specialty services as a contractor and consultant.
He had many passions, including photography, World War II vintage airplanes, sports, poker games, music, Ford Mustangs and exploring the outdoors with his wife, Christine. He especially loved aerial photography. One of his greatest photographic accomplishments was capturing his favorite P-51 Mustang while zooming alongside in a T-6 Texan in the mountains of the Pacific Northwest. He attended countless local and national air shows for photographic opportunities and connected with other airplane enthusiasts. He was an avid participant in World War II virtual combat flight with his WarBird buddies.
Todd was a faithful member of the 8th Air Force Historical Society and was president of the 352nd Fighter Group Association for several years. He cherished his relationships with the World War II veterans and affiliates that supported the group. He loved these people and they become part of his family.
Todd was a diehard sports fanatic. His knowledge of sports trivia and statistics was unparalleled. He measured the passing of seasons by sporting events and regarded the Super Bowl as a holiday. He never outgrew his childhood devotion to the Cowboys.
But as much as he loved to watch his favorite college and pro teams, his greatest joy came from watching his nieces and nephew play.
As one of his dear friends expressed, "Gerk's quick wit and deadpan delivery were priceless. His meaningless banter and pushing facts to absurd limits was legendary. He was the master at expounding useless knowledge that made you scratch your head. Nobody had more friends than he. Gerk was literally the friend that would give the shirt off his back … Usually, that was because he initially took that shirt from you."

Todd had a huge generous heart and made everyone feel special.
Todd left us early but the effect he had on those who knew him was profound. His friends and close-knit family were his world. His wife, Christine, was his college sweetheart, soul mate and the love of his life.
He is also survived by his mother, Carrie Gehrke; siblings, Gigi Duff (Rob) and Scott Gehrke (Erin); and nieces and nephews, Casey, Emma, Josephine and Kellen; and uncle, Rod Sehorn. He was preceded in death by his father, Walter Gehrke.
A celebration of life will take place at the Museum of Flight in Seattle in the spring. Details to follow.
The family requests donations be made to the American Cancer Society or an environmental organization of your choice.
---