FWP officials address top hunting season questions at Libby gathering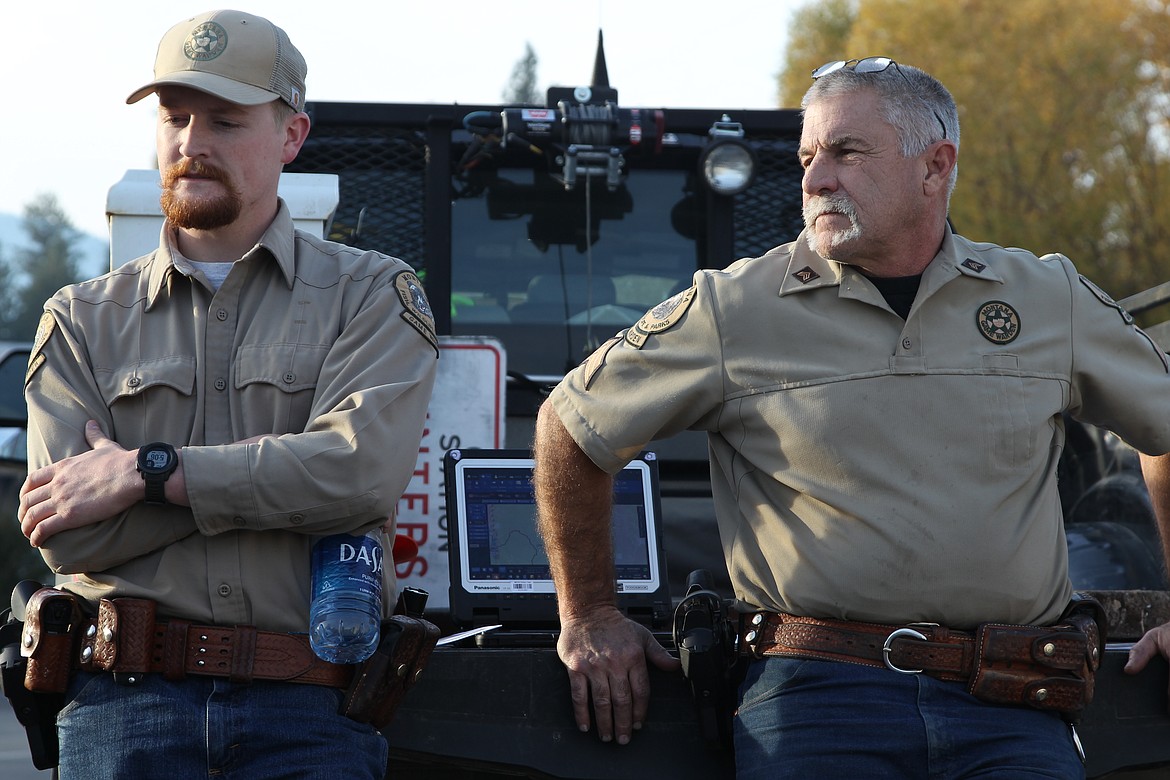 Sawyer Johnson, FWP game warden, left, and Jon Obst, FWP warden sergeant, fielded questions from hunters on the eve of the general season in the parking lot of Ace Hardware in Libby on Oct. 21. (Will Langhorne/The Western News)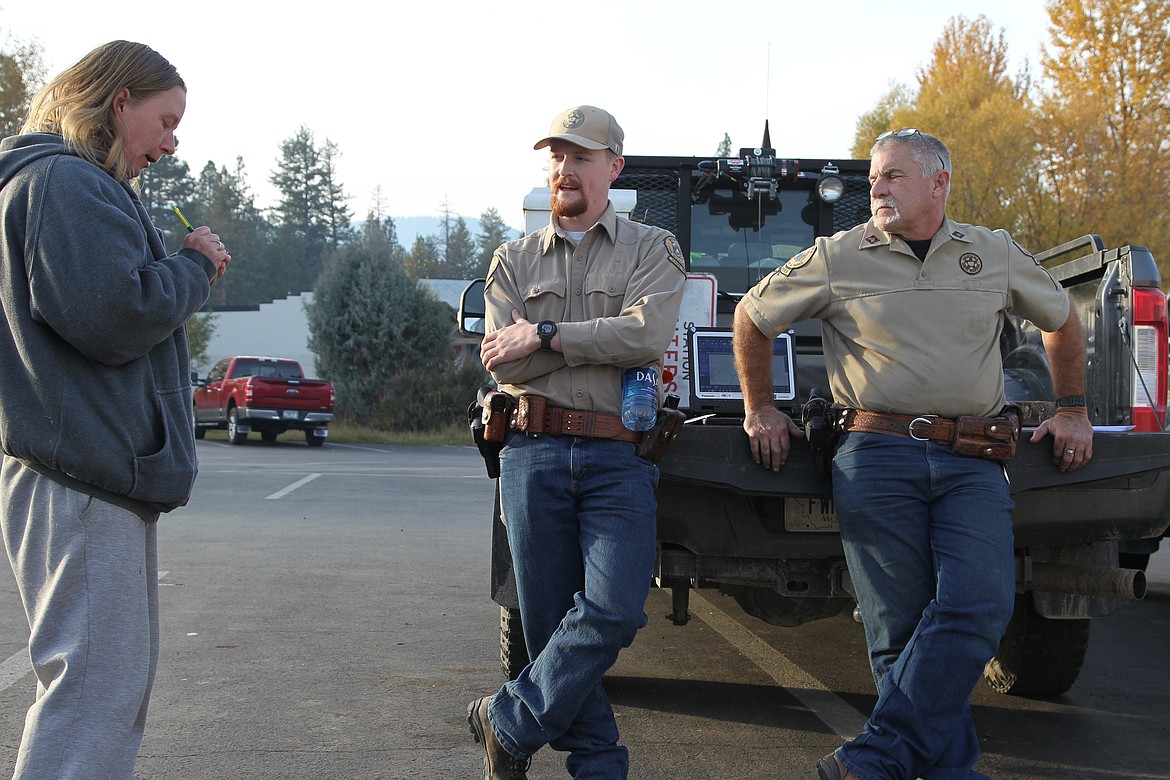 Sawyer Johnson, FWP game warden, left, and Jon Obst, FWP warden sergeant, fielded questions from hunters on the eve of the general season in the parking lot of Ace Hardware in Libby on Oct. 21. (Will Langhorne/The Wester
Previous
Next
by
WILL LANGHORNE
The Western News
|
October 26, 2021 7:00 AM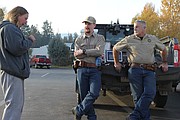 With changes coming to this year's hunting regulations, local game wardens held an open meeting on the eve of the big game general season last week.
Topping the list of questions state officials have received are queries on a new muzzleloader season, changes to wolf trapping regulations and chronic wasting disease monitoring procedures, according to Sawyer Johnson, game warden with Montana Fish, Wildlife and Parks.
Between fielding questions with Johnson in the parking lot of Ace Hardware in Libby on Oct. 21, Sgt. Jon Obst, FWP game warden, said the state's first muzzleloading season would provide a unique opportunity for hunters.
Created by the state Legislature and approved by the Montana Fish and Wildlife Commission earlier this year, the muzzleloader season will occur Dec. 11-19.
"Guys can go into the woods with a more traditional muzzleloader and try to fill any unused tag or permit that they have," said Obst. "But they have to comply with the muzzleloader [requirements]."
To qualify as "traditional," a muzzleloader cannot have an inline firing mechanism, according to Obst. Regulations only allow historic designs such as flintlock, percussion cap or matchlock. Muzzleloaders may be single or double barrel with iron sights but cannot have scopes. Hunters must wear orange during the muzzleloader season.
As for wolf trapping, a person may take up to 10 wolves via any combination of hunting and trapping, according to state regulations. Trappers can now use snares for wolves except in federally designated grizzly bear recovery zones.
Within Region 1, which covers northwest Montana, wolf trap pan tension must be at least 10 pounds. State regulations require hunters to immediately dispatch trapped wolves by gunshot unless an FWP official has authorized them to do otherwise.
Before setting traps, a person must complete a wolf-trapping certification class in either Idaho or Montana. As of Oct. 22, Montana hunters and trappers had harvested 25 wolves in 2021, seven of which were from Region 1, according to FWP data.
Sampling for CWD remains voluntary for hunters. State officials will now allow hunters to move carcasses around the state so long as they dispose of the animal remains in a landfill after butchering and processing. Dumping carcasses is illegal, unethical and can contribute to the spread of CWD.
State officials will continue monitoring the disease in areas known as Priority Surveillance Areas. These areas include hunting districts 100, 103, 104, 120, 121, 122 and 170 in northwest Montana. In these districts, state officials are asking hunters to voluntarily submit a sample from their animal.
A sampling station south of Libby will accept submissions on Saturdays, Sundays and Mondays at the Montana Department of Transportation shop on U.S. Highway 2. The station will be open from 10 a.m. to an hour and a half past sunset.
For a full list of sampling stations, hunters can visit the FWP website.
With timber companies, including Southern Pine Plantations, selling off lands historically open to the public, Obst reminded hunters to honor postage put up by new owners. To stay up to date on the latest changes in property ownership, he recommended hunters use OnX maps.
---