DEQ closes complaint on Libby dumpsite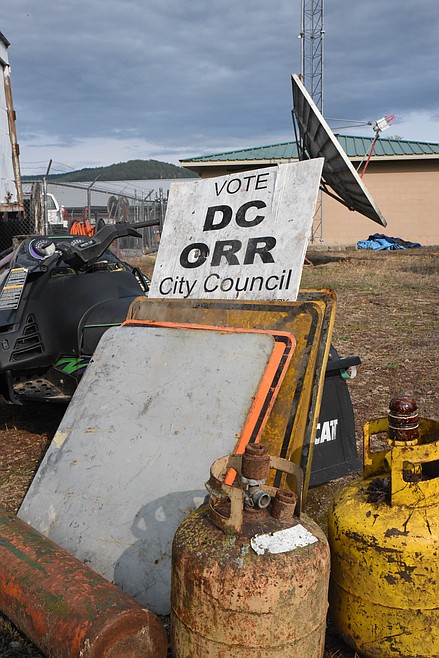 Piles of debris are stacked up on public land off of City Service Road in Libby. (Derrick Perkins/The Western News)
by
DERRICK PERKINS
Editor
|
October 22, 2021 7:00 AM
Municipal workers spent an estimated 22-and-a-half hours cleaning waste from a dumpsite linked to a Libby City Council candidate found on public land earlier this year.
Public crews began clearing the site, located just off of City Service Road, in late August. The piles of old vehicles, oil tanks, rusted drums, concrete and other assorted waste came to city official's attention after an alleged assault with a weapon involving Darrel "DC" Orr in May.
The state Department of Environmental Quality's enforcement arm passed along a complaint from an anonymous individual regarding the dumpsite on Aug. 6. Since then, public employees removed 20 55-gallon drums, several abandoned fuel storage tanks and a large amount of scrap metal, according to a report sent by City Administrator Samuel Sikes to the state environmental agency Oct. 12.
The drums contained grease and were given to the county landfill in Libby for reuse, he wrote. No hazardous materials were identified in the waste.
"Libby is a proud community that suffers from many environmental tragedies, including currently having creosote contaminated ground water and being a Superfund cleanup site for asbestos contamination," he wrote. "Through all of Libby's environmental hardships many lessons have been learned."
Those lessons include putting an emphasis on protecting the environment, taking responsibility and the importance of quick and decisive action, Sikes' report reads.
Along with public workers' time, City Hall estimated 22-and-half "equipment hours" were used and about 11 "truck hours." Sikes told DEQ officials that the waste was found on both public land and nearby property owned by BNSF Railway. Much of the solid waste was later determined to be on the railroad giant's land. The grease-laden drums highlighted in the complaint were found on the property line, Sikes wrote.
An email sent back to Sikes by Mike Rieger of DEQ's Enforcement Program said the department was closing the complaint. The email exchange indicated that city and state officials have notified BNSF about the remaining waste. The railroad company did not respond to a request for comment.
Moira Davin, a spokesperson for the Department of Environmental Quality, said last week that the state agency was pleased with the municipality's action.
"The city was amazing to work with and they did a great job," she said.
In his report to DEQ, Sikes wrote that the individual behind the dumpsite remained unidentified. In August, former City Administrator Jim Hammons said regardless of the perpetrator, the waste was on public property. Libby needed to clean it or face liability, he said.
"As the ownership of the solid waste was, and is, in question … Libby took charge of the cleanup operation," Sikes wrote in report.
Libby officials have shied away from formally discussing suspects, but Orr, who previously served as a city councilor, claimed ownership of the land while taking out a trespass warning — The Western News has obtained a copy of the form — against Montana Sky employees during the May 19 incident. The dumpsite lies on a stretch of land bordered by the Internet provider, city and BNSF.
Orr left a camper on the Montana Sky side of the property, which was later towed by the company. According to court documents, Orr subsequently tried to run down a Montana Sky employee walking on the road on May 19. He also allegedly blocked in other Montana Sky employees with his vehicle and cursed at them.
Lincoln County Sheriff's Office deputies responding to the scene spoke with witnesses, who corroborated parts of the victim's account, according to court documents. One saw the victim scream and jump out of the way of a speeding vehicle, wrote Capt. Boyd White in an affidavit. The Lincoln County Attorney's Office later filed a felony assault with a weapon charge or, in the alternative, criminal endangerment, against Orr. He has pleaded not guilty in Lincoln County District Court.
---