Marthe faces multiple charges after alleged assault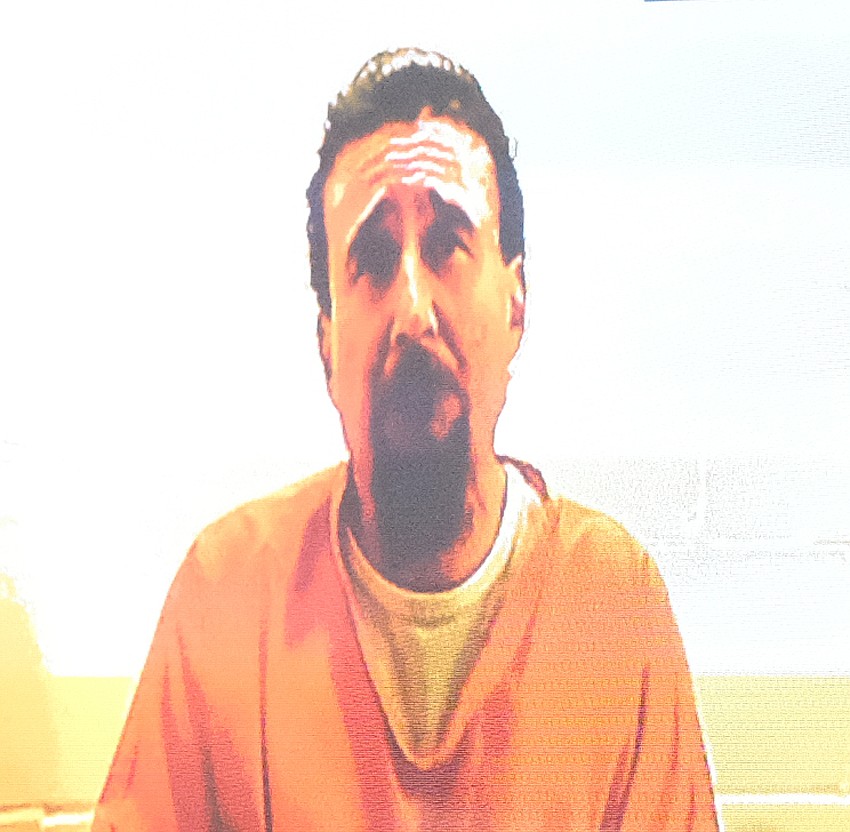 David Marthe appears in Lincoln County District Court via videoconferencing software Oct. 4. (Paul Sievers/The Western News)
by
DERRICK PERKINS
Editor
|
October 12, 2021 7:00 AM
An out-of-town visitor faces a felony assault charge in Lincoln County District Court after local authorities responded to a disturbance call outside a Libby area restaurant in mid-September.
Authorities charged David Marthe, 42, with partner or family member assault, third or subsequent offense, and misdemeanor criminal destruction of a communication device following his Sept. 18 arrest. He pleaded not guilty Oct. 4.
Libby Police officer Ronald Buckner joined Lincoln County Sheriff's Office Deputy Derek Breiland at the U.S. Highway 2 scene about 7:18 p.m. In an affidavit, Buckner wrote that dispatchers reported a man and woman arguing and possibly engaging in a sexual act in the restaurant's parking lot.
When Buckner arrived, Breiland was speaking with a soaking wet man, identified in court documents as Marthe. Marthe allegedly told the lawmen that he was with his wife and she had too much to drink. The two began arguing and the woman left on foot, Marthe said. Prior to the argument, they were looking for a dry place to spend the night, according to court documents.
Buckner pressed Marthe on the couple's reasons for traveling to Libby. Marthe told him that his wife has stage three lung cancer and other medical issues. Originally from California, the pair ran out of money in Libby and had stayed in town for a few weeks, according to court documents.
"Marthe advised that nothing was going on," wrote Buckner, though Breiland had told him that local law enforcement had responded to two prior domestic violence incidents involving the pair.
When Buckner asked about the odor of alcohol coming off of Marthe, the other man acknowledged drinking about a quarter of a pint of liquor he had shared with his wife, court documents said.
Buckner put Marthe in his vehicle "since it was cold and Marthe was soak[ed] and wet and did not have any shoes on" while a restaurant employee completed a no trespass order. In the meantime, Deputy James Derryberry located Marthe's wife by a nearby motel.
According to court documents, the woman confirmed the basics of Marthe's story. The pair were married and opted to go traveling after she found out she had stage three cancer about a year and a half prior. The two had come to Libby from Spokane, Wash., by train. They had argued during their entire stay in Libby, she told authorities.
She had attempted to contact law enforcement the night before when Marthe allegedly began head butting her at a local church, court documents said. He broke her phone in apparent retaliation, she said.
Prior to the most recent law enforcement intervention, she had been trying unsuccessfully to get Marthe up so that the pair could go to a local laundromat. The woman told authorities that Marthe grabbed her by her hair and forced her down to his crotch while cursing her out, court documents said. Upon freeing herself, the woman left on foot and was walking when Derryberry found her.
The woman told the lawmen that as soon as she received her Social Security money she planned on buying a ticket out of Libby.
Both Marthe and the woman denied engaging in a sexual act, court documents said. Buckner concluded in the affidavit that when Marthe allegedly dragged his wife down by her hair, it looked like a possible sex act from afar.
Given the circumstances of the incident, Buckner opted to arrest Marthe at the scene for partner or family member assault and destruction of a communication device. A review of Marthe's criminal history turned up two previous felony domestic violence convictions in California, Buckner wrote.
Authorities took Marthe to the Lincoln County Detention Center and gave his wife a one-night voucher for motel as well as a victim's rights packet. Both were served with no trespass orders from restaurant.
Partner or family member assault, third or subsequent offense, carries a punishment of between 30 days and five years with the Montana State Prison and a fine ranging from $500 to $50,000. Misdemeanor criminal destruction of a communication device comes with a maximum possible sentence of six months in county jail and a $1,000 fine.
---