Sharon Kay Johnson, 75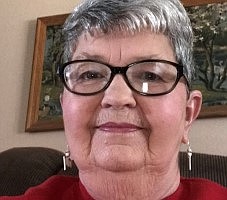 |
October 5, 2021 7:00 AM
On Sunday, Sept. 5, 2021, Sharon Kay Johnson of Libby, beloved mother and grandmother, passed away at the age of 75 in the Benefis Hospital in Great Falls due to complications from COVID-19. Sharon was born April 2, 1946, in South Dakota to James and Beneva (Bellach) Hight.

Sharon grew up in South Dakota and married Richard Johnson in 1967. They lived in several states before settling in Pocatello, Idaho, in 1983. Sharon divorced in 1989 and called Pocatello/Chubbuck home until November 2020 when she moved to Libby.

She also spent several years during that time living in Georgia when her granddaughters were young. Sharon worked in office and retail, volunteered with her church and always kept busy.
Sharon cherished her granddaughters more than anything and loved spending time with family and friends. She was always the first to help with any project. She enjoyed traveling, gardening, bowling, watching football and baseball, and volunteering.
Sharon is preceded in death by her father, James Hight; her mother, Beneva Azure; and her stepfather, Clarence Azure.

Sharon is survived by her daughter, Tammy (Seth Steinberg) McGrady; son, Michael Johnson; granddaughters, Mykah Johnson, Kaitlyn McGrady and Ashlyn McGrady; brother, Robert (Jody) Azure; former spouse and good friend, Richard Johnson; and nieces, grand-nieces and grand-nephews.
A celebration of life will be held in Pocatello, Idaho, at a later date. In lieu of flowers or gifts, donations may be made to Chubbuck United Methodist Church, Samaritan's Purse, or your favorite charity.
---