Local lawmakers join push to review election security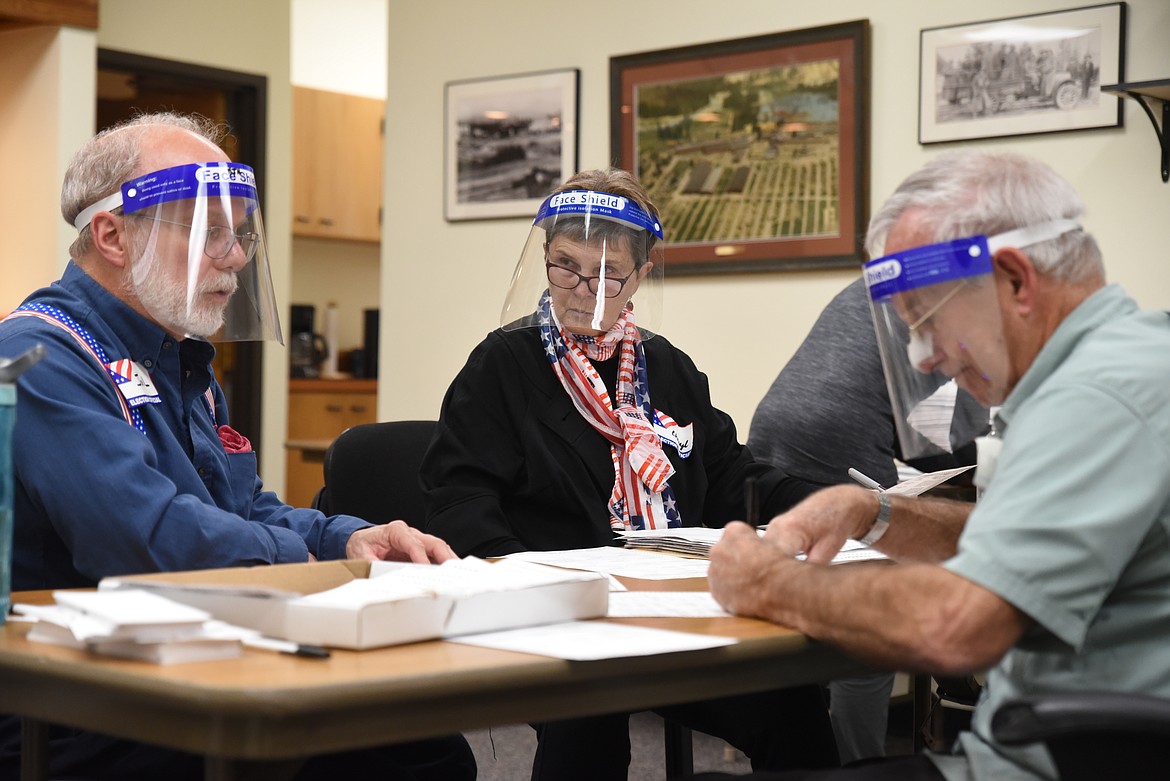 Election judges process votes at the Lincoln County Courthouse on Election Day.
Will Langhorne/The Western News
by
WILL LANGHORNE
The Western News
|
October 5, 2021 7:00 AM
Citing concerns raised by constituents about election security, Lincoln County's three state legislators joined Republican colleagues in calling for the creation of a special committee to dig into Montana's election history and voting laws.
Along with 81 other legislators, Sen. Mike Cuffe (R-Eureka), Rep. Steve Gunderson (R-Libby) and Rep. Neil Duram (R-Eureka), urged state house leadership to create the panel in a Sept. 29 letter.
The details on how the suggested board of legislators would investigate elections remain vague. The letter addressed to the Senate president and House speaker said the committee would hold hearings on "the process and security of Montana elections and proposed future changes if needed; including legislation."

In signing the letter, Cuffe and Duram said they were not making claims of election fraud. At the same time both legislators supported closely scrutinizing the state's voting procedures.
"I'm not stepping into the pool saying there are piranhas," said Duram during an Oct. 1 interview. "But I'm looking for piranhas."
While he didn't suspect the committee would turn up any red flags were it to get off the ground, Duram said state legislators had the political will to address any issues they might find.
Gunderson was not immediately available for comment.
Cuffe said he lent his support to the effort because he wanted to assure voters that Montana elections were secure.
Within the past year, Cuffe has fielded multiple calls from Lincoln County residents who have voiced concerns about voting procedures. Cuffe said he addressed most of these worries by pointing to a slate of newly minted election laws he worked on in close partnership with Montana Secretary of State Christi Jacobsen and her staff.
Earlier this year, Gov. Greg Gianforte signed legislation that repealed Election Day voter registration, required election administrators to review voter rolls annually instead of biennially and authorized poll watchers at every deposit location in mail-in ballot elections.
A bill sponsored by Cuffe that aimed to tighten voter ID requirements also passed muster.
While supporters touted these laws as a means to strengthen the integrity of state elections, opponents argued the new requirements could disenfranchise certain voters including American Indians, college students and elderly or disabled residents.
Looking back to the 2020 election, which took place before the state passed the recent series of voting laws, Cuffe said he saw no firm evidence of any violations in election procedures. Still, he had questions about the way at least one county tabulated votes.
Cuffe pointed to a citizen-led review of Missoula County's vote tally, which found roughly 5,000 fewer affirmation envelopes than votes tabulated by county officials. The senator said there might be a benign explanation for the discrepancy, but still wondered why the number of envelopes, which Montanans are required to enclose their ballots in, did not match the number of votes recorded by the county.
Missoula's county commissioners have refuted claims that the review showed any error in the vote count. In an op-ed published in the Missoula Current in April, commissioners said volunteers failed to double-check the accuracy of their hand count.
Along with the creation of the special select committee, at least one state legislator has called for enacting more voting legislation. Sen. Theresa Manzella (R-Hamilton) suggested holding a special session to allow statehouses to pass election bills ahead of next year's June primaries, according to the Montana State News Bureau.
Montana Republicans secured wins with large margins across the ballot in last year's election. The results were certified by former Republican Secretary of State Corey Stapleton in November.
The recent pushes in Montana to review elections mirrors Republican-led efforts to cast doubt on voting procedures in other states. In Texas, the secretary of state's office announced a full audit of the 2020 election in four of the state's most populous counties. Republicans have pressed for reviews in battleground states lost by former President Donald Trump including Arizona, Michigan, Pennsylvania and Wisconsin, according to the Associated Press.
---