Library saw digital gains in fiscal year marked by disruptions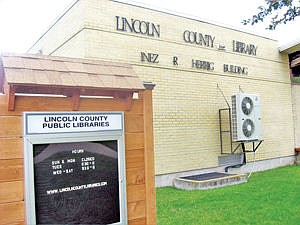 by
DERRICK PERKINS
Editor
|
October 1, 2021 7:00 AM
Circulation at the Lincoln County Library fell in 2021, but given the pandemic and other disruptions, Director Alyssa Ramirez said that dissemination of materials was not the best statistic to measure success.
"As far as circulation, I'm not going into how it compares to years past," she told commissioners during a departmental update Sept. 15. "It's been a weird couple of years."
Among the library's three branches, circulation of materials increased in Eureka, going from 13,712 this time last year to 17,570 this year. But dips in Libby and Troy more than offset north county gains, meaning that circulated materials fell by 6,671 across the county in the past year.
"It's definitely overall less than what we've done in years past, but considering closures, COVID, etc., I think we're doing extremely well," Ramirez said.
Despite interruptions in service — patron visits dropped significantly in fiscal year 2021 — she said local readers were availing themselves of the Montana Library 2 Go program, which offers digital books and audio books.
Ramirez talked up the library system's digital efforts, particularly the adoption of Beanstack, an app available to patrons. Using the app, librarians can host literacy related challenges and connect with local readers, she said.
For example, the system is running the 1,000 Books Before Kindergarten program, which encourages parents and guardians to read to their children, Ramirez said. Another is the 10 to Try, which challenges adults to broaden their horizons.
The library system also launched this year's summer reading program on the app. The program encouraged reading, but also activities. Ramirez called it a success, saying the county's top young reader — an 8-year-old from Eureka — spent 9,000 minutes reading during the warmer months.
"All of these [programs] are going to be countywide," she told commissioners. "That was also the benefit of this app. You don't have to have a library card. You download it and tell it what branch would be yours and you're good to go."
Upon signing up, children receive a welcome bag with a book, informational material and other goodies, she said.
Ramirez credited the library's collaboration with Zero to Five Lincoln County, a community organization focused on helping children and families, with being a boon during the pandemic.
"I love to see all these collaborations between all these entities," said County Commissioner Brent Teske (D-1). "It's great seeing them come all together."
Ramirez also touted the library system's mobile device lending program. The organization's 25 mobile hotspots, funded through the Montana State Library, are particularly popular and usually checked out, she said. The county is fifth in Montana for circulation and second in total data usage, according to data compiled by the state library.
"Plenty of people are obviously using it for entertainment — streaming on it — but families are using it for homework, for job searches, banking and telehealth," Ramirez said. "So many of those things are pushed online."
With about 19 percent of households in the county without Internet access, the hotspots provide a critical link to the outside world, she said. While funding from the state for the hotspots expires in 2020, Ramirez said her staff was looking at other means of support for the program.
"I like to think they're helping with that quite a bit, helping relieve some of that stress," she said. "Increasingly our world is relying on the Internet, relying on virtual, all of those things. We're excited that we're able to get these out through 2022. We're going to really consider funding that beyond that. They are popular."
Adding to its electronic offerings, Lincoln County Library has added four laptops for checkout. Two are kept in Libby with the Troy and Eureka branches receiving one each, Ramirez said.
The agency received four iPads as well, but complications in wiping data between users has held up the process of loaning them out, she said.
The library worked within a $416,280 operating budget in fiscal year 2021. The lion's share of $393,527 came from the county, though another $11,488 arrived via state aid. Personnel costs amount to about 70 percent of the system's annual appropriation, the remainder going toward materials, utilities, insurance, maintenance, subscriptions technology, programming and training, among other expenses.
---