Lady Loggers rally to beat Columbia Falls
by
WILL LANGHORNE
The Western News
|
October 1, 2021 7:00 AM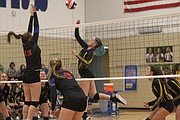 After losing two sets to the Wildkats, the Lady Loggers kicked it into high gear, winning the next three games and their Sept. 25 match against Columbia Falls.
The Wildkats won games one and two 25-17 and 25-17. Libby took games three through five with scores of 25-16, 25-23 and 15-12.
Ember Rode secured eight of Libby's 16 total service aces. Mariah Goucher followed with three aces. Kelsey Johnson led the Lady Loggers with nine kills followed by Julia Martineau with eight kills. Libby secured a total of 38 kills.
Sidney Rusdal landed 32 of Libby's 35 assists. Martineau and Kinzee Boehmler lead in digs with 13 and nine digs respectively. In total, the Lady Loggers landed 44 digs.
Martineau and Rode each landed one of Libby's two blocks.
The Lady Loggers will go on to play Ronan at home on Sept. 30 after The Western News print deadline.
---