Black backs call for health board to reassess pandemic response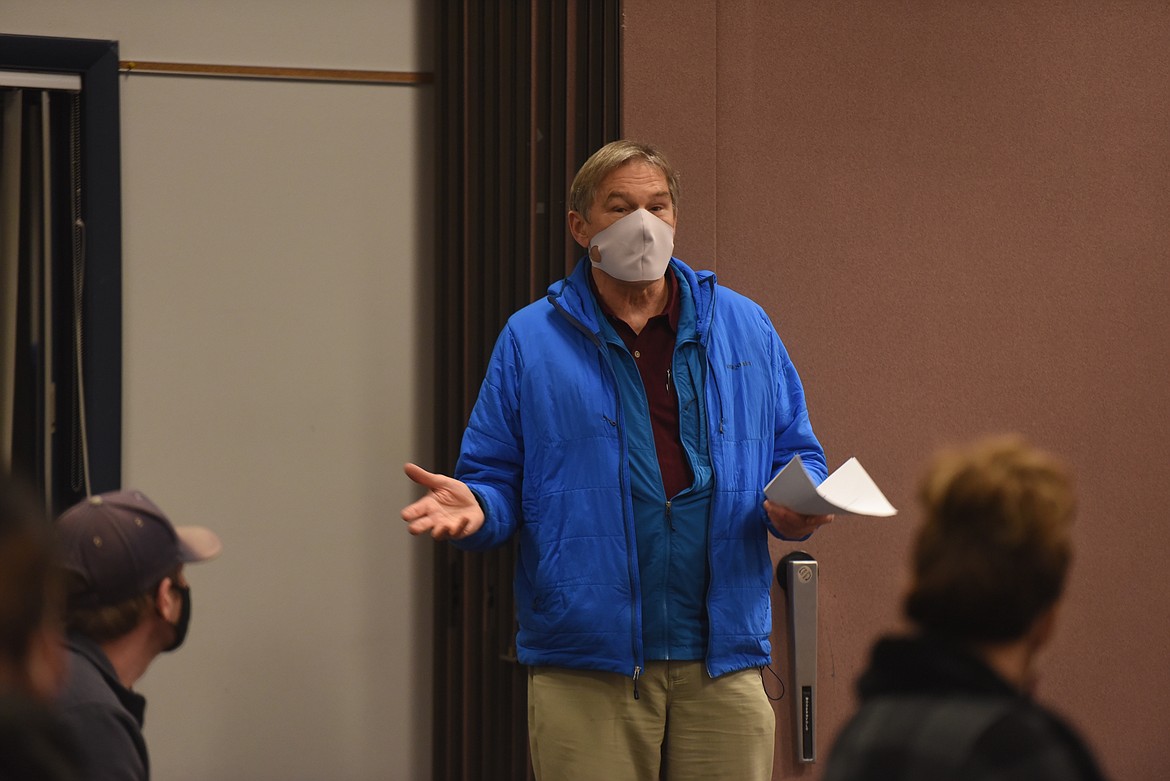 Dr. Brad Black at a Nov. 10 Lincoln County Health Board meeting. (File photo)
by
DERRICK PERKINS
Editor
|
November 19, 2021 7:00 AM
Lincoln County's top doctor endorsed last week a call for health board members to look inward and perhaps plot a new strategy on the COVID-19 pandemic as new cases spring up and deaths inch upwards.
"We allowed it to happen," Dr. Brad Black said during his report to the Lincoln County Health Board on Nov. 9. "We ought to look at ourselves and say, 'How did we let this happen?' I know a lot of those people [who have died] and it hits you close to home."
As of Nov. 16, the county had recorded 58 deaths, the bulk of those coming since summer, when the delta variant of the virus began spreading in earnest across the country. Black also noted the recent surge in deaths more than a year after the coronavirus first emerged as a threat.
"I think we should do a much better job than this," he said.
Black piggybacked off remarks made by Eureka's representative to the health board, Debra Armstrong, earlier in the evening. For the second consecutive meeting, Armstrong, who survived what she described as a near-deadly bout with COVID-19, called for the creation of a plan to address the pandemic and for the health board to try a new tact.
While county health department employees have drawn upon existing plans, one aimed at communicable diseases and the other at an influenza pandemic, Armstrong has pushed in recent weeks for a roadmap specific to COVID-19.
The two documents in use, both updated prior to COVID19's emergence, call for efforts already undertaken during the pandemic. The communicable diseases plan, which references severe acute respiratory syndrome caused by coronavirus explicitly, directs health department staff to identify cases through disease surveillance. If a case is discovered, staffers are to "review recommendations for treatment, isolation and communicability," perform contact tracing, implement testing, coordinate with state officials and alert the media. If necessary, the document calls upon officials to close restaurants and quarantine people.
The influenza pandemic plan prepares for direr circumstances, recommending that officials work with local leaders to close schools, restrict visitation at care centers and cancel community events, depending on the severity of the pandemic locally. It also directs staff, in the event of civil unrest, to coordinate with law enforcement to secure key infrastructure.
Both plans are available for public perusal on the board of health's website.
As the COVID-19 pandemic descended upon the U.S., officials on the federal, state and local levels implemented many of the aforementioned measures. In Lincoln County, Black shadowed the efforts undertaken by former Gov. Steve Bullock in his local health orders. Armstrong, who served on the board throughout the pandemic, often criticized or opposed those efforts. She previously argued that the role of the health board was limited to public education and encouraging healthy lifestyles.
"What is our plan? What is the Lincoln County plan?" she asked during the Nov. 9 meeting. "How are we going to help the people in Lincoln County with Covid?"
Armstrong sought to expound on what she thought the county ought to be considering while delivering her report from Eureka later in the meeting. Owing to technological problems that plagued the meeting, Armstrong's remarks were garbled. But she emphasized developing a roadmap aimed at helping those sick with the illness.
"There is an expectation we would be helping the public situation, helping the public improve their health situation," she said. "I still, from Eureka, request either the health department or the board of health or somebody come up with a concrete plan to actually help people get through what we're going through."
Her message echoed remarks she made at the board's October meeting. At that time, she called for the development of a take-home kit to give to those ill with COVID-19. Paradoxically, when board Chair Jan Ivers directed health department staff to compile a list of items, Armstrong argued that government should stick to education and let local organizations, churches and elected leaders take care of the rest. She also omitted vaccinations.
Troy's representative to the board, Jim Seifert, pressed Armstrong on her emphasis on treating COVID-19 — rather than prevention — following her report.
"I'm talking community health, Jim," she said. "How, with a very strong COVID-19 outbreak, do we help people help ourselves, help this county survive this outbreak that we're having?"
Black, though, took Armstrong's criticisms and ran with them. He called on the health board to reassess and focus on methods shown to stem the spread of the virus.
"I think the board really needs to work on this and in an effective way," he said. "Things that work to control and prevent the outbreak. I hope you continue with that at the next meeting."
Black warned that while the number of new infections continues to drop — 20 cases were reported Nov. 16 with 101 cases active in the county — the virus likely would continue spreading in the colder months. The board should take action to prevent future deaths, he said.
"It won't go away right away. We are going to have this disease smoldering on the next few months," he told the board. "It's sad, it's sad to think we're losing our loved ones … and fellow community members that don't need to die."
---