Becky Gibson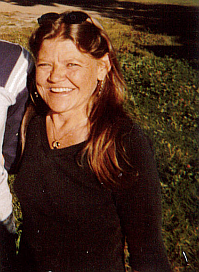 |
November 12, 2021 7:00 AM
We lost our "Granny" on Nov. 2, 2021. She was born Rebecca Lynn Snow on Sept. 24, 1961, to Patricia Patton and Ray Snow in Fruita, Colo. She was the second of Patty and Ray's four kids.
Like most families, they moved around, adding new parents and more brothers and sisters. Becky loved them all!
Becky married Dale Gibson in 1979. Their six years together brought two daughters, Candi Jo and Brandi. After separating from Dale, Becky took the girls to live with her mom and brothers. In 1986, Becky and girls moved to Troy. Doug Carr was one of her first and favorite friends. Becky had many great friends!
Becky was a hard one to tame, so her and the girls moved around. They always came back to Troy.
In 1989, Ross Stapley found Becky sleeping in the back of a truck in Little Joe's parking lot. Ross took in Becky and those two little girls. Together for 10 years, they had a son. Rock Stapley is Becky's only son.
Becky spent years with best friend Gary Lies. She loved his kids and grandkids like her own! Becky would be mad if we didn't mention her friend Moose whom she loved.
Becky's first grandchild was born in 1998. She found her calling! Being a grandma was the greatest joy of Becky's life!
Becky loved music and good times, dancing and playing pool. She made and lost many friends on the way. More than we can mention.
Becky was preceded in death by her mother, Patricia Jacobs; father, Ray Snow; stepmother, Doltie; three sisters, Linda Labrum, Pammy and Alice Snow; and grandson, Owen; her friend Doug; Doolie; Paul; Bill; Aunt Dar; and White cloud and Red bird. Sorry to anyone unmentioned. We loved all of you.
Surviving Becky is her little dragon slayer and her three kids: Candi Jo, Brandi and Rock. She has six grandkids, Wesley, Krisign, Sierra, Elijah, Quilly and Jazzy. Judy and Lester are her two great-grandchildren. Her brothers are Bob, Steve, Chey, Rock, Chris, Micky, Rickry, Randy and Jessie. Her sisters are Deana Snow and Linda Garrison, Tara Graff and Ida in Colorado. There are an aunt and an uncle, so many nieces, nephews, cousins and friends, and adopted kids, including all the kids and people who grew up with and around Becky and her kids.
Mom, Sister, Grandma, Granny, Aunt Beck, Masquw, Peck, Jingles, Rebecca or Shotgun — no matter what you called her she loved you. We all miss her already and forever!
Becky would appreciate everyone making one last fuss over her. Please, if you can dress in your "Sunday best."
Arrangements are being made and we will let everyone know!
---