Dixie Lee Sichting, 81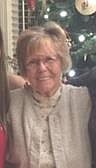 |
November 9, 2021 7:00 AM
Dixie Lee Sichting, 81, passed Nov. 3, 2021, at home with her family by her side. She was born Feb. 4, 1940, to William and Ruth Smith.
She was raised in Libby along with one sister and five brothers and attended Libby Public Schools. She met the love of her life, and high school sweetheart, Fred Sichting Sr., and they married in 1957. They had 50 wonderful years together.
Throughout their marriage they hiked, camped, rode snowmobiles, danced and enjoyed life. They were happiest when they were together and even happier when family and friends joined in. She enjoyed her family. Each member was unique and special to her.
Together, she and Fred ventured into entrepreneurship, owning and operating a meat shop that expanded to include BBQing and catering. She enjoyed working on elections and volunteering in the hospital gift shop as well as attending her class reunions. She remained friends with her classmates and always looked forward to her class reunions.
Her hobbies included bowling, puzzles, knitting, crocheting and traveling. She loved spending time with her nine grandchildren and 11 great-grandchildren. Sleepovers at grandpa and grandma's were special. She loved the color red, hummingbirds, turtles and frogs.
She was preceded in death by her husband Fred Sichting Sr.; a daughter, Merinda Sichting; her parents, William and Ruth Smith; a brother, Bill Smith; and stepfather, Mel Hemesoette.
She leaves behind four children, Donna (Jim) O'Neil, Jackie (Brad) Jones and Fred (Kim) Sichting Jr., all of Libby, and Diane (John) Kyes of Washington; nine grandchildren and 11 great grandchildren; a sister, Kay Klatt, and four brothers, Jerry (Linda) Smith, Dave (Penny) Smith, George (Norma) Smith and Robert (Joanne) Smith; and many nieces and nephews.
Graveside services will be held with family and friends at 1 p.m., Nov. 11 at the City of Libby Cemetery. Arrangements are by Schnackenberg Funeral Home in Libby. Online condolences and memories may be shared at www.schnackenbergfh.com.
---