Lee Tonner, 87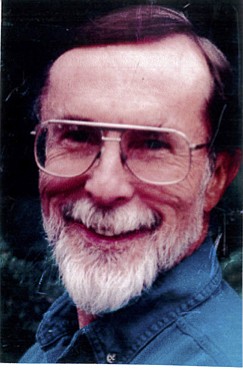 Lee Tonner. (Courtesy photo)
|
November 2, 2021 7:00 AM
Lee Tonner passed away Oct. 12, 2021, at the age of 87. His family was important to him and he is very deeply loved by his relatives and others who knew him. He gave his own love freely, without judgment or conditions. He was a sweet soul.
Music was a constant theme in his life. He pretended to play the cello as a young child and was started on an actual cello with lessons when he was nine. He played for more than 70 years in several orchestras, chamber music groups and other small ensembles, enriching those who heard his sensitive and beautiful performances. He played other instruments a little, including the piano, viola, flute and almost anything else he picked up. In his 40s, he turned to the fiddle, specializing first in Irish music and later playing bluegrass.
Lee spent his childhood in various towns in Nebraska, Iowa and Ohio as his father Martin, a minister, changed parsonages. Martin sang with a lovely tenor voice and Lee's mother, Esther, was an accomplished pianist, organist and a piano teacher. An only child, Lee sometimes accompanied his parents musically.
After high school graduation, Lee received two bachelor's degrees, one for liberal arts with a music major and a second in music therapy. He taught junior and senior high school music in California for several years before returning to college. He then received his master's degree in clinical work and spent the rest of his professional career doing psychotherapy.
Like his personality, his approach to counseling was supportive. He disliked diagnostic labels and tried to help clients find their own strengths. His areas of special interest were relationships, addictions and domestic violence. He took a very active part in expanding the Women's Helpline in Libby and developing other parts of a domestic violence program including victim witness protection.
He retired in 1996, which gave him more time to play music, and he did just that. He started a number of students on their chosen instruments. He played cello accompanying his wife on the Celtic harp. Most of all, he loved jamming with other musicians of all abilities and instruments. For more than 25 years he was dedicated to playing every Friday at Libby's Mountain Meadows gift shop.
Other life pleasures included reading, eating almost anything and folk dancing. He jogged, hiked, walked, biked and went cross-country skiing. He had worked on a ranch during his college years, riding horses, moving cattle, repairing fences and bucking hay bales. He rode a horse well and loved all animals, especially cats and dogs, and they were drawn to him. He loved canoeing with his wife. For years, they enjoyed outings together to local lakes and marshes. He liked kites. He liked throwing a ball for an enthusiastic dog. On projects, he was quietly insistent on doing things his own way.
He taught his children a variety of skills, from playing chess to how to solidly stack firewood or hay bales, to horsemanship. He impressed good values upon them. He showed them, by example, to be kind and to accept others without judgment. Perhaps not coincidentally, three of his children love, love, love their pets and give them kind care.
He enjoyed being silly when out of the public eye, for instance embarrassing his children by pretending to fall off the piano bench, and hopping and hooting with a brother-in-law as they pretended to be chimpanzee brothers.
He is survived by Carol, his beloved wife of 52 years, and his children: Susan; Jessica; Matthew with wife Miriam; Dave; and Annette with husband Dave and their children, Joseph, Jacob and Bailey. Other loving survivors include his family by marriage, Ann and David, Kay, Gordon, Jim and Patty, all of who loved Lee and helped especially in his last extremity.
Memorial donations could be given in Lee's name to Kootenai Pets for Life in Libby, honoring his great love for animals and his support for rescues. There will be a celebration of his life at a later date.
---