Lady Loggers defeated by Polson Pirates
|
November 2, 2021 7:00 AM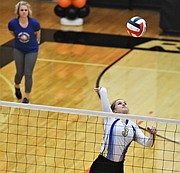 The Lady Loggers saw no quarter against the Polson Pirates, falling in three games on Oct. 30.
Polson took the match with scores of 25-21, 25-20, 25-16 setting Libby up for a play-in game against Browning on Nov. 1.
The Lady Loggers landed two service aces against Polson with Kelsey Johnson and Mariah Goucher each securing one. Julia Martineau and Ember Rode led Libby with six and five kills respectively. The Lady Loggers had a total of 18 kills.
Sidney Rusdal landed 16 of Libby's total 17 set assists. Martineau and Kinzee Boehmler secured eight and seven aces out of the Lady Loggers' total of 20.
The loss against Polson followed an Oct. 28 defeated to Ronan. The Lady Loggers fell over three games with scores of 25-20, 25-19, 25-23.
The Lady Loggers will face Browning in their play-in match at home.
---