Loggers prepare for Wood Bat Classic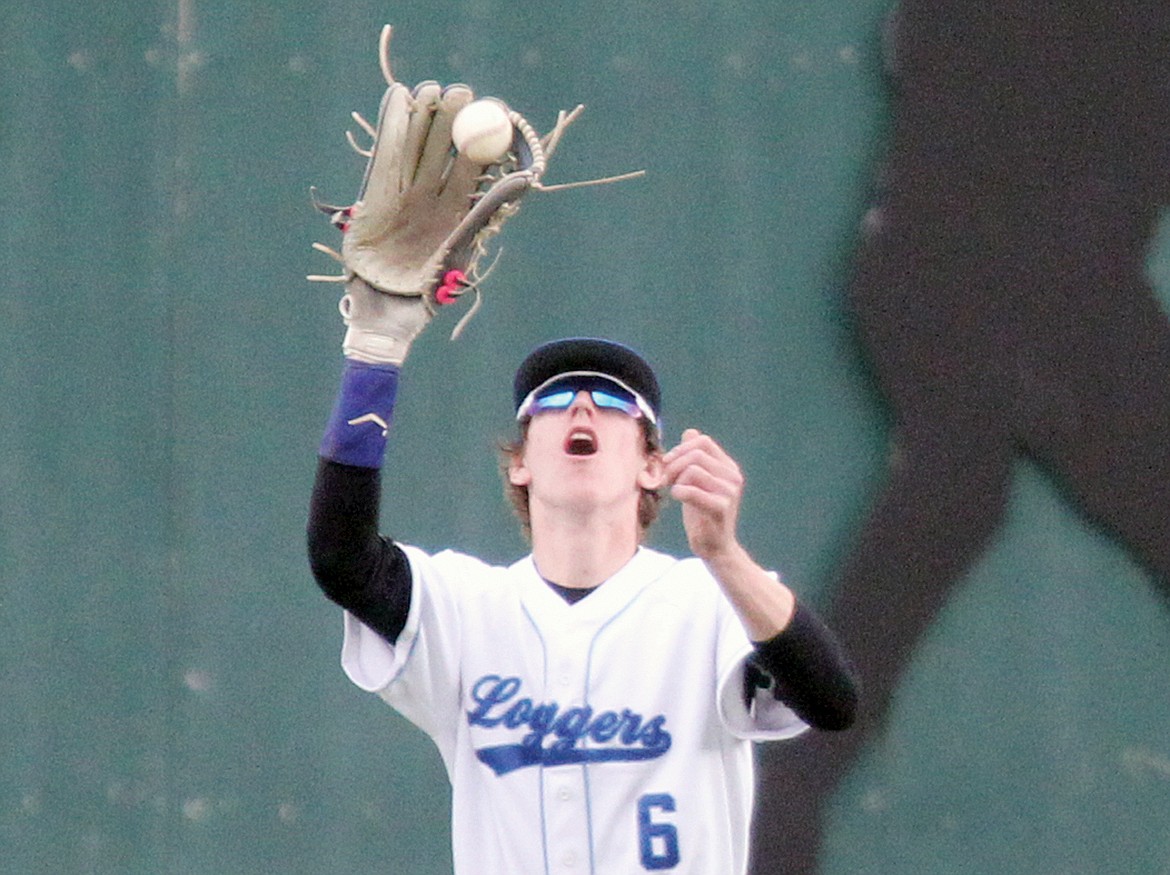 Zach Veneman's sacrifice fly to centerfielder Caden Williams scores one for Glacier top of second inning vs. Twins Wednesday evening. (Paul Sievers/The Western News)
by
WILL LANGHORNE
The Western News
|
May 21, 2021 7:00 AM
Less than a month into their season, the Libby Loggers are gearing up for the Loggertown Wood Bat Classic.
Coach Kelly Morford billed the annual tournament, held at the Lee Gehring Field, as a laid-back early season competition.
"It's a pretty relaxed atmosphere," he said. "Plus if you're in Libby, you've got to have a wood bat tournament."
The classic will run May 21-23. In addition to the Logger A and B squads, teams from Missoula, Spokane and Clark Fork are set to compete in this year's event.
Despite a string of losses, Morford said the Loggers have been making strides since their first game against the Glacier Twins in late April. Considering the team's young roster, the squad's primary focuses have been gaining confidence and cutting down on little errors.
"We've been playing a little bit better," said Morford before Libby's May 19 game against the Twins. "[We've] been cutting back on the mental mistakes, which has been important. I think we're trending in the right direction but we have work to do still."
After building an early lead, Glacier beat the Loggers 21-4.
At the start of the season, Morford said the Logger's inexperience was especially prominent in the infield. Although the Loggers retained Tripp Zhang, Caden William, and Tucker Masters — whom Morford collectively described as one of the best outfields in the state — the Loggers lost most of their top basemen.
Developing pitchers has been another struggle for the Loggers this season. During the May 19 game, Libby rotated through a series of players on the mound.
Morford said Zhang has proven to be a surprisingly adept pitcher. Zhang tied with the Twins' Mason Peters for the most first-pitch strikes with nine first-pitch strikes during the May 19 game. Williams led the Loggers in most strikeouts with two strikeouts.
Despite their defensive troubles, Morford said the Loggers have shown promise at the plate. Masters scored on an RBI groundout by Hunter Hoover in the bottom of the sixth. In the seventh inning, Zhang slugged a ball out of the park securing three more runs for the Loggers.
The Logger A team will play at 8 p.m. on Friday, 7 p.m. on Saturday and 3 p.m. on Sunday.
---