Loggers see wins against CFalls, Ronan, Polson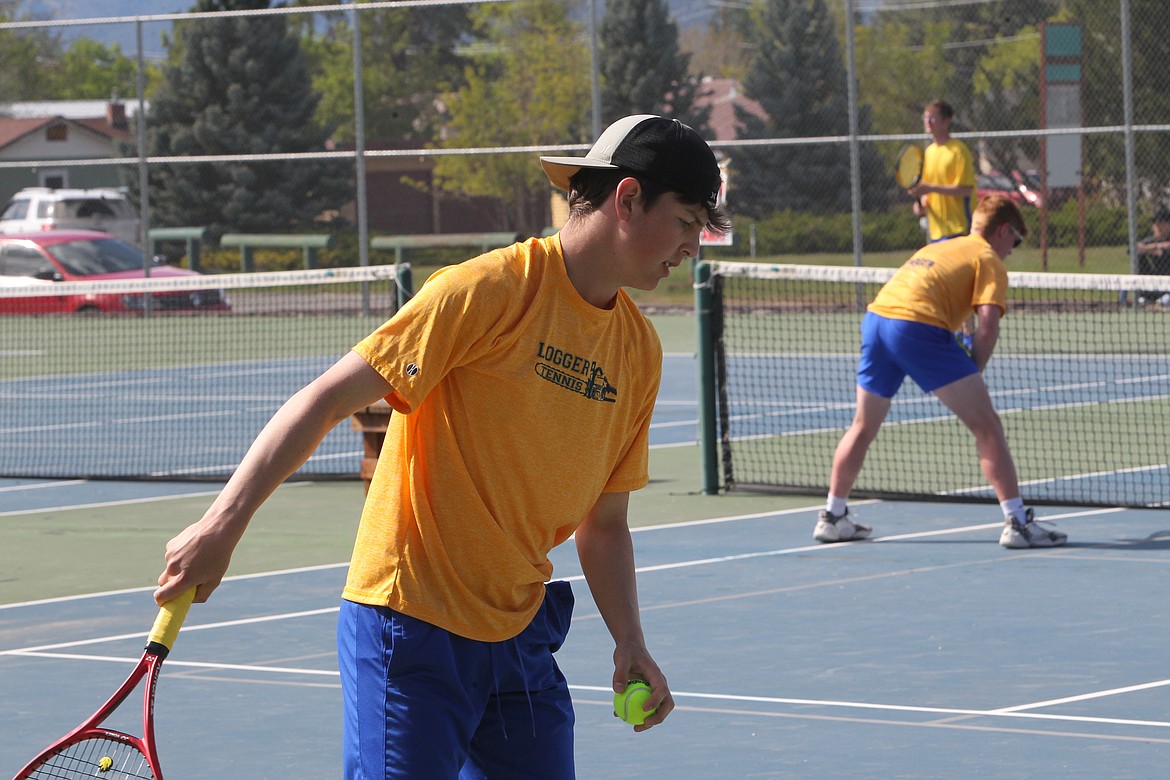 Colton Halvorson prepares to serve during a May 14 match against Columbia Falls. (Will Langhorne/The Western News)
The Logger tennis squad saw mixed results during matches last weekend.
The Libby boys saw wins against Columbia Falls, Ronan and Polson but fell once to Columbia Falls. The girls team came away with two wins against Columbia Falls, one victory against Ronan and a loss to Polson.
During a May 13 match against Columbia Falls, the girls secured a 5-2 win. Gabby Fantozzi won her match 6-3, 6-1. The third singles player, Sally Weber came away with a 6-2, 6-3 win.
All three of the girls doubles teams saw wins. Elise Erickson and Ruby Martin secured a 3-6, 7-6(6), 7-6(7) victory. Jessica Cunningham and Ivy Pierce won their match 6-1, 6-2. Alex Andreessen and Annika Thorstenson won 7-5, 6-3.
Libby boys fell 5-2 in their match against Columbia Falls on May 13. Ryker McElmurry and Ayden Montgomery saw the only two wins with scores of 6-1, 6-4 and 3-6, 6-3, 6-2 respectively.
During a rematch against the Wildcats the following day, the girls squad again saw a win of 5-2. The boys pulled off a 4-3 win.
Fantozzi and Weber both secured victories in the singles category. Bella Covington won with a score of 6-1, 6-0. Cunningham and Pierce along with Andreessen and Thorstenson saw wins in the doubles category.
All four of the boys singles players secured wins. Michael Hollingsworth won with a score of 6-1, 6-3. McElmurry won 6-1, 6-2. Montgomery scored 6-3, 6-1. Steven Valecia secured a 6-3, 7-5 win.
During a May 15 match against Polson, the boys secured a 4-3 victory. McElmurry, Hollingsworth, Montgomery and Valencia all saw wins. The girls fell 1-6 with Laneigha Zeiler taking the only win.
The following day, the boys team vanquished Ronan 5-2. Hollingsworth and Montgomery both saw wins in the singles category and Valecia won by default with a forfeit. Two of the doubles teams saw victories. Colton Halvorson and Ryan Collins scored 6-3, 6-4. Trever Collins and Cylis Goddard won 4-6, 6-3, 8-10.
The girls team secured a 6-1 win. Zeiler secured a win and Fantozzi and Covington received forfeits. In doubles, Erickson and Martin along with Cunningham and Pierce secured wins. Andreessen and Thorstenson took their match with a forfeit.
---