JoAnn Fay Coon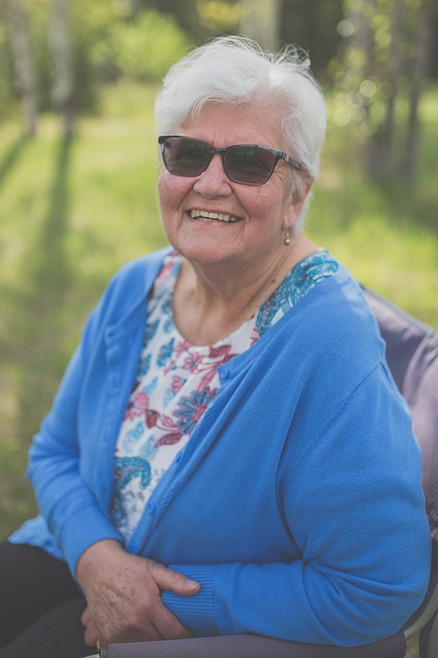 It's with heavy hearts that we share the passing of our precious mother, JoAnn Fay Coon (Olson). She joined her Heavenly Father April 28, 2021, in Hinton, Alberta, Canada.
JoAnn was born Dec. 16, 1937, in Havre to Bertha June (Teske) and Joseph Andrew Olson. She was the oldest of their four children: Roberta "Wutsie" June Nelson, Richard "Dick" Cornelius Olson (deceased) and Joseph "Joe" Andrew Olson Jr.
JoAnn spent her early childhood in Havre and Jordon. She was then raised in the Libby area. She spent some favorite times caring for younger children and cousins while learning a different way of life with several aunts and uncles. She was blessed to have many supportive family members during those historically hard years.
She met Clifford Clemons Coon after he returned home from the Navy during the Korean War. He had been stationed in the Philippines. They were married March 16, 1956, in Couer d'Alene, Idaho. Things were hard in the beginning, as their first two baby boys did not live more than a few hours. They persevered together, building a home for a family.
They were blessed with three more children: Denise Joy, Ty Nathan and Thomas (Tom) Cornelius. Her life was now full. She became a strong caring mother, scout leader and an auntie to her many nieces and nephews growing up in Libby. She and Cliff loved to dance; they joined square dancing. This was their special time together and they made many long lasting friends.
In June 1972, JoAnn would follow her husband to a new mill in Meadow Lake, Saskatchewan, Canada. Before heading north she went back to high school and graduated. She embraced the Ukrainian culture in the area, took up curling in this very cold place and made family dinners for other foreigners who landed in Meadow Lake. She was employed in the mill office, which gave her a new direction. She was not just a wife and mom anymore.
In 1974, the family moved to Slave Lake, Alberta, where she would take on the produce department of the local grocery store. Coworkers liked to prank and tease the new person, but she said they eased up after she jumped and turned with the lettuce machete in hand to instinctively protect herself.
In 1975, JoAnn and family moved to Hinton, where she again joined the produce team at IGA. When both her sons began to work there, she went back to school, taking a secretary course, and later worked at Brassard Agencies. Curling, work friends and yard work kept her busy.
The stars aligned in 1981, allowing her and Cliff to move back to Libby and spend some time with their parents, siblings, and many nieces and nephews. There they would manage the Eagle Club together.
Spray Lakes Sawmill from Cochrane, Alberta would entice them back to Canada, where they would both work. Here they joined bowling leagues, square danced in the 1988 Calgary Olympics. They hosted their first family reunion in Canada and enjoyed living right next to a big city. They were the half way point from Libby and their kids and enjoyed many family weekends. Her home was filled with a crib and many beds.
Hinton was selected as their retirement spot, so in 1990 they returned. She would care daily for a couple little boys and do books on the side. Flower gardening was her happy place in the summers. She enjoyed the neighbors and grandkids, her interest in curling grew again and quilting crept into her life. As time marched, they became snowbirds for a few years, driving to Alaska and Oregon to see siblings.
After Cliff moved into the Alzheimer's wing of our local care center, she was still by his side. You could find them dancing in the kitchen and sitting together, eating their meals. She would continue driving the parkway (alone up to age 80) to visit her family south of the border.
When you've been blessed to live to age 83 there are so many things to share with others. The rules mom followed in her life were doing good, being kind to others, sharing what you know to be true, helping those in need and being at peace with your life.
She was blessed. She came from strong parents and was raised with many loving aunts, uncles and cousins, whom she could learn from and lean on. She married into a good, hardworking family that also shared their knowledge and love of family. She created her own family, raising them to be caring, strong, independent and hard working. She may have thought her work was done, but she would teach her ways to seven grandchildren and 11 great-grandchildren.
Through family dinners, card games and one-on-one time with GG, she connected with them all in a very heart warming and rule following way.
JoAnn was surrounded by her children, Denise and Robert Boutin, Ty and Tami Coon, Tom and Karen Coon; her grandchildren, Tyson Boutin and Corinna Hanna, Corlee and Jeff Price, Brice Boutin and Jessica Land, Whitney Coon and Brian Larson, Teena Coon, Jerri-Lea and Trevor Bomersback, Bret Stoley; and her great-grandchildren, Breck, Ocean, Rhys, Parker, Calla, Sylvie, Lukus, Ava, Elise, Arys and Evelyn. Other special connections included her caregiver group — affectionately known as the Grey Haired ladies — her Rocky Mountain Quilting clan, her friends and playmates from Good Companions Senior Centre, her most wonderful neighbors and the sidewalk shoveling angels.
She also leaves behind members of her immediate family: her mother at age 101; her sister, Wutsie, and brother, Joe; two special sisters-in-law, Myrna and Brenda; many cousins; and her 'always loved' nieces and nephews.
We will forever hear your voice in our hearts, Thank you JoAnn for being part of our lives.
Honorable mention goes to Dr. Noel Corser, one of her earth angels. We are appreciative of the care she received from the wonderful nursing staff through the Hinton Hospital and Home Care.
---