Mariners take the wind out of Libby's sails
by
WILL LANGHORNE
The Western News
|
May 11, 2021 7:00 AM
The Mission Valley Mariners sailed away from the Libby Loggers with a 25-2 win over the weekend. The May 7 defeat marked the Logger A team's home field opener.
"It felt great at first then it just kind of went downhill," said Libby's Aydan Williamson.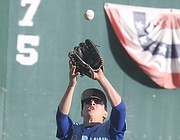 The Loggers landed both their runs in the bottom of the third inning. Tripp Zhang got in on an RBI base hit from Caden Williams. A few at-bats later, Kiye Jenkins stepped up to the plate with bases loaded and brought home Tucker Masters with an RBI walk.
The Mariners built their lead early on racking up three runs in the first inning and five in the second. Logger defensive errors allowed Mission Valley runners to repeatedly steal bases and contributed to some of the runs.
"It's mainly guys not confident enough in wanting the ball hit to them," said Logger head coach Kelly Morford. "They just got to want the ball and be ready to make the play."
Heading into the season, Morford said he was working on developing players for infield positions. Last year's senior class included many of Libby's key basemen.
Despite the hesitancy he saw on defense, Morford said the Loggers showed promise at the plate.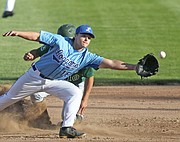 "We've been seeing some good swings," he said. "It's just so hard to tell when you're giving up so many runs defensively."
In the third and fourth innings, the Mariners continued to pull away from the Loggers. Alex Muzquiz sent a ball over the right field fence during the top of the third inning bringing home two other runners. In the top of the seventh, he launched another ball over the center field fence.
Libby cycled through three pitchers during the game. Williams started on the mound and was replaced by Williamson in the third inning. Williamson switched out with Rusty Gillespie in the top of the fifth.
Morford said the team still has a ways to go in developing their pitchers.
"We walked way, way too many people," he said. "You mix together a bunch of walks and a few defensive mistakes and you're giving up 20 runs a game."
The key to future success, Morford said, would be racking up more experience.
Coming off the loss, Williamson still felt confident in Libby's abilities.
"It'll be a tough one but I feel like we can pull it out this time," Williamson said.
Loggers fell 25-0 to Kalispell on May 9. Libby will go on to play Eureka away on May 12.
---