New election administrator focuses on created informed electorate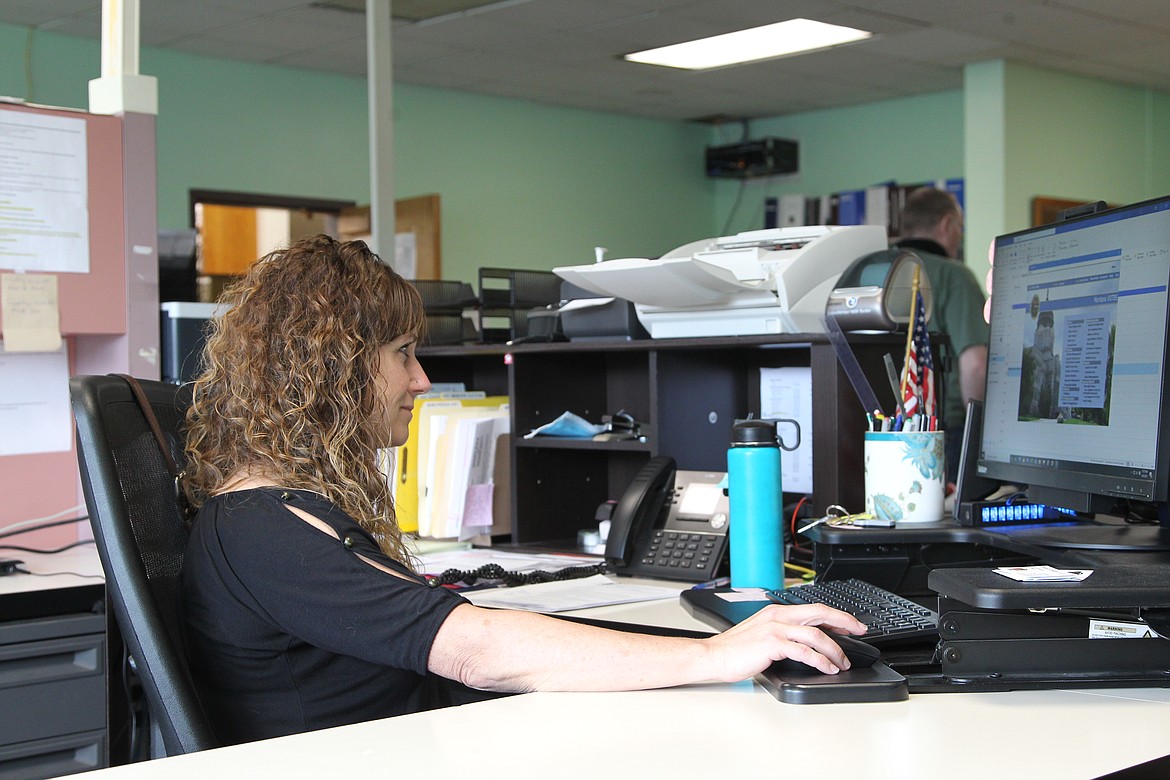 Paula Buff, Lincoln County's election administrator, at work on April 30, 2021. (FILE/The Western News)
by
WILL LANGHORNE
The Western News
|
May 7, 2021 7:00 AM
Taking office less than three months after the contentious 2020 election, Paula Buff, Lincoln's new election administrator, has her work cut out for her.
During her short tenure, unsubstantiated claims of voter fraud have continued to proliferate. State legislators have changed the format of future elections by revising voter ID and registration laws.
But armed with a background in legal and governmental affairs, Buff is prepared to take on the challenge.
Raised in Libby, Buff began her career at the Douglas Law Firm. After about a decade of paralegal work, she moved to Seattle to work for Washington Mutual. Starting in the legal division, she eventually transitioned to the company's government relations team. When Washington Mutual collapsed in 2008, she went to work for an intellectual property startup.
Having long missed Libby, Buff got her excuse to return in early 2020 when the Red Dog closed.
"I was pretty much sitting on the couch one night and I saw … a Facebook notification that they were closing," she said. "I called up [the Red Dog owners] the next day and said 'I'm buying the Red Dog.'"
Buff's dreams of running the local eatery fell through in mid-June due to the pandemic. Late last year, after former election administrator Chris Nelson resigned, she saw an ad appear for the county post and applied. By mid-January, she had the job.
For the past three months, Buff said she has focused on housekeeping issues and identifying election best practices. During the third week of March, she took off on a road trip around the state to meet with other county election officials.
"It was a real eye-opener," she said. "I took all this information and constructed a roadmap on how we can make this office more efficient."
On top of learning the ropes, Buff has had to keep an eye out for new voting laws. In the wake of the 2020 election, Secretary of State Christi Jacobsen has worked with legislators to push a package of new regulations through the state chambers.
Gov. Greg Gianforte signed two of these bills — House Bill 176 and Senate Bill 169, sponsored by state Sen. Mike Cuffe (R-Eureka) — into law on April 19. House Bill 176 closes late voter registration the day before the election. Cuffe's bill requires residents with certain types of previously accepted photo identification, such as student IDs, to present secondary identification at the polls.
While legislators pitched curtailing late voter registration as a way to streamline Election Day, opponents worry the change could lead to disenfranchisement.
Buff did not think that the change in photo ID requirements would have a significant impact on Lincoln County voters since residents will still be able to vote using a driver's license, military ID, concealed carry permit, passport or tribal ID.

To ensure these voters are registered ahead of time in upcoming elections, Buff said she is planning to run get-out-the-vote and registration campaigns.
"I'm just a firm believer that the more information the better," she said. "The more informed the voters, the better."
Bolstering voter confidence in election integrity is also one of Buff's top priorities. In addition to managing the county's municipal, school district, special purpose district elections, Buff said she would focus on updating the county's election data this year.
As she looks ahead to future elections, Buff is planning out how best to allocate county resources to set up dropbox locations and polling stations. Ironing out kinks in the Election Day playbook would help mitigate errors — like the one that occurred last year when officials temporarily forgot a box of ballots in Eureka.
Buff also hopes to continue building rapport with current election judges and recruit new judges.
---