Richard Lee Thompson, 64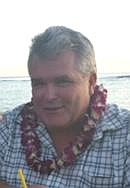 Richard Thompson. (Courtesy photo)
Richard "Rich" Lee Thompson, 64, of Libby passed away March 15, 2021, due to complications following a motor vehicle accident on Feb. 25.
He was born Feb. 21, 1957, in Kalispell to Dick and Shirley Thompson. He attended Libby High School, graduating in 1975. He was the hardest-working man we have ever known. He started working for J. Neil's Lumber immediately after graduation and steadily climbed the ranks. He retired as corporate engineering manager of Stimson Lumber in 2005.
Never one to sit idle, he started Thompson Contracting, Inc., (TCI) prior to his retirement and recently acquired Granite Concrete, where he worked until his passing. He enjoyed working with the men and women that helped build these companies, which will carry on in loving memory of him.
We cannot say that everyone that knew him loved him, but we can say that those that loved him knew him. Whatever hard shell he wore, it was to protect his big heart. He loved a good practical joke — especially if he thought of it — time with his family and close friend Colby Yarger, and any holiday or reason he could buy a gift or eat frosting. His grandkids meant the world to him and being papa ranked high on his list of achievements. His "be careful" was his "I love you" and we got told to "be careful" often.
He married Jo (Hill) Thompson in 1978 and remained friends with her after their divorce. He met the love of his life, Susan Yarger, in 2009 and was able to be with her during his last moments.
He is preceded in death by his father, Dick Thompson; brother, Patrick Thompson; baby sister, Shirley; and his grandparents, Richard and Virginia Thompson, and Woody and Mildred (Toots) Bowen; and Mary Collier.
He is survived by his soul mate Susan Yarger; daughter, Sara Bree Bedwell; son, Levi (Riki) Thompson; parents, Mike and Shirley Collier; sister, Cindy (Pat) Isbell; brothers, Tim (Dusti) Thompson, Jim (Lisa) Thompson and Michael (Tina) Collier; two amazing grandchildren, Bowyn Bree and Makoha Lee; and many nieces, nephews, aunts, uncles, cousins and friends.
A memorial will be held March 27 at 11 a.m. at the City of Libby Cemetery with a celebration to follow at the Fred Brown Pavilion. We ask that instead of gifts you express your love to those you value; laugh at a good joke; pay it forward without recognition; and eat a spoonful of frosting every chance you get.

Arrangements are by Schnackenberg Funeral Home in Libby. Online condolences and memories may be shared at www.schnackenbergfh.com.
---